300 volunteers from 58 countries prepared RUDN for the new academic year
On the 30th of August student construction brigade finished their labor season with celebration in the Assembly hall of the Main building.
27 RUDN buildings were renovated and ready to meet the students and professors. Besides the volunteers painted the fence, marked car parking places, washed the floor and the windows in academic buildings and student dorms, painted courts and sport fields in the Sport Center.
«With my first salary I paid for my medical insurance and for my student dorm accommodation» — Dabo Saliu, Guinea Bissau, Philological faculty student.
«My sister dreamed of a dress that she couldn't afford. As soon as I got my first salary I bought it and sent it to her. I have never seen my sister so happy» — Suman Chaudkhari, Nepal, Medical faculty student.
More than 150 people attended beginner's trainings for proficiency enhancement for student construction brigades and introductory lectures. By tradition special attention is paid to the labor protection requirements and to fire prevention.
Despite hard work the volunteers didn't forget about entertainment — discos, Miss and Mister construction team contest, concerts, sport events — football, volleyball, basketball championships and others. Labor term was finished by celebration and speech of Rector Vladimir Filippov, who thanked the students: «This year the student brigade proved again that we can build our University with our own hands!».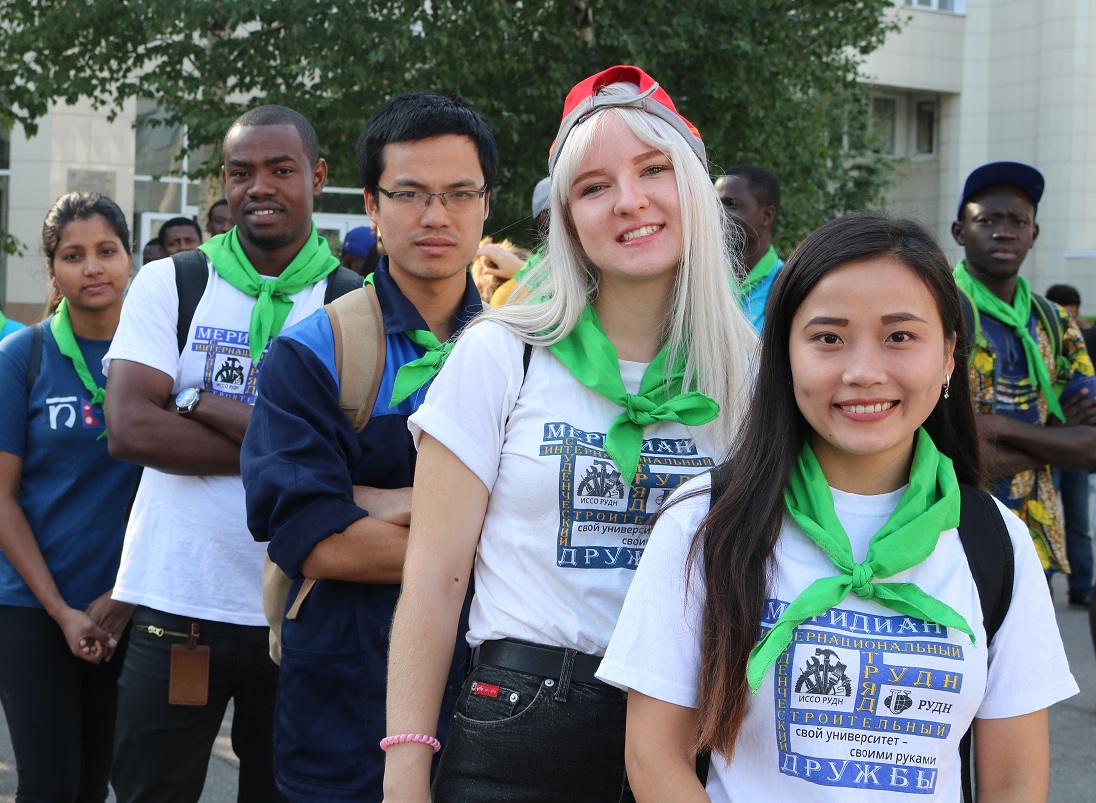 About RUDN
31 Jan
RUDN University becomes a federal innovation platform in the priority area "Informatics. Digitalization"
The new list of federal innovation sites (FIS) of the Russian Federation includes 30 new organizations. Among them is the Peoples' Friendship University of Russia. This became possible thanks to the development of the Digital Preparatory Faculty of RUDN University.
About RUDN
16 Dec 2022
RUDN University confirms the title of the "greenest" university in Russia and strengthens its position in the global ranking
RUDN rose to the 26th position in the UI GreenMetric 2022 ranking and confirmed the status of the "greenest" university in Russia. The ranking includes 1,050 world universities, of which 52 are Russian.
About RUDN
21 Jul 2022
RUDN University is in 4th place in terms of the number of entries in the TOP-10 of the "Expert" ranking
Peoples' Friendship University of Russia is represented in all 16 subject rankings and in five out of six subject profiles of the Expert Analytical Center ranking. RUDN University showed the best results in the following areas: "Ecology" and "Agriculture and Biological Sciences" — 1st place. "Mathematics", "Chemistry", "Artificial Intelligence", "Renewable Energy" are in the TOP — 5 subject ranking. In total, 152 universities were ranked in 2022 (137 in 2021).