Cooperation with Guyana on top-priority directions
Rafael Trotman, minister for natural resources, and David Paterson, minister for public infrastructure from Guyana arrived at RUDN on October 18.
The agenda of the meeting included the following issues:
The agenda of the meeting included the following issues:
-training of skilled workers for national economy of Guyana on strategic areas, such as: mining, oil and gas engineering, ecology and natural resource use.
-possibility to study in RUDN for target groups of students from Guyana;
- enhancement of cooperation between the Public University of Guyana and Agrarian Technological institute of RUDN University;
- joint effort with Ecological Faculty of Peoples' Friendship University of Russia on the international project "Days of ecology". The main goal of the project is visiting partner –countries by head academics of RUDN to share experiences in the area of ecological safety and sending students to study ecology in RUDN.
The delegation from Guyana visited the laboratories of RUDN Agrarian-Technological Institute, the Shared Research and Educational Center and RUDN Institute of Space Technologies, learned about technical abilities and opportunities of the university and latest scientific developments.
The representatives from Guyana showed interest in presented academic programs and offers to cooperate, highlighting their willing to continue to strengthen their relationships with Peoples' Friendship University of Russia.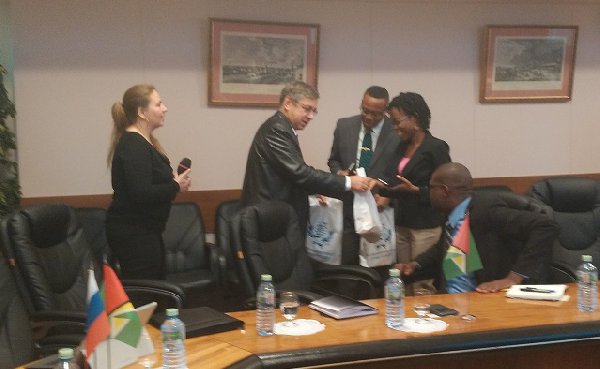 About RUDN
27 Jun
RUDN University and Roskachestvo sign a cooperation agreement
June 21, RUDN Rector Oleg Yastrebov and the head of Roskachestvo Maxim Protasov signed a cooperation agreement.
About RUDN
24 Jun
RUR World University Ranking 2022: RUDN University in the top 100 best universities in the world in terms of teaching quality
RUDN University has risen from 401 to 361 place in the international RUR World University Ranking 2022 over the year. Peoples' Friendship University of Russia entered the top 100 universities in terms of "Teaching Quality", ranking 95th in the world and 8th among Russian universities. In total, 1,024 universities were ranked in 2022 (869 in 2021).
About RUDN
30 May
RUDN University enters the TOP-50 legendary brands of Russia
RUDN University was included in the list of winners in "Our Legends" nomination of the 50 Legendary Brands award from the "Komsomolskaya Pravda" media group. The people's jury is more than 5 million readers of "Komsomolskaya Pravda" determined who was worthy of the award.