Cooperation with Guyana on top-priority directions
Rafael Trotman, minister for natural resources, and David Paterson, minister for public infrastructure from Guyana arrived at RUDN on October 18.
The agenda of the meeting included the following issues:
The agenda of the meeting included the following issues:
-training of skilled workers for national economy of Guyana on strategic areas, such as: mining, oil and gas engineering, ecology and natural resource use.
-possibility to study in RUDN for target groups of students from Guyana;
- enhancement of cooperation between the Public University of Guyana and Agrarian Technological institute of RUDN University;
- joint effort with Ecological Faculty of Peoples' Friendship University of Russia on the international project "Days of ecology". The main goal of the project is visiting partner –countries by head academics of RUDN to share experiences in the area of ecological safety and sending students to study ecology in RUDN.
The delegation from Guyana visited the laboratories of RUDN Agrarian-Technological Institute, the Shared Research and Educational Center and RUDN Institute of Space Technologies, learned about technical abilities and opportunities of the university and latest scientific developments.
The representatives from Guyana showed interest in presented academic programs and offers to cooperate, highlighting their willing to continue to strengthen their relationships with Peoples' Friendship University of Russia.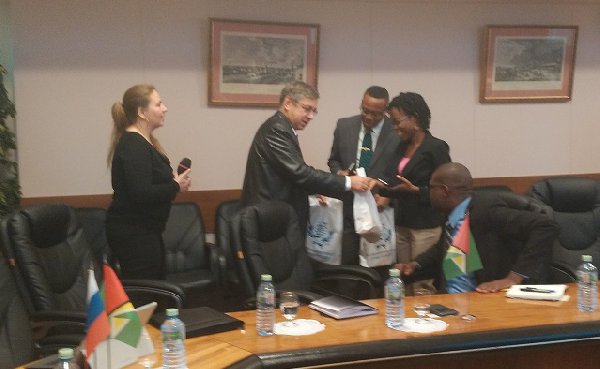 About RUDN
29 Dec 2021
RUDN University and QS World Merit sign a memorandum of cooperation
December 28, RUDN University Rector Oleg Yastrebov and QS World Merit Head of Partnerships Zoya Zaitseva signed an agreement on large-scale cooperation in achieving 17 sustainable development goals identified by the UN.
About RUDN
16 Dec 2021
RUDN University in the 31st place in the international QS EECA 2022 rankings
In a year, RUDN University rose from 43 to 31 place in the international QS University Rankings: Emerging Europe & Central Asia 2022. Peoples' Friendship University of Russia showed the best results in international scientific relations, academic reputation and employer reputation categories.
About RUDN
16 Dec 2021
RUDN University entered the top-30 "greenest" universities in the world according to GreenMetric 2021 ranking
RUDN has risen to the 28th position in the international ranking of environmentally friendly universities UI GreenMetric 2021 remaining the "greenest" university in Russia. This is the best result in the history of the university's ranking participation since 2011. The list of the "greenest" universities was published on December 14. There are 956 universities from 80 countries, including 54 universities from Russia. The goal of the UI GreenMetric — assess universities according to campus development ecological sustainability and the energy-saving model of university management.