RUDN and new standards of international higher education. Press-conference by Vladimir Filippov on the 8th of February
RUDN and new standards of international higher education. Press-conference by Vladimir Filippov on the 8th of February
8 February, Moscow, «Russia Today» info agency hosts «RUDN – Open the World in one University» press-conference by Vladimir M. Filippov. 
RUDN University presents new approaches to university positioning, a new brand and results of strategic initiatives realization. The main aim – transition from a classic international university to a research university. International cooperation is still the main feature of RUDN University – 1st place in internationalization in Russia, 154 countries, more than 250 agreements with foreign universities. RUDN is one of the most multiprofile universities in Russia having almost all majors and lines of study. The university leads 7 strategic initiatives to enhance competitiveness in the international education market. Priority directions are Mathematics, Physics, Chemistry, Medicine, Biotechnologies and Pharmaceutics and Comparative socio-humanitarian research.
Who sets world educational standards? Why do Russian universities need branding? Which research projects will make the world better? What kind of academic exchange strengthen world economy? The answers to these questions will be given by RUDN Rector Vladimir Filippov.
Peoples' friendship university of Russia (RUDN, RUDN University) was founded 5 February, 1960. The first Russian university with 5 QS Stars in 5 categories (2016). RUDN – participant of «5-100» Academic Excellence project (since 2016), enters Times High Education international ranking (since 2016), the «greenest» Russian university according to UI Green Metric ranking (2016). In July 2017, RUDN will have conferred 100,000 degrees.
Participants of the event:
— RUDN Rector, professor Vladimir M. FILIPPOV;
Moderator – Head of PR Department Elena Apasova.
Working languages – Russian and English.
On-line broadcast.
08 February, 2017 11:00 am, «Russia Today» info agency, Glass Hall
Contact: +7 499 936 85 12
e-mail: press@rudn.ru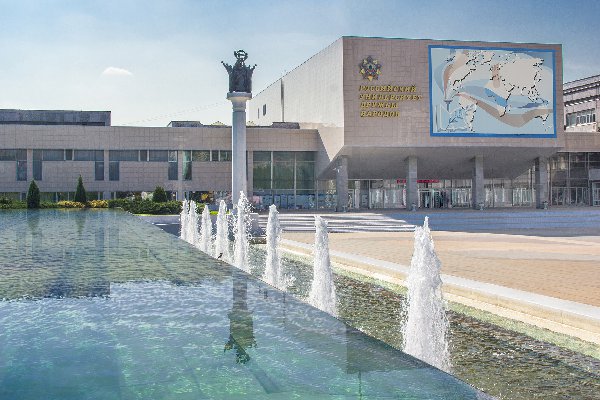 About RUDN
16 Aug
RUDN University, PSB, Rosfinmonitoring and the Russian Academy of Sciences are developing the Sodruzhestvo telecommunications platform
Promsvyazbank (PSB) continues to support the industrial development and telecommunications of the international social and educational digital platform "Sodruzhestvo (Commonwealth)". The corresponding memorandum at the "Army-2023 International Military-Technical Forum" was signed on August 15, by:
About RUDN
04 Aug
Projects on agronomy, ecology, landscape architecture, organization of park spaces… RUDN University and Gorky Park develop cooperation
RUDN University Rector Oleg Yastrebov and Gorky Park Director Elena Lupina signed a cooperation agreement. They discussed the exchange of resources, educational activities and innovative and educational projects in the field of agroecology.
About RUDN
23 Mar
RUDN returns the name of Patrice Lumumba
The Peoples' Friendship University of Russia (RUDN) again has the name of Patrice Lumumba, the first Prime Minister of the Democratic Republic of the Congo, who has become a symbol of the African peoples' struggle for independence. This was announced on Thursday by Russian Prime Minister Mikhail Mishustin.