RUDN and new standards of international higher education. Press conference of RUDN Rector Vladimir Filippov, February 8
RUDN and new standards of international higher education. Press conference of RUDN Rector Vladimir Filippov, February 8
February 8, press conference «RUDN – discover the whole world in one university» took place in «Russia Today» IIA. On the Day of Russian Science RUDN presented new approaches to university positioning, a new brand and strategic initiatives implementation results.
February 8, press conference «RUDN – discover the whole world in one university» took place in «Russia Today» IIA. On the Day of Russian Science RUDN presented new approaches to university positioning, a new brand and strategic initiatives implementation results.
«Rebranding is not just change of logo, it is change of mission, slogan and approaches to positioning university in the international market of educational services», said RUDN Rector V.Filippov.
«The university has gone through development stages of educational, international and classic HEI, now we are talking about research university», noted V.Filippov.
The system of organizing research is also changing due to change of positioning. In 2016, three new institutes were opened – Institute of applied mathematics and telecommunications, Mathematic Institute n.a.S.Nikolsky and Unified Institute of chemical research. Chemistry and mathematics are one of university priority directions.
Full time PhD studies are organized to support young researchers. The distinctive feature is a monthly stipend (45,000 Rub) and internships in leading universities of the world. The PhD students does full time research.
One of international standards realized at university is «From teaching to learning» concept to train creative, independently thinking graduates. The main principle is self-studies and self-control after classes. Students can use the telecommunication educational-information service where they get the study materials and help from professors in chats and video conferences.
As the most international Russian university in 2016 RUDN tested new technologies of finding talented students at 27 Olympiads on mathematics, physics, chemistry, biology, Russian language and legal studies, thus choosing 38 future lawyers, ecologists, agronomists and engineers. Ecuador was the leader in the number of Olympiads.
Jeanne d'Arc Mujavamaria, Ambassador Extraordinary and Plenipotentiary of Rwanda to Russia noted that «the main reason why international students come to Russia is the combination of high quality and accessibility of higher education. Russia has long been famous as an educational center training highly qualified specialists». Alumnae '97 has come a long way from a lab assistant and chemistry teacher to minister and ambassador.
President of Federation of RUDN students from Latin America and Caribbean Maria Anjelica Garcon Viteri said that she managed to study free at RUDN because she was an excellent student in Ecuador. Now she is a 4th-year student of Political science and dersms of becoming Mayor of her town.
«Russia Today» journalists in India took part in the on-line conference and said that medicine and engineering are most demanded areas in India, the country needing highly qualified specialists. RUDN Engineering faculty alumnus now doing technologic art in Deli suggested setting up a faculty of creative professions and stressed that Peoples' friendship university of Russia is a place where young people find their vocation.
Representatives of the Russian Center for science and culture in Mongolia said that Russian as a foreign language is a highly demanded direction.
Answering the question of Jordanian representatives about RUDN plans concerning cooperation with employers Vladimir Filippov noted: «RUDN is the first to start solving the problem of international students' job placement. We have a Department of students' internship and employment to deal with this».
At the press conference a new logo, mission and slogan were presented. The Mission says that «RUDN unites people of different cultures by knowledge, creates leaders who make the world better». Rector stressed that the message of «RUDN slogan - «Discover the whole world in one university» is that you get new opportunities, choose any profession, make friends with people all around the world, learn traditions and cultures and virtually have no borders».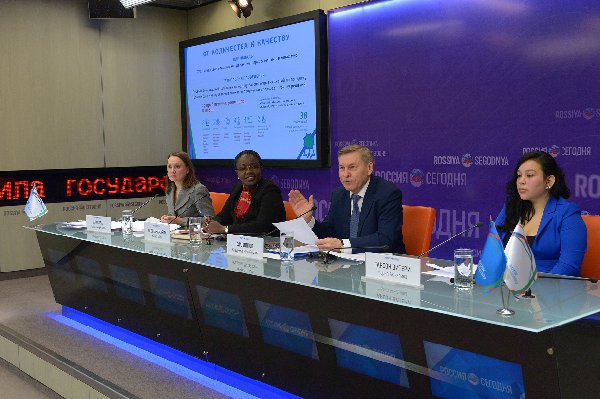 About RUDN
31 Jan
RUDN University becomes a federal innovation platform in the priority area "Informatics. Digitalization"
The new list of federal innovation sites (FIS) of the Russian Federation includes 30 new organizations. Among them is the Peoples' Friendship University of Russia. This became possible thanks to the development of the Digital Preparatory Faculty of RUDN University.
About RUDN
16 Dec 2022
RUDN University confirms the title of the "greenest" university in Russia and strengthens its position in the global ranking
RUDN rose to the 26th position in the UI GreenMetric 2022 ranking and confirmed the status of the "greenest" university in Russia. The ranking includes 1,050 world universities, of which 52 are Russian.
About RUDN
21 Jul 2022
RUDN University is in 4th place in terms of the number of entries in the TOP-10 of the "Expert" ranking
Peoples' Friendship University of Russia is represented in all 16 subject rankings and in five out of six subject profiles of the Expert Analytical Center ranking. RUDN University showed the best results in the following areas: "Ecology" and "Agriculture and Biological Sciences" — 1st place. "Mathematics", "Chemistry", "Artificial Intelligence", "Renewable Energy" are in the TOP — 5 subject ranking. In total, 152 universities were ranked in 2022 (137 in 2021).