RUDN Institute of Space Technologies organized a briefing with an astronaut for representatives of the embassies of Argentina, Venezuela and Columbia
RUDN Institute of Space Technologies organized a briefing with an astronaut for representatives of the embassies of Argentina, Venezuela and Columbia
On the invitation of RUDN IST astronaut Sergey Revin told representatives of the embassies of Argentina, Venezuela and Columbia about possibilities and achievements of the RF space industry.
16 March, RUDN Institute of Space Technologies gathered representatives of the embassies of Argentina, Venezuela and Columbia in the Mission Control Center for a briefing with astronaut Sergey Revin. Participants listened to a lecture "Prospects of Russian manned cosmonautics" and saw a film on the International Space Base, Earth distant probing services offered by the leading space enterprises.
RUDN ISR offers space tourism services to organizations to promote space services and familiarize representatives of the embassies with the scale of space activity in Russia.
RUDN ISR has a state-of-the-art mission control center.
ISR trains highly qualified staff for rocket and space industry implementing the latest technologies in research and teaching.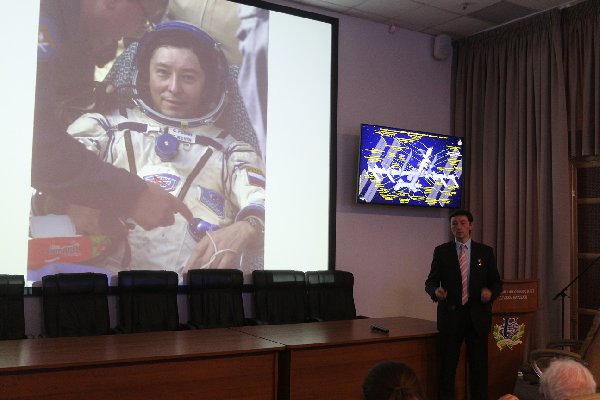 About RUDN
31 Jan
RUDN University becomes a federal innovation platform in the priority area "Informatics. Digitalization"
The new list of federal innovation sites (FIS) of the Russian Federation includes 30 new organizations. Among them is the Peoples' Friendship University of Russia. This became possible thanks to the development of the Digital Preparatory Faculty of RUDN University.
About RUDN
16 Dec 2022
RUDN University confirms the title of the "greenest" university in Russia and strengthens its position in the global ranking
RUDN rose to the 26th position in the UI GreenMetric 2022 ranking and confirmed the status of the "greenest" university in Russia. The ranking includes 1,050 world universities, of which 52 are Russian.
About RUDN
21 Jul 2022
RUDN University is in 4th place in terms of the number of entries in the TOP-10 of the "Expert" ranking
Peoples' Friendship University of Russia is represented in all 16 subject rankings and in five out of six subject profiles of the Expert Analytical Center ranking. RUDN University showed the best results in the following areas: "Ecology" and "Agriculture and Biological Sciences" — 1st place. "Mathematics", "Chemistry", "Artificial Intelligence", "Renewable Energy" are in the TOP — 5 subject ranking. In total, 152 universities were ranked in 2022 (137 in 2021).