RUDN performance at UNESCO through student's eyes
The 90-minutes gala performance «Discover the World in One University» features folklore, pop and academic vocal, dances of the peoples of the world, ethnic musical instruments and songs from famous musicals.
Fuako Zergi Bris Florentin from Cote d'Ivoire is a student of the Faculty of Economics researching competitiveness and entrepreneurial activity enhancement in West Africa. But Bris's real passion is singing, which he is doing all his free time. Here is an interview with Bris, where he talks about singing and the main sight of his country.
Bris, how did you start singing?
A long time I was singing just for pleasure, when finally at 14, I understood that church chorus is my future. I take after my mother who is the chief singer (female alto) in our church. In 2002, I sang "Toi es le Roi des rois" and was chosen as male tenor in the church chorus. After a year of training we were ready for the republican vocal contest, where we took a second place becoming one of the best church choruses in Cote d'Ivoire. I can't tell you how happy I was.
Do you still sing studying in Russia?
I do. When I came to Moscow students from my country told me that RUDN is not only a place to get higher education but also to improve vocal skills. Almost immediately I went to the Interclub and after meeting a few teachers I got into the studio headed by Galina Fedorovna, a person who found totally new tones of my voice, which helped me set up my own church chorus in a Catholic Cathedral in Moscow.
Do you have favorite singers?
I consider my voice classical and prefer classical singing. I love "Conte patiro" by Andrea Bocelli, we prefer classical Italian vocal in my country. But here in Russia I have some songs I really love. One of them – "Along Piterskaya", a Russian song sung by the great Fyodor Shalyapin.
Tell about the preparation to UNESCO concert.
In France, a Belorussian student and I will sing "Aimer" from "Romeo and Juliet" musical. UNESCO stage is completely new experience, this will be the most renowned place I have ever performed at.
What do you recommend to see in Cote d'Ivoire?
The first place to see in Cote d'Ivoire is Basilica of Our Lady of Peace, we call it Basilique Notre-Dame de la Paix. It was built by our first President Felix Houphouet-Boigny. The construction began 10 August, 1985, it is considered one of the biggest churches in the world, housing more than 18,000 people.
Mary Elizabeth is from Ecuador. She is doing Master's at RUDN Ecological faculty dreaming to become an ecologist and study the environment in Ecuador. Mary manages not only to study but also realize her creative potential.
Mary, how did you start your vocal career?
When I was still in the 7th grade at school I understood that singing is what I want to do in life. I went to join the church chorus and they admitted me at once. It was the beginning of a new life for me, since I hadn't actually learnt to sing before. A year later I was already participating in one major contest.
Are you continuing to sing in Russia?
When I entered RUDN my friends and I made a dancing group. And again I was lucky to meet head of "Raduga" vocal studio. I kept working on my skills and here I was – 3 years later on the main stage of Russia – at the 55th anniversary of RUDN in the Kremlin hall singing "Amor de julieta e amor". Many times I was participant at students' contests, once becoming laureate of "Festos" festival with a song "Lejos de ti".
How do you prepare for concerts? How long does it take?
Preparation for the UNESCO concert takes a lot of effort. The first weeks I rehearsed several times a week, now I train almost all the time – from 4 to 6 hours a day. 13 April, I am going to sing "Te quedo grande la yegua", a Mexican song about a girl's unanswered love. At the finale we are going to sing "Shosholoza", an African song, the word meaning "go forward", it is very symbolic because our students never rest on laurels!
What sights do you recommend to see in Ecuador?
If you ever come to Ecuador, visit one of my favorite places in the capital – Casa-de-la-Musica concert hall, where the most expensive ticket costs just 10$.
Yasin Mahmud, a 1st-year postdoc student at RUDN Medical Institute, studies to be a doctor, researches shoulder bone fractures and already works as a trauma surgeon in a Moscow hospital. He has also been President of RUDN Association of Arab student and has time for creativity. Here is what he says about how to be a professional and preserve the richness of your culture living far from home.
Mahmud, few people know about the history of Dabki dance. Tell us about it.
Dabki is one of the most wide-spread dances in the Middle East countries – Jordan, Syria, Lebanon and some others. Originally it was performed at house-warming parties to check the strength of the floor, while today it is performed at all festivities. A long time it was considered a men's dance, but today a lot of girls are trying to master it, like for example at the Week of Arabic culture recently.
As for me, I have been dancing Dabki almost all my life. I like to teach it and see students from all over the world enjoy the Arabic culture.
Do you have any other hobbies?
In RUDN I got another hobby – playing the drums. Arabian drums differ from African and Oriental – the sound is more dull. There are two types of Arabian drums – darbuka and tabla. For my performance in Paris I have chosen darbuka, which is played from the left side tapping the rhythm with the fingers of both hands. For the performance in France we will do "Drums show" with the students from other continents to illustrate the different sounding of the drums.
How are you preparing for the concert in UNESCO? Who was the first to think of such an unusual performance?
RUDN has long become my second home, but recently I've felt it's not a mere word. The preparation for the concert is very time-consuming, we rehearse 2-3 hours a day. The idea to make "Drums show" came suddenly when I saw African students rehearsing for the International Women's Day concert.
In UNESCO concert hall we will demonstrate that different cultures do not hamper but rather promote friendship.
Tell about your country. What places do you recommend to visit?
If you come to Palestine, visit Hisham's Palace – an amazing archaeological site. Spreading over 60 hectares, it consists of a palace, an ornate bath complex, an agricultural estate and a mosque. In 2010, the Palace was identified by UNESCO as one of the 12 worldwide heritage sites most on the verge of irreparable loss and destruction.
Timur Tsinoev is from Vladikavkaz and majors in geology at RUDN Engineering Academy. He also heads the Association of students of North Ossetia.
Timur, how did you become an artist?
It took me a long time to dare try the drums. A Caucasian drum is called douli, and the musician – doulist. Back in Ossetia we are used to big weddings – more than 3,000 guests, and the best musicians and dancers are invited. The traditional lezghinka is performed to drums and other music instruments. Every time I heard the sound of the douli, I wanted to play it and at one wedding I asked the doulist to show me the moves. After a couple of minutes I knew I wanted to play it professionally. The doulist was Magomet Karsanov, People's artist of North Ossetia, after a year of training I was in the first team of his group.
What are the benefits of UNESCO concert for you?
I have experience of international concerts, in 2010, I performed at the EXPO exhibition, when I was 12 I performed in France at a festival in Avignon where I was lucky to meet the great Mireille Mathieu.
But this time it is different. We are making "Drums show" with students from Africa, Asia and Arab countries. This is totally new for me though my teacher taught me to play the drums of these regions. Our audience will enjoy all the beauty of these different drums. The Caucasian douli resembles Arabian darbuka and they are both more dull than the African drums. The technique is also different. Unlike African drums the douli is played by the full palm. Beginners have to play up to 4 hours a day till blisters on the palms.
Tell about your region. What do you recommend to visit?
North Ossetia offers a lot to see. One of the most interesting things is the "Tree of Mourning", a monument erected in August 2005 in the memory of the terrorist act in Beslan on September 1, 2004. It is a bronze statue, about 9 m tall, in the shape of women's arms and hands holding angels symbolizing the assassinated children. For my country September 1, 2004, is one of the most tragic historical dates.
Employees of RUDN Institute of Space Technologies take part in the discussion "Eureka" European research-technical program projects
12 April, 3.00 pm, at RUDN Mission Control Center, RUDN IST representatives will meet A.Tkachev, coordinator of "Eurika" projects to discuss preparation of joint research projects in the frame of "Eurika" European research-technical program.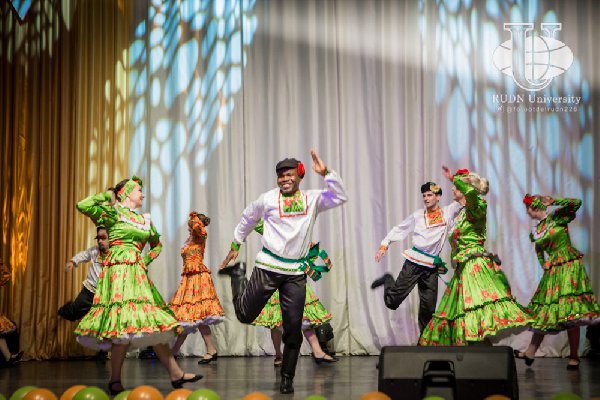 About RUDN
16 Aug
RUDN University, PSB, Rosfinmonitoring and the Russian Academy of Sciences are developing the Sodruzhestvo telecommunications platform
Promsvyazbank (PSB) continues to support the industrial development and telecommunications of the international social and educational digital platform "Sodruzhestvo (Commonwealth)". The corresponding memorandum at the "Army-2023 International Military-Technical Forum" was signed on August 15, by:
About RUDN
04 Aug
Projects on agronomy, ecology, landscape architecture, organization of park spaces… RUDN University and Gorky Park develop cooperation
RUDN University Rector Oleg Yastrebov and Gorky Park Director Elena Lupina signed a cooperation agreement. They discussed the exchange of resources, educational activities and innovative and educational projects in the field of agroecology.
About RUDN
23 Mar
RUDN returns the name of Patrice Lumumba
The Peoples' Friendship University of Russia (RUDN) again has the name of Patrice Lumumba, the first Prime Minister of the Democratic Republic of the Congo, who has become a symbol of the African peoples' struggle for independence. This was announced on Thursday by Russian Prime Minister Mikhail Mishustin.