Students of the Institute of Space Technologies will undergo training at Tekhnomash enterprises
Students of the Institute of Space Technologies will undergo training at Tekhnomash enterprises
RUDN Rector V.Filippov and D.Panov, General Director of Tekhnomash (leading enterprise of the Russian Space Agency) signed an agreement on creating a new Chair of technologic management at RUDN IST.
26 January, RUDN andTekhnomash (leading enterprise of the Russian Space Agency) signed an agreement on creating a new Chair of technologic management at RUDN IST.
Tekhnomash has long been cooperating with RUDN sending its specialists for training at RUDN IST in the light of import phase-out and creating highly competitive production for hi-si industries. The enterprise is also facing structural changes thus needing staff refresher training.
The Chair is implementing a Master's program «Management technology in rocket and space branches» (27.04.04. Technical systems control) as well as postdoc programs for modern engineering and business management in rocket and space industries.
Master students will combine studies and internship at the enterprise doing research on the themes interesting for the client. The program is especially topical for Master students since they have all the necessary background education.
During the meeting the parties thanked each other for fruitful cooperation and determined directions for further work including elaborating short-term educational programs for top managers on new technologies. The demand for specialists in the field of technical audit and digital technologies is especially high, said D.Panov. Аlso RUDN and Tekhnomash are planning to publish a joint monograph on engineering economics.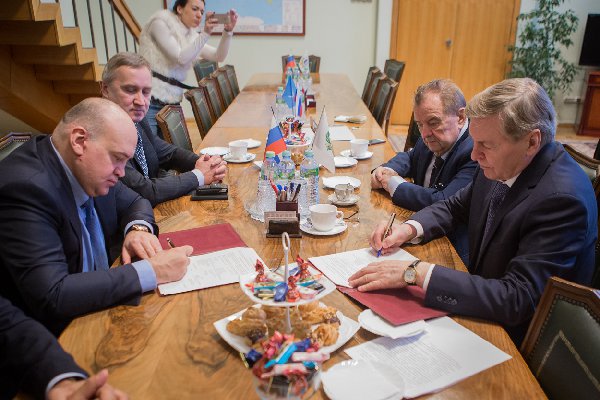 About RUDN
16 Aug
RUDN University, PSB, Rosfinmonitoring and the Russian Academy of Sciences are developing the Sodruzhestvo telecommunications platform
Promsvyazbank (PSB) continues to support the industrial development and telecommunications of the international social and educational digital platform "Sodruzhestvo (Commonwealth)". The corresponding memorandum at the "Army-2023 International Military-Technical Forum" was signed on August 15, by:
About RUDN
04 Aug
Projects on agronomy, ecology, landscape architecture, organization of park spaces… RUDN University and Gorky Park develop cooperation
RUDN University Rector Oleg Yastrebov and Gorky Park Director Elena Lupina signed a cooperation agreement. They discussed the exchange of resources, educational activities and innovative and educational projects in the field of agroecology.
About RUDN
23 Mar
RUDN returns the name of Patrice Lumumba
The Peoples' Friendship University of Russia (RUDN) again has the name of Patrice Lumumba, the first Prime Minister of the Democratic Republic of the Congo, who has become a symbol of the African peoples' struggle for independence. This was announced on Thursday by Russian Prime Minister Mikhail Mishustin.