"In Sri Lanka one must smile and help. Even to strangers", graduate of RUDN University Dasanayake Darshika
A graduate of the IHBiT of RUDN University, Dasanayake Darshika, says that Sri Lanka is more than a beach, and shares her experience of studying and volunteering.
How did your first days of study go? Did you plan to become an excellent student right from the start?
When I arrived in Russia, I did not know a single letter. I didn't think about excellent studies. The main thing was to pass the exam. At the preparatory faculty I constantly cried, said that I wanted to go home, that I did not understand anything. Two months later, I began to slowly join the process. I did all the homework, worked hard. Before exams, I did not sleep at night. And I wanted a red diploma after the first year, when I received the first excellent marks.
Sri Lanka is an amazing country with a vibrant culture. Tell us what you need to know as a tourist who wants to visit?
In Sri Lanka you have to smile. I always smile, even to strangers. We love to smile and help.
I advise you to pay attention to food - it is very tasty here. Spicy but tasty. Eat plenty of fruit: mango, papaya, pineapples and bananas. In Russia, I saw only 2 types of bananas, and we have a lot - and all are different to taste.
Pay attention to how the locals dance. We have 3 main national dances, all of them are very spectacular. I know everything, my favorite is "Kandy dance", which is common in the central part of Sri Lanka.
If time permits, it is worth visiting different cities - Polonnaruwa, Dambulla, Sigiriya, Kandy. Each has its own atmosphere. The only thing is that the locals are very friendly and will always help, tell the way and see you to the place.
By the way, about helping. You are a volunteer. Tell us about it.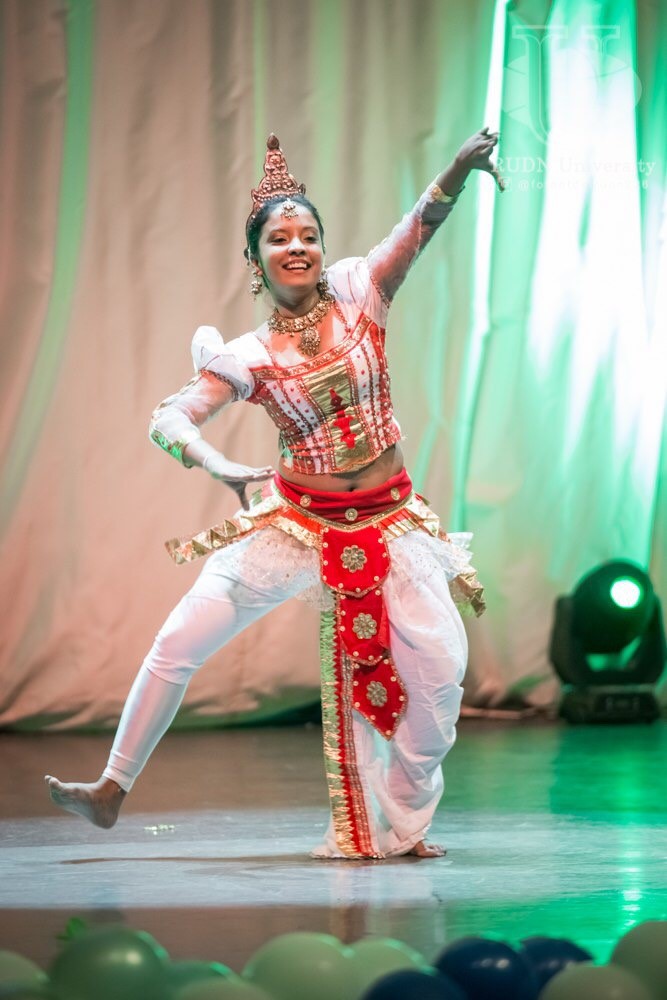 I go to the orphanage in the Vladimir region with the Women's Committee of RUDN University. We live there for three days and spend time with the kids. We walk, play games and talk ... I teach children the national dances of Sri Lanka. We always organize a concert.
Volunteering teaches you to work in a team and communicate. By the way, I have acquired the skill of persuasion - now I can persuade anyone to dance. At first, some say they don't like it, but in the end they stop resisting and dance. Volunteering is for the soul.
Your parents came to Moscow. What did they like most?
My parents came to the prom. Dad was very impressed with the subway. He says: "In Russia, they do not waste time on transport." In the Moscow metro, a train arrives every two minutes. In the villages of Sri Lanka, buses travel at intervals of 1-2 hours.
Dad really wanted to go to the Mausoleum and look at Lenin. We came and it is was closed. The same story happened again next time we came. We got inside on the third time, and he said: "Even if I need to leave now, I agree, I have already seen the main thing." Mom really liked the Victory Museum.
I really miss my parents and home. But recently I entered the magistracy at the Faculty of Humanities and Social Sciences "International Relations". So I won't return home some time. I am very glad that in October we will go to the orphanage again, because I miss the children. I will continue to smile, study and dance in Moscow in the next two years.
Interviewed by Sofia Krylova