RUDN and Porto University signed an agreement on cooperation in science and education
RUDN and Porto University signed an agreement on cooperation in science and education
17 September, the delegation of the University of Porto headed by Professor Maria Ramus, Vice-Rector for research and development, came to RUDN University.
At a meeting with Rector Filippov an agreement on cooperation in science and education was signed. The parties agreed to elaborate dual-degree Master programs in chemistry and IT to be started September 1, 2018 and a dual-degree PhD program in chemistry.
In 2017, students' exchange is done in the frame of Erasmus + program.
At the meeting the strategy of inviting researchers from Porto university to RUDN to the posts of leading researchers was discussed.
Another sphere of interest is joint work in space technologies, in particular using the results of space activities in various fields of economy – ecology, agronomy etc.
The agreement is concluded for 5 years with automatic prolongation.
In the frame of the visit the delegation came to the Faculty of Science where professor Fernandu Pereira delivered a lecture. The delegation also visited the Shared Knowledge Center and the Mission Control Center of RUDN IST.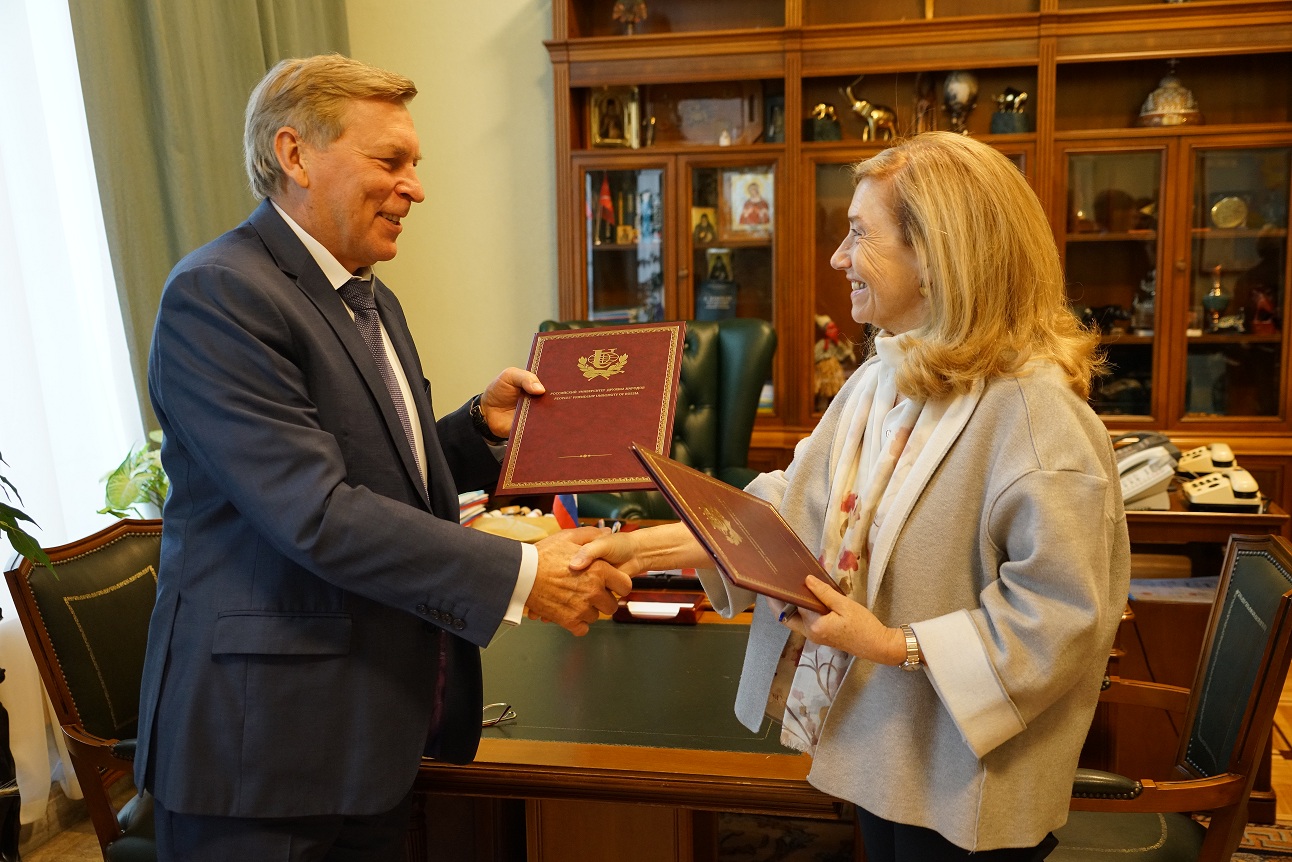 International cooperation
22 Aug
School students from Egypt want to become doctors, IT specialists, architects, economists and nanoengineers
RUDN University is the only university that represented Russia at the international educational exhibition "EDUGATE 2023" in Egypt, which brought together 90 leading universities from 12 countries from Algeria and Morocco to the USA and Germany.
International cooperation
18 Aug
RUDN University invites the Ghanaian delegation to the leading agricultural enterprise of Tula
In August, a delegation from Ghana met with the Russian Union of Potato and Vegetable Producers, an industrial partner of RUDN University. Representatives of the Korle Klottey Municipal Assembly (Ghana), led by the mayor of Accra, visited the agricultural company "Virgin Alliance" in the Tula region. The excursion was organized by the Agricultural and Technological Institute of RUDN University.
International cooperation
04 Aug
Journey into the world of economics: a summer school for RUDN students at the University of Zambia
While someone is on summer holidays, RUDN students of economics keep studying. They went to hot Zambia at the invitation of the Graduate School of Business of the University of Zambia for two weeks of the summer school "Russia-Zambia: Economic Opportunities and Prospects".