RUDN and Porto University signed an agreement on cooperation in science and education
RUDN and Porto University signed an agreement on cooperation in science and education
17 September, the delegation of the University of Porto headed by Professor Maria Ramus, Vice-Rector for research and development, came to RUDN University.
At a meeting with Rector Filippov an agreement on cooperation in science and education was signed. The parties agreed to elaborate dual-degree Master programs in chemistry and IT to be started September 1, 2018 and a dual-degree PhD program in chemistry.
In 2017, students' exchange is done in the frame of Erasmus + program.
At the meeting the strategy of inviting researchers from Porto university to RUDN to the posts of leading researchers was discussed.
Another sphere of interest is joint work in space technologies, in particular using the results of space activities in various fields of economy – ecology, agronomy etc.
The agreement is concluded for 5 years with automatic prolongation.
In the frame of the visit the delegation came to the Faculty of Science where professor Fernandu Pereira delivered a lecture. The delegation also visited the Shared Knowledge Center and the Mission Control Center of RUDN IST.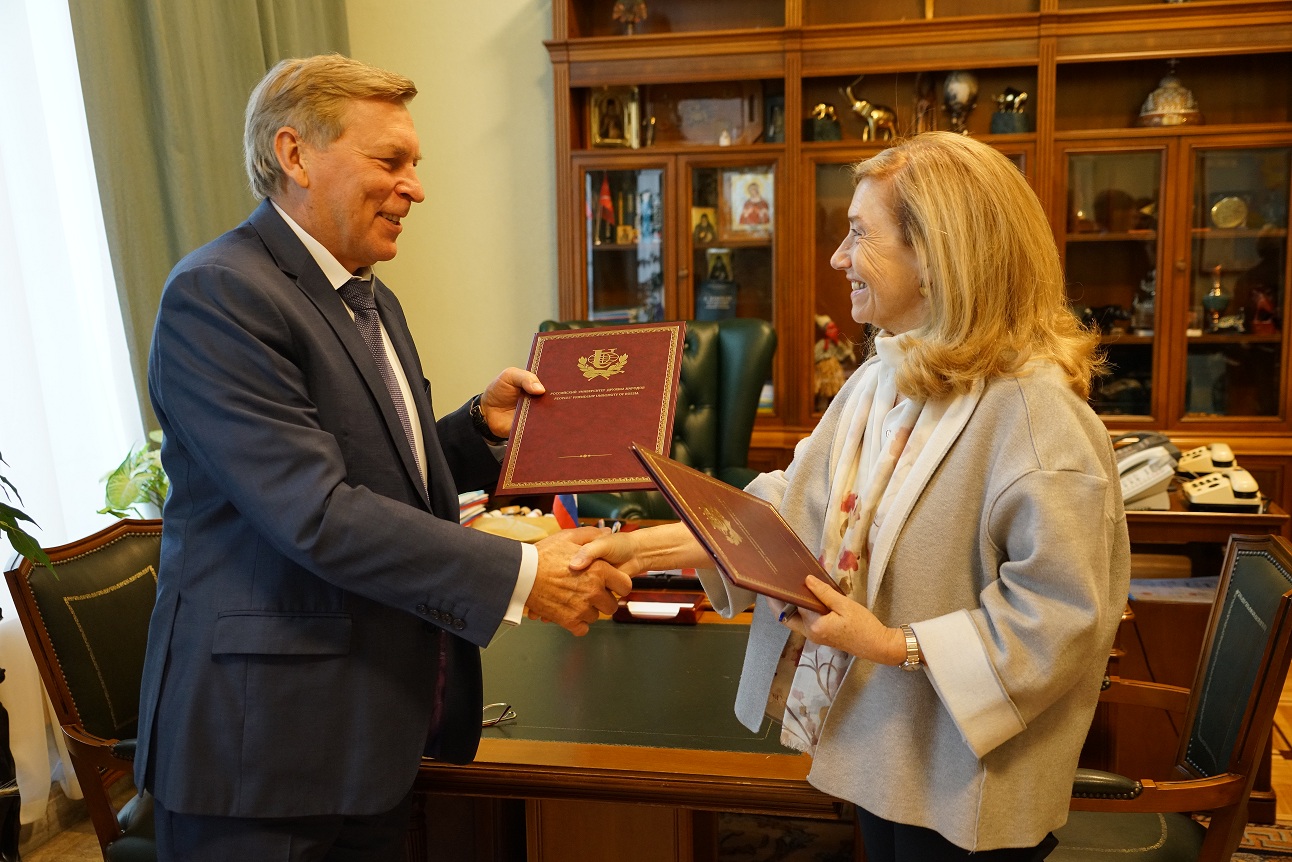 International cooperation
26 Nov 2021
Nuclear Education and Prospects for Russian-African Relations: Russia-Africa Forum at RUDN University
November 23, the II Youth Forum "Russia-Africa: Nuclear Education for Sustainable Development" was held at RUDN University. The agenda featured the search for new forms of cooperation in the field of sustainable development of African countries through nuclear education promotion. The forum was attended by representatives of Russia, Ghana, Egypt, Zambia, Kenya, Mozambique, Rwanda, Tunisia, Uganda and South Africa.
International cooperation
24 Nov 2021
TOP STUDENT MOBILITY scholarship
The TOP STUDENT MOBILITY scholarship is a one-time cash payment in the amount of 55,000 rubles, awarded in 2021 to the winning students.
International cooperation
20 Nov 2021
RUDN University alumni open the Russian-Lebanese Friendship Park in Lebanon
The Russian-Lebanese Friendship Park opened in Lebanon,. in Ainab, Alei region of Mount Lebanon, on November 3. The opening ceremony was attended by Russian and Lebanese diplomats, local residents, members of the Russian-speaking diaspora, as well as graduates of RUDN University.