RUDN and Porto University signed an agreement on cooperation in science and education
RUDN and Porto University signed an agreement on cooperation in science and education
17 September, the delegation of the University of Porto headed by Professor Maria Ramus, Vice-Rector for research and development, came to RUDN University.
At a meeting with Rector Filippov an agreement on cooperation in science and education was signed. The parties agreed to elaborate dual-degree Master programs in chemistry and IT to be started September 1, 2018 and a dual-degree PhD program in chemistry.
In 2017, students' exchange is done in the frame of Erasmus + program.
At the meeting the strategy of inviting researchers from Porto university to RUDN to the posts of leading researchers was discussed.
Another sphere of interest is joint work in space technologies, in particular using the results of space activities in various fields of economy – ecology, agronomy etc.
The agreement is concluded for 5 years with automatic prolongation.
In the frame of the visit the delegation came to the Faculty of Science where professor Fernandu Pereira delivered a lecture. The delegation also visited the Shared Knowledge Center and the Mission Control Center of RUDN IST.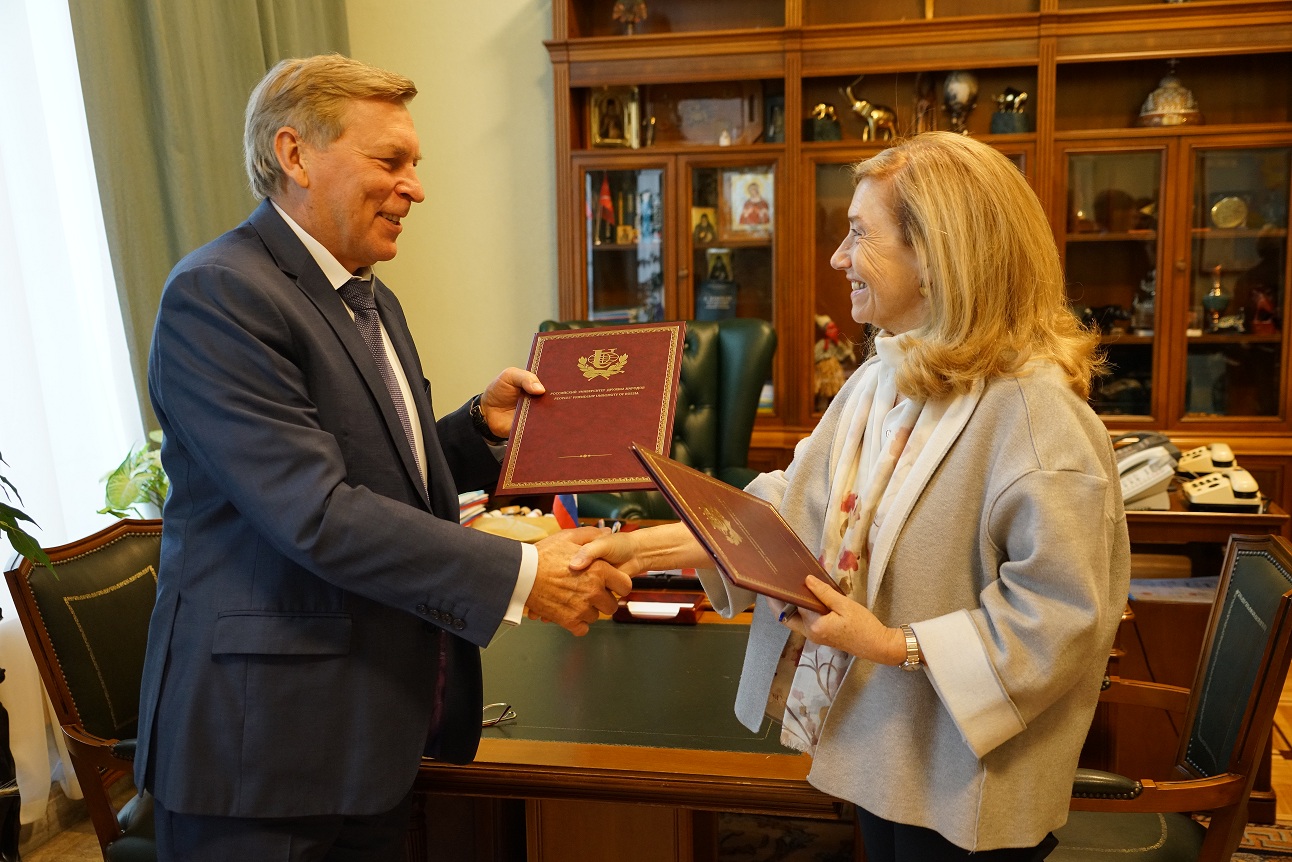 International cooperation
20 Oct
An Olympiad for schoolchildren, an exhibition for applicants, an alumni forum... RUDN University delegation visits Mongolia
October 5-8, 2022, RUDN University delegation paid a working visit to Mongolia. During this period, representatives of the university held RUDN University Open Olympiad, met with applicants at the education exhibition and took part in the forum of Mongolian alumni.
International cooperation
07 Oct
RUDN University and the Cyprus University of Health and Social Sciences agree to cooperate in the field of medicine
September 30, 2022, RUDN University received a delegation from the Cyprus University of Health and Social Sciences. The Cypriot side offered cooperation in the format of academic exchange for students of "General Medicine" and "Dentistry". It is also challenging to create two-week summer / winter schools for Cypriot students of "Dentistry".
International cooperation
05 Oct
The delegation of RUDN University visits 5 universities in Sri Lanka
September 25-28, a delegation of the Peoples' Friendship University of Russia headed by Vice-Rector for International Affairs Larisa Efremova visited five universities of the Republic of Sri Lanka.