Russia and China are strengthening relations. Day of China at RUDN University
Russia and China are strengthening relations. Day of China at RUDN University
26 September, RUDN hosted the XVIII Day of China dedicated to the 68th anniversary of the Chinese People's Republic.
The event was organized by Chinese students and teachers of RUDN Faculty of Social and Humanitarian Sciences and was attended by honored guests from the Embassy and university authorities.
«Our university is actively cooperating with China developing student and academic mobility with Shandong University, Sian University of Foreign Languages, Hainan University and a number of other reputable institutions», said Vice-Rector for international affairs Larisa Efremova.
The feast was conducted by President of RUDN Association of Chinese students and a student of the Faculty of Social and Humanitarian Sciences. RUDN Association of Chinese students is one of the largest at the university, becoming even larger this year since 170 new students have arrived, the association traditionally holds exhibitions, fairs, conferences and concerts that become a bridge between our cultures.
The Chinese language is very popular at RUDN. More than 300 students study Chinese at the FHSS only, 50 students go study to China every year to 4 Master programs in Shandong University, a Master program in Beijing University, a dual-degree Master program in Dalian Institute of Foreign Languages (in the frame of SCO university). Since 2010, 40 Russian and 13 Chinese students have got diplomas of two universities. Currently 13 Russian and 4 Chinese students are doing joint programs with Shanghai University.
The concert was a manifestation of the beauty of Russian and Chinese dances, songs and poetry.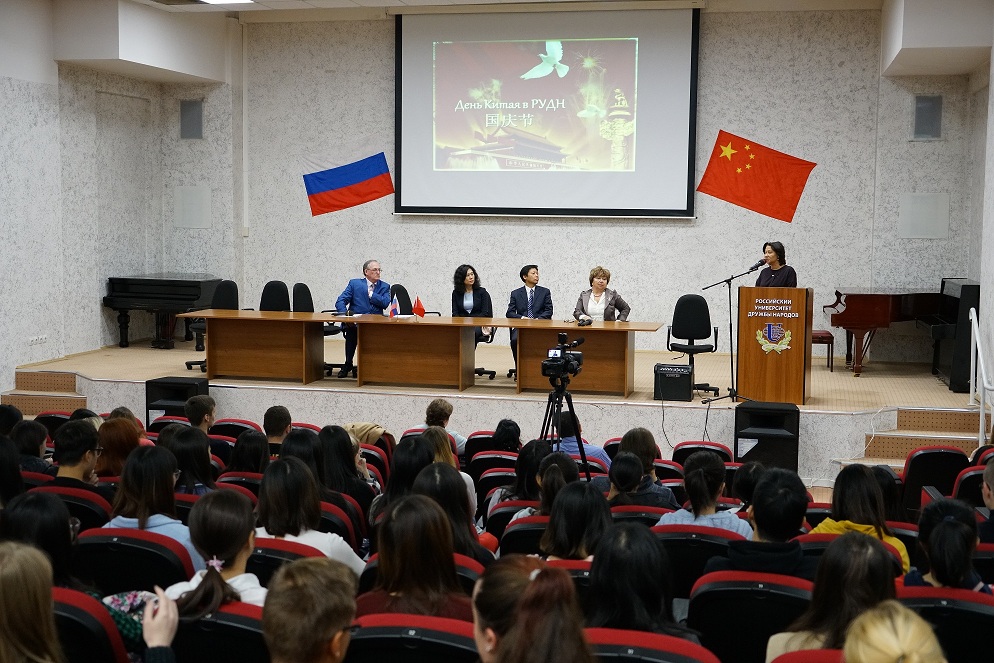 International cooperation
20 Aug
Nuclear education for sustainable development: RUDN experts hold lectures in Africa
RUDN representatives told schoolchildren and students of Kenya and Senegal about trends in nuclear energy, Russian technologies and education in Russia.
International cooperation
29 Jul
RUDN Rector Oleg Yastrebov meets the Ambassador of Syria to Russia
July 16, Oleg Yastrebov, RUDN University Rector and Riad Haddad, Ambassador of the Syrian Arab Republic to Russia held talks. During the meeting, they discussed the study of Syrian students at RUDN University and validation of Russian diplomas. RUDN University Rector assured the meeting participants that the issue of diploma validation would be resolved in the near future.
International cooperation
12 Feb
They trust us: RUDN University will train specialists for 160 countries
More than 70 representatives of the embassies of foreign countries in Russia, representatives of the Federation Council, and the Ministry of Science and Higher Education of the Russian Federation took part in the round table "The contribution of RUDN University to training national personnel for foreign countries." The event was held on February 5, in an online format and was timed to celebrate the 61st anniversary of RUDN University.