"I want to help countries and people in establishing a dialogue": an Iranian student on his motivation to moving to Russia
"I want to help countries and people in establishing a dialogue": an Iranian student on his motivation to moving to Russia
How to find the strength to write two diplomas, study in three countries, and develop a creative talent? RUDN student Danieal Ranjbar from Iran shared the secrets of his working capacity and confessed his love for his future profession.

Danieal, why did you decide to come to Russia?
I wanted to visit Moscow and Paris since I was six years old. My parents talked a lot about the Red Square and the Eiffel tower. I dreamt about visiting those places, and my dreams eventually came true. On the second day of my stay in Moscow, I walked from RUDN University to the center. That's the best way to get to know the city!
Why exactly RUDN?
I completed the bachelor's program in international relations in Kazakhstan and management in Poland. I wrote two diplomas — it was very interesting experience. Then I decided to continue my studies at RUDN master's program, it's one of the best programs in English on international relations. I believe that it's important to study this subject in English, because it is the universal language of negotiations at the highest level. I love that there are a lot of foreigners at the university. I feel at home — the atmosphere here is very friendly.
Let's talk about your moving to Moscow.
I've heard different opinions before, for example, that Russians are "cold" in contrast to Spaniards, who easily make new acquaintances. But now the stereotypes have been dispelled: I have made friends with many students from Russia — they are very sociable and friendly guys. Russians welcome foreigners and are always ready to help — it immediately inspires trust!
What are you doing apart from studies?
I work in an economic magazine and write articles in English about politics and international relations in the Eastern region, I am good at all that stuff. I have also been playing volleyball professionally for 15 years, and now I am glad that I have a great opportunity to train with RUDN team.
What other hobbies do you have?
Six years ago, I started writing poems to music. It all started with my studies in a music school, and now it has become a professional business. A famous Iranian singer buys my poems and music and performs in front of a large audience.

Is it difficult to write poetry?
Writing is easy, but it's hard to match verses to music. Although this is a very interesting and painstaking activity! Since childhood, I have played the flute, guitar and violin. But now I have a lot of interesting studies, and there is not much time for hobbies.
How does the choice of specialty affect your life?
What I like about international relations is that we don't protect the parties as lawyers, but, instead, we act as intermediaries between them. In my work, I plan to help countries and people in establishing a dialogue. I admire the UN's peacemaking activities, because as a result, it is possible to gather representatives of the warring parties at one table and get them to talk — and this is a great diplomatic talent. I study the affairs of great diplomats and peacemakers at the university, and I hope that one day I will work for the maintenance of international peace.
What profession do you plan to choose in the future?
I want to become a mediator. It's a person who assists in the resolution of conflicts and the establishment of diplomatic relations between the two countries. Mediation doesn't involve a third party to make a decision on a dispute. The main thing is to do your job impartially and with respect for all participants of the negotiations. I can relate to this approach in life. I like resolving domestic disputes or making peace among my friends. I believe: if you do the work with pleasure — the vocation is a true one!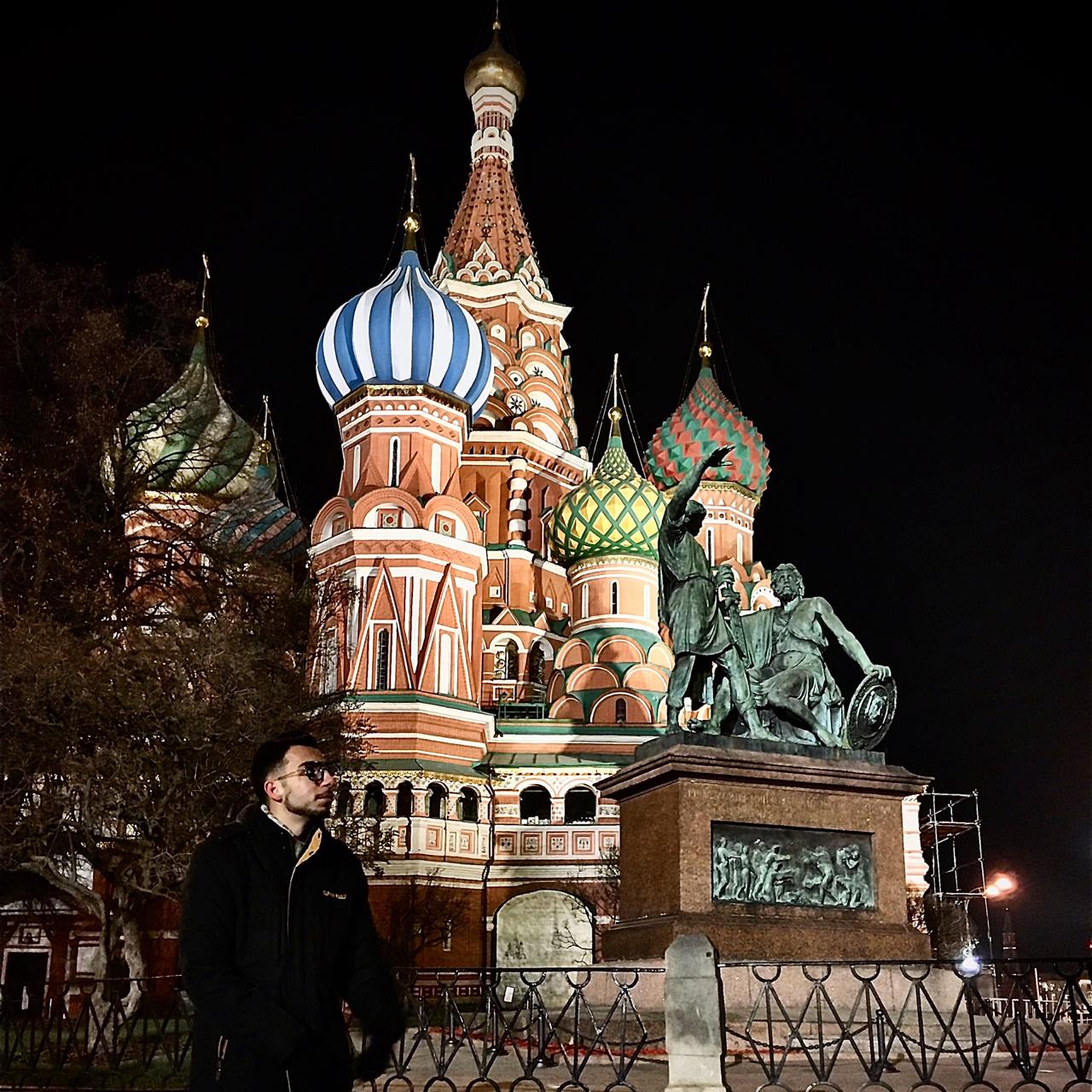 Life in RUDN
03 Aug
"In my work, the main thing is people. Whatever I design, it should be completely satisfying to society," – Morjadino Da Fonseca Vera Kruz, PhD student at the Academy of Engineering from Sao Tome and Principe
Morjadino flew from warm Sao Tome to Moscow to receive the profession of an architect of buildings and structures. He loves Khrushchev apartment buildings (5-storey buildings of the 60's), lives according to the laws of Vitruvius and wants to create something useful for society. We asked Morjadino what motivated him to move to Russia, why he chose Architecture and what project he presented at the Golden Section festival.
Life in RUDN
01 Aug
Resident of RUDN Institute of Medicine saves a man's life on board the plane
July 18, one of the passengers of Qatar Airways Moscow-Doha flight QR340 felt bad. Alaa Al Hajj, a Lebanese resident of RUDN Institute of Medicine (Traumatology and Orthopedics), who was flying on vacation, came to his aid. The young doctor provided first aid and convinced the crew to make an emergency landing at Kuwait International Airport to transfer the passenger to the medical team. Thanks to Alaa, the man remained alive.
Life in RUDN
07 Jul
Meaningful summer means comfortable academic year!
The third working semester of the International student construction brigade "Meridian of Friendship" was opened at RUDN University. Vice-Rector for Student Affairs Mikhail Katsarsky motivated the students to work, speaking about his student path in the construction team, tied bandanas to the leaders and handed out tasks.