"I work in intensive care. The hospital has given me accommodation. It's better for me to know that my wife is at home, safe, "Mengistu Elias Mesfin (Ethiopia), resident of RUDN University Medical Institute, volunteer at Clinical Hospital No. 1
"I work in intensive care. The hospital has given me accommodation. It's better for me to know that my wife is at home, safe, "Mengistu Elias Mesfin (Ethiopia), resident of RUDN University Medical Institute, volunteer at Clinical Hospital No. 1
Moscow doctors are assisted by foreign residents of RUDN University. Under special uniforms and masks you cannot see the skin color. Hands are covered by identical gloves. However, the characters should not be faceless. Today we talk about Mengistu Elyas Mesfin - medical resident of the Department of Anesthesiology and Intensive Care with a course of medical rehabilitation of RUDN University. Elias is from Ethiopia, but has been helping doctors at Clinical Hospital No. 1 in Moscow for several weeks now. Read about how Africa is helping Russia in an interview for the project "Masked Faces".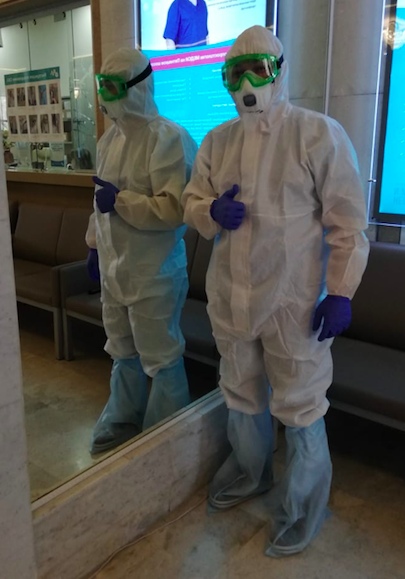 Intensive care means the most difficult patients, huge pressure...
This is also my profession and my duty. When it all started, I was undergoing practice in the intensive care unit of Clinical Hospital No. 1, in the branch of Medsi private clinic network. And I decided to stay there as a volunteer. I didn't even think about it - I had already long chosen the path of a doctor.
News with the words "intensive care", "coronavirus", "infection" sounds scary. How do you deal with that?
Work is work. The hospital has been converted to receive patients with coronavirus infection. In the intensive care unit patients are already in serious condition. Our task is to stabilize the patient in order to return to the regular department. We use oxygen therapy, artificial lung ventilation (ALV), renal replacement therapy ... More and more patients come in every day - elderly and young, men and women, Russians and foreigners. No one is safe from the disease. Therefore, we have been working 12 hours every day for a long time: two 6-hour shifts with a short break.
You are at the epicenter of the struggle for life. How do you protect yourself from the virus?
Yes, we do have daily contact with infected patients. And they all need help. It is important to protect yourself and your loved ones. We were provided with personal protective equipment, we take temperature every day and periodically take smears. It is important that the hospital provided volunteers with accommodation, food and everything we need. Everything is close - no need to waste time and energy to get to work. It is also safer for your family. My wife is waiting for me at home.
How are things in Ethiopia? How are your relatives there?
Ethiopia has now introduced quarantine regime. People are self-isolated. Everything is fine with mom and dad - they are at home. They worry, of course, but this is what parents do. I do my job and hope they are proud of me.
When it's over, what is the first thing you will do?
I'll go home, take a shower and hug my wife.
Life in RUDN
16 Mar
"Instilling love for the Russian language and Russian culture is a great happiness for me," — Milena Shcherbakova, Master student at the Russian Language Institute, RUDN University
Read an interview about the development of digital technologies, teaching and fulfilling dreams.
Life in RUDN
14 Mar
"I want to dedicate my life to the development of education in my country" Mohammad Kazim Tabasomm, international student at RUDN University
Read an interview about the Eurasian Women's Forum, a career in international relations and life in Afghanistan.
Life in RUDN
08 Mar
"I gave injections to a pygmy hedgehog," Victoria Vernust, vet student at RUDN University
Read an interview about the love for bearded dragons, fencing, important skills of a veterinarian and difficult relationships with pet owners.