"When it's over, I will continue to work," - Prabal Pradhan, RUDN medical resident
"When it's over, I will continue to work," - Prabal Pradhan, RUDN medical resident
Medical residents -volunteers are assisting doctors at RUDN Medical Center. They are real heroes whose faces are hidden behind masks. Today we introduce Prabal Pradhan, a resident of RUDN University, specializing in Traumatology and Orthopedics. He is from Nepal, but he is helping the whole world now - students who still live on campus. Read about everyday life, changes and fear in an interview for the project "Masked Faces".
You are a qualified doctor, a future traumatologist. Why did you decide to help RUDN GPs?
I understand that now there is a big burden on GPs who need to visit patients. There are 14 dormitories on RUDN campus accommodating several thousand people. Everyone now may need additional attention from the medical staff. Therefore, I decided that I would help GPs of RUDN Medical Center.
What has changed in everyday life?
My life schedule has changed. I work every other day, the shift starts at 8 in the morning and lasts 12 hours. I'm responsible for several hostels where I go for calls. Each building has special rooms to examine new patients separately. If there is even a slightest suspicion, I can call an ambulance. So far, the only case when I did it was when a student had an attack of appendicitis.
I also moved to another hostel - new hostel No. 15. All the students, residents and graduate students of the Medical Institute who are helping in hospitals now, were resettled to occupy separate floors in the new hostel. This is a very correct decision - this reduces contacts with our families. Actually, I come to the hostel only to sleep, I'm already used to the new room and hope to stay here after it's over.
Prabal, how is the situation in Nepal now?
In Nepal, the situation is not as serious as in many other countries. However, there are patients, and their number is constantly growing. I regularly communicate with parents worrying about their health - they are well, and I am very happy about this.
Are you ever scared?
I admit - it can be a little scary during new visits, of course. Now everybody is at risk - the virus knows no differences either in citizenship or in profession. After all, we have never encountered a pandemic of this magnitude. But I understand that in order to help the maximum number of patients, doctors now must be especially careful about their safety. Therefore, when working with patients, I always use disposable masks, gloves, hats, disposable coat, shoe covers and glasses. After examination, I take everything off, wash my hands and treat them with antiseptic. This is already a habit.
What will you do first when everything is over?
I will continue to work.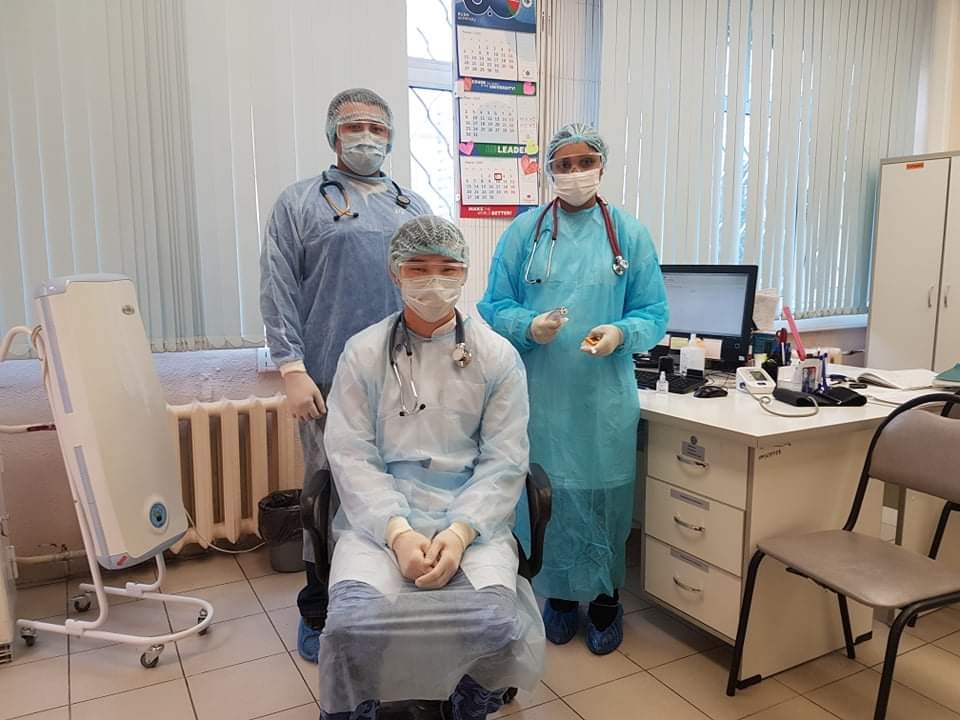 Life in RUDN
24 May
"I love to create something new — I have found my place in science," Ngbala-Okpabi Obarijima Godwin Samuel, student of the Engineering Academy of RUDN University
Obarijima came from Nigeria and entered RUDN in 2016. Now he is studying in the first year of the master's program at the Engineering academy and has already managed to register a patent. Read his interview about why he decided to study in Russia, about registering a patent and about VR5 engines.
Life in RUDN
23 May
A kaleidoscope of cultures and events: what do you remember about Planet South-West 2022?
May 14, RUDN University hosted the 34th Planet South-West festival. Patrice Lumumba square gathered more than 3 thousand guests. 500 students prepared exhibitions from 61 countries and a concert of 53 numbers. The most popular groups of RUDN Interclub — from "Rhythms of Friendship" and "Rainbow" to the folk group "Krapiva" and the Caucasian Dance Studio greeted the guests with songs and dances.
Life in RUDN
23 May
Victoria Orlova, a student at RUDN Medical Institute: During four courses of study I have been thinking "Why is the profession of a nurse so underestimated?"
It is widely believed that a nurse is supposed to give and bring. But this is absolutely not true. My name is Victoria Orlova, I am a 4th year student of the Medical Institute of the Peoples' Friendship University of Russia, majoring in "Nursing".