Boiko Kotsev, Ambassador Extraordinary and Plenipotentiary of Bulgaria to Russia visits RUDN University
Boiko Kotsev, Ambassador Extraordinary and Plenipotentiary of Bulgaria to Russia visits RUDN University
"The strongest sides of Bulgarian education are exact sciences – mathematics, physics, engineering" — Boiko Kotsev
Boiko Kotsev, Ambassador Extraordinary and Plenipotentiary of Bulgaria to Russia visited RUDN University and met the University administration, noting RUDN advantages in Bulgaria and competitiveness of its graduates.
At the meeting the parties also discussed prospective directions of cooperation between RUDN and leading Bulgarian universities. According to Nur Kirabayev, RUDN Vice-Rector for research, RUDN actively practices two cooperation formats. The first one is secondary school Olympiads, the winners being automatically enrolled to RUDN state-subsidized programs. The second is support to profile classes in Bulgaria. According to Boiko Kotsev, the strongest sides of Bulgarian education are exact sciences – mathematics, physics and engineering.
Mr.Kotsev highly appreciated the hospitality of Peoples' friendship university of Russia and expressed hope for further fruitful cooperation.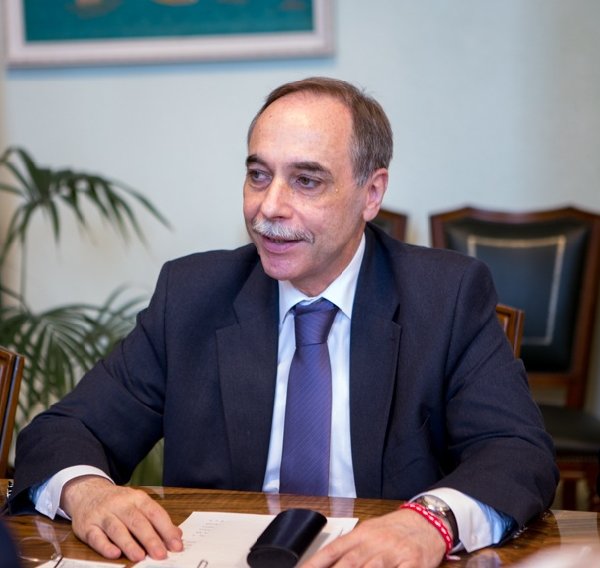 About RUDN
31 Jan
RUDN University becomes a federal innovation platform in the priority area "Informatics. Digitalization"
The new list of federal innovation sites (FIS) of the Russian Federation includes 30 new organizations. Among them is the Peoples' Friendship University of Russia. This became possible thanks to the development of the Digital Preparatory Faculty of RUDN University.
About RUDN
16 Dec 2022
RUDN University confirms the title of the "greenest" university in Russia and strengthens its position in the global ranking
RUDN rose to the 26th position in the UI GreenMetric 2022 ranking and confirmed the status of the "greenest" university in Russia. The ranking includes 1,050 world universities, of which 52 are Russian.
About RUDN
21 Jul 2022
RUDN University is in 4th place in terms of the number of entries in the TOP-10 of the "Expert" ranking
Peoples' Friendship University of Russia is represented in all 16 subject rankings and in five out of six subject profiles of the Expert Analytical Center ranking. RUDN University showed the best results in the following areas: "Ecology" and "Agriculture and Biological Sciences" — 1st place. "Mathematics", "Chemistry", "Artificial Intelligence", "Renewable Energy" are in the TOP — 5 subject ranking. In total, 152 universities were ranked in 2022 (137 in 2021).