Engineers of cyber prostheses, IT doctors, robotic surgeons operators, genetic consultants… Experts are convinced that the future belongs to revolutionary biomedical technologies and for this new staf
Engineers of cyber prostheses, IT doctors, robotic surgeons operators, genetic consultants… Experts are convinced that the future belongs to revolutionary biomedical technologies and for this new staf
17 May, RUDN hosted a strategic session «High-impact technologies in bio medicine» in the frame of 5-100 project workshop. 
17 May, RUDN hosted a strategic session «High-impact technologies in bio medicine» in the frame of 5-100 project workshop. More than 200 academics, practitioners and researchers gathered to discuss research and implementation of medical inventions.
Nanotheranostics, metabolomics, translational and personified medicine, distant surgery, medicinal drugs without side effects – these were the subjects discussed at the session. The key issue was making a chain of new medicinal products manufacturing from theoretic elaborations to testing and production.
Lyudmila Ogorodova, Vice Deputy minister of education and science noted that the efficiency of medical research is determined by the final product and joining interdepartmental efforts will help improve life quality.
5-100 project universities presented breakthrough elaborations in bio medicine – early diagnostics methods, using biodegradable silicon nanoparticles when treating lung and breast cancer, titanium and porous ceramic prostheses etc. Some elaborations can not only increase the efficiency of health care but make surgery and treatment 70% cheaper. Valery Stolyar, Head of RUDN Department of medical informatics shared experience of on-line surgery in remote regions, which is sometimes much more efficient than sending helicopters and paramedics.
Representatives of industrial companies, large pharmaceutical corporations and state structures are ready to support universities and invest in medical research.
L.Ogorodova suggested holding a series of thematic workshops as discussion and promotion sites for the most prospective medical research.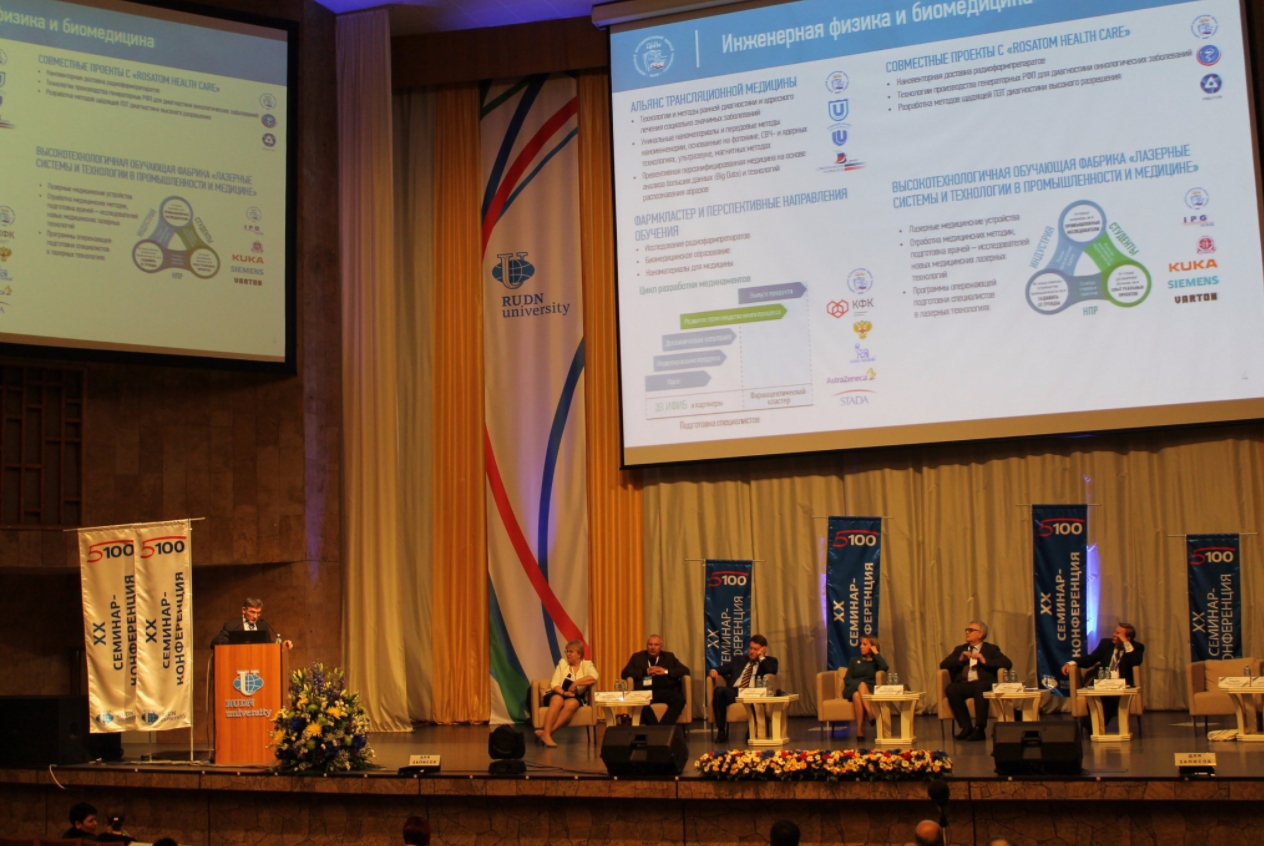 About RUDN
27 Jun
RUDN University and Roskachestvo sign a cooperation agreement
June 21, RUDN Rector Oleg Yastrebov and the head of Roskachestvo Maxim Protasov signed a cooperation agreement.
About RUDN
24 Jun
RUR World University Ranking 2022: RUDN University in the top 100 best universities in the world in terms of teaching quality
RUDN University has risen from 401 to 361 place in the international RUR World University Ranking 2022 over the year. Peoples' Friendship University of Russia entered the top 100 universities in terms of "Teaching Quality", ranking 95th in the world and 8th among Russian universities. In total, 1,024 universities were ranked in 2022 (869 in 2021).
About RUDN
30 May
RUDN University enters the TOP-50 legendary brands of Russia
RUDN University was included in the list of winners in "Our Legends" nomination of the 50 Legendary Brands award from the "Komsomolskaya Pravda" media group. The people's jury is more than 5 million readers of "Komsomolskaya Pravda" determined who was worthy of the award.