Farmer from Africa, banker from Dominican Republic and prison psychologist from South Korea. RUDN University entrants on their plans for the future
Farmer from Africa, banker from Dominican Republic and prison psychologist from South Korea. RUDN University entrants on their plans for the future
RUDN University is welcoming new entrants from all over the world. They all come with dreams and aims they have shared with us.
RUDN University is welcoming new entrants from all over the world. They all come with dreams and aims they have shared with us.
Rosalia from Dominican Republic came to enter the faculty of Economics to further work in the banking system at home.
- In secondary school back home we have exams similar to the Russian national exam so I brought grades and here I have tests in Russian, maths, economics and history. My friends are already students here so I have come alone- a bit scary but finally everything is great.
Itumeleing from Africa got qualifications of agrarian manager back home and has come to RUDN to continue at the Agrarian Institute:
— In my country there is a new trend – indigenous people started doing business while most farmers are white. After graduation I am planning not just to grow fruit and vegetables but process them and make juices and wines for example.
Kwan came from a small town in South Korea to do Master's at the faculty of Philology majoring in psychology. Kwan is a custodial supervisor in a jail.
— My country sent me here for re-training so that I can work as a jail psychologist. I think I could work in Russian jails as well – I have good Russian, I used to study it in a Korean university.
Good luck to RUDN University entrants!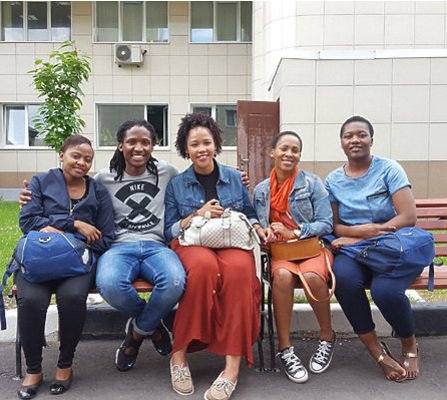 About RUDN
16 Aug
RUDN University, PSB, Rosfinmonitoring and the Russian Academy of Sciences are developing the Sodruzhestvo telecommunications platform
Promsvyazbank (PSB) continues to support the industrial development and telecommunications of the international social and educational digital platform "Sodruzhestvo (Commonwealth)". The corresponding memorandum at the "Army-2023 International Military-Technical Forum" was signed on August 15, by:
About RUDN
04 Aug
Projects on agronomy, ecology, landscape architecture, organization of park spaces… RUDN University and Gorky Park develop cooperation
RUDN University Rector Oleg Yastrebov and Gorky Park Director Elena Lupina signed a cooperation agreement. They discussed the exchange of resources, educational activities and innovative and educational projects in the field of agroecology.
About RUDN
23 Mar
RUDN returns the name of Patrice Lumumba
The Peoples' Friendship University of Russia (RUDN) again has the name of Patrice Lumumba, the first Prime Minister of the Democratic Republic of the Congo, who has become a symbol of the African peoples' struggle for independence. This was announced on Thursday by Russian Prime Minister Mikhail Mishustin.