Grand celebration Folk dances and sons, drums and guitar, colorful costumes and ethnic jewelry, different languages and national cuisines
Grand celebration Folk dances and sons, drums and guitar, colorful costumes and ethnic jewelry, different languages and national cuisines
Starting this week, Peoples' Friendship University (RUDN) Main Square has continued to struggle to cultivate a sense of place and that's part of what makes a grand opening of celebration so exciting.
International students' folk festival "Planet South West" brought together hundreds of talented, active, creative people for the past 30 years. It has created a great destination that shows off the best of RUDN and draws audience to enjoy the university center.
Foreign communities of RUDN University showed their national customs, traditions, languages, clothes and cuisines. Visitors and participants of the Festival could try and taste fried black caterpillars of the Congo, Moroccan couscous, Peruvian coffee and other national dishes and drinks.
2016 edition hosted guests and festival goers - students, professors and graduates of the People's Friendship University, participants of the All-Russian Congress of Russian Association of International Students, representatives of Moscow South West universities and schools, diplomats and just friends of the university. It also featured a whole host of special guests - Second World War veterans.
Festival "Planet South West" was first held in 1987. And every year the celebration has become larger and more attractive to visitors. Festival has become the leading destination, having a truly unique character and turning to be more attractive than an early time.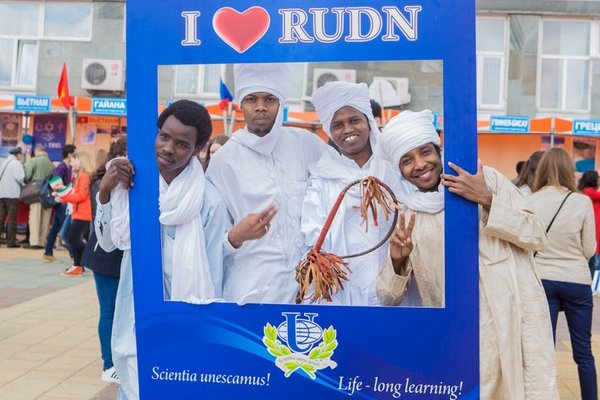 About RUDN
31 Jan
RUDN University becomes a federal innovation platform in the priority area "Informatics. Digitalization"
The new list of federal innovation sites (FIS) of the Russian Federation includes 30 new organizations. Among them is the Peoples' Friendship University of Russia. This became possible thanks to the development of the Digital Preparatory Faculty of RUDN University.
About RUDN
16 Dec 2022
RUDN University confirms the title of the "greenest" university in Russia and strengthens its position in the global ranking
RUDN rose to the 26th position in the UI GreenMetric 2022 ranking and confirmed the status of the "greenest" university in Russia. The ranking includes 1,050 world universities, of which 52 are Russian.
About RUDN
21 Jul 2022
RUDN University is in 4th place in terms of the number of entries in the TOP-10 of the "Expert" ranking
Peoples' Friendship University of Russia is represented in all 16 subject rankings and in five out of six subject profiles of the Expert Analytical Center ranking. RUDN University showed the best results in the following areas: "Ecology" and "Agriculture and Biological Sciences" — 1st place. "Mathematics", "Chemistry", "Artificial Intelligence", "Renewable Energy" are in the TOP — 5 subject ranking. In total, 152 universities were ranked in 2022 (137 in 2021).