Grand celebration Folk dances and sons, drums and guitar, colorful costumes and ethnic jewelry, different languages and national cuisines
Grand celebration Folk dances and sons, drums and guitar, colorful costumes and ethnic jewelry, different languages and national cuisines
Starting this week, Peoples' Friendship University (RUDN) Main Square has continued to struggle to cultivate a sense of place and that's part of what makes a grand opening of celebration so exciting.
International students' folk festival "Planet South West" brought together hundreds of talented, active, creative people for the past 30 years. It has created a great destination that shows off the best of RUDN and draws audience to enjoy the university center.
Foreign communities of RUDN University showed their national customs, traditions, languages, clothes and cuisines. Visitors and participants of the Festival could try and taste fried black caterpillars of the Congo, Moroccan couscous, Peruvian coffee and other national dishes and drinks.
2016 edition hosted guests and festival goers - students, professors and graduates of the People's Friendship University, participants of the All-Russian Congress of Russian Association of International Students, representatives of Moscow South West universities and schools, diplomats and just friends of the university. It also featured a whole host of special guests - Second World War veterans.
Festival "Planet South West" was first held in 1987. And every year the celebration has become larger and more attractive to visitors. Festival has become the leading destination, having a truly unique character and turning to be more attractive than an early time.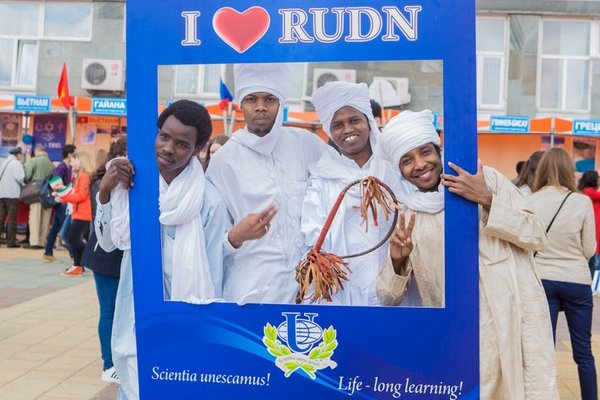 About RUDN
29 Dec 2021
RUDN University and QS World Merit sign a memorandum of cooperation
December 28, RUDN University Rector Oleg Yastrebov and QS World Merit Head of Partnerships Zoya Zaitseva signed an agreement on large-scale cooperation in achieving 17 sustainable development goals identified by the UN.
About RUDN
16 Dec 2021
RUDN University in the 31st place in the international QS EECA 2022 rankings
In a year, RUDN University rose from 43 to 31 place in the international QS University Rankings: Emerging Europe & Central Asia 2022. Peoples' Friendship University of Russia showed the best results in international scientific relations, academic reputation and employer reputation categories.
About RUDN
16 Dec 2021
RUDN University entered the top-30 "greenest" universities in the world according to GreenMetric 2021 ranking
RUDN has risen to the 28th position in the international ranking of environmentally friendly universities UI GreenMetric 2021 remaining the "greenest" university in Russia. This is the best result in the history of the university's ranking participation since 2011. The list of the "greenest" universities was published on December 14. There are 956 universities from 80 countries, including 54 universities from Russia. The goal of the UI GreenMetric — assess universities according to campus development ecological sustainability and the energy-saving model of university management.