GreenMetric World University Rankings 2019: RUDN University reaffirms the status of the greenest university in Russia
GreenMetric World University Rankings 2019: RUDN University reaffirms the status of the greenest university in Russia
GreenMetric presented the results of the world university environmental sustainability ranking. RUDN University took the 38th place among the universities of the world, once again confirming the position of the greenest university in Russia.
RUDN University is the leader among Russian universities in terms of Transport Policy, Waste Management and Water Resources.
This year, the ranking ranged 780 universities from 85 countries.
GreenMetric World University Rankings measures university commitment to sustainable development and green infrastructure. The rating evaluates universities according to 6 indicators: setting and infrastructure, transportation, waste, energy and climate change, water, as well as education in the field of sustainable development.

View ranking results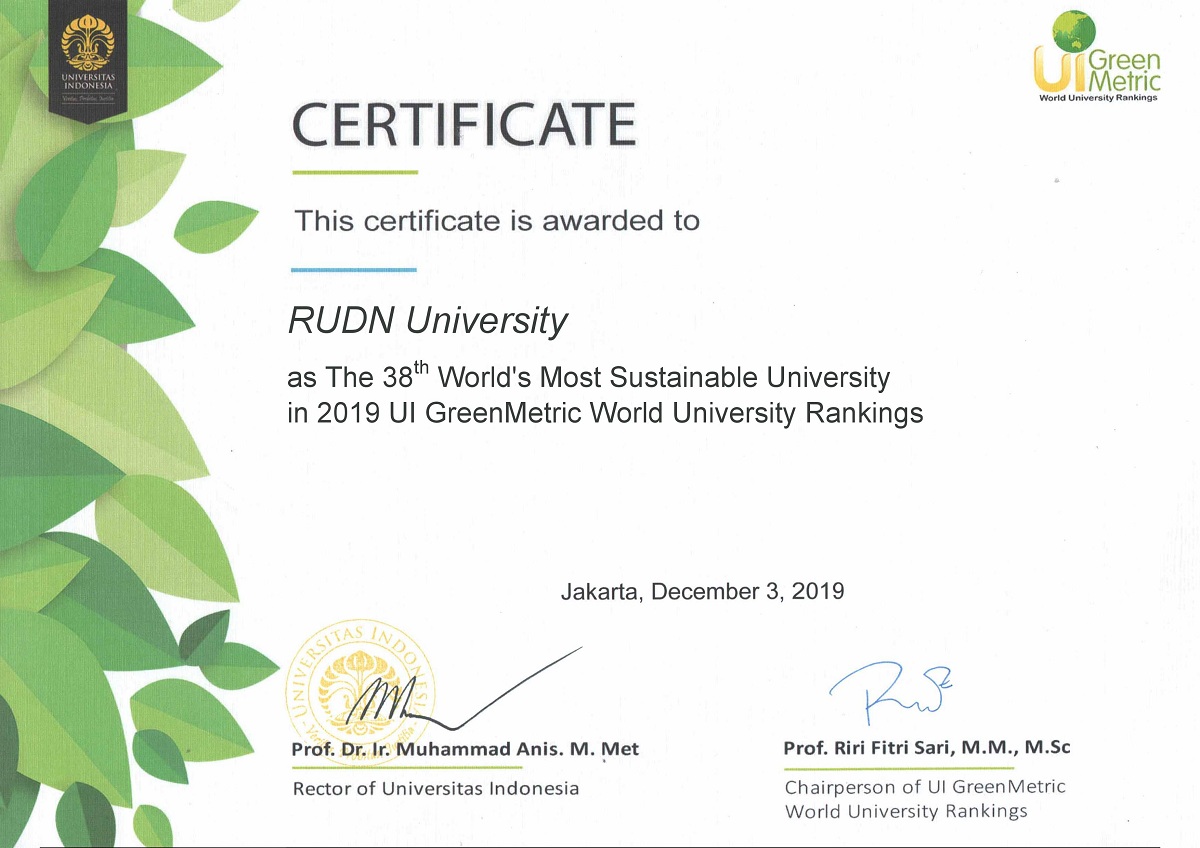 About RUDN
23 Mar
RUDN returns the name of Patrice Lumumba
The Peoples' Friendship University of Russia (RUDN) again has the name of Patrice Lumumba, the first Prime Minister of the Democratic Republic of the Congo, who has become a symbol of the African peoples' struggle for independence. This was announced on Thursday by Russian Prime Minister Mikhail Mishustin.
About RUDN
31 Jan
RUDN University becomes a federal innovation platform in the priority area "Informatics. Digitalization"
The new list of federal innovation sites (FIS) of the Russian Federation includes 30 new organizations. Among them is the Peoples' Friendship University of Russia. This became possible thanks to the development of the Digital Preparatory Faculty of RUDN University.
About RUDN
16 Dec 2022
RUDN University confirms the title of the "greenest" university in Russia and strengthens its position in the global ranking
RUDN rose to the 26th position in the UI GreenMetric 2022 ranking and confirmed the status of the "greenest" university in Russia. The ranking includes 1,050 world universities, of which 52 are Russian.