RUDN IWEB "Advertising and PR" educational program got accredited by the Association of Communication Agencies of Russia (ACAR)
RUDN IWEB "Advertising and PR" educational program got accredited by the Association of Communication Agencies of Russia (ACAR)
August 2, RUDN IWEB "Advertising and PR" educational program got accredited by the Association of Communication Agencies of Russia (ACAR).
August 2, RUDN IWEB "Advertising and PR" educational program got accredited by the Association of Communication Agencies of Russia (ACAR).
From February to May 2016, RUDN University hosted meetings on the professional accreditation of "Advertising and PR" program realized together with Riga International school of economics and management (Latvia).
During the accreditation process ACAR assessed the efficiency of the IWEB Department of advertising and PR, studied the documents and the archive of qualification papers, current agreements with companies giving internship and employment to students, met academics of the department inviting the most qualified experts for the accreditation
ACAR commission stated that the quality of preparation of the students meets the demands of the current market and gave a corresponding certificate to the program
ACAR unites more than 200 largest players of the market of advertising and business communications. So far it is one of the most respected professional advertising associations. In its activity ACAR pays a lot of attention to issues of education, standards and self-regulation of the industry. ACAR is the only organization giving independent assessment of the quality of education in marketing, advertising and PR, design and business communications
As an accrediting body ACAR is represented in the Ministry of education and science of the RF and is full member of the European Association of Communication Agencies, which has accredited more than 50 educational programs in various European universities.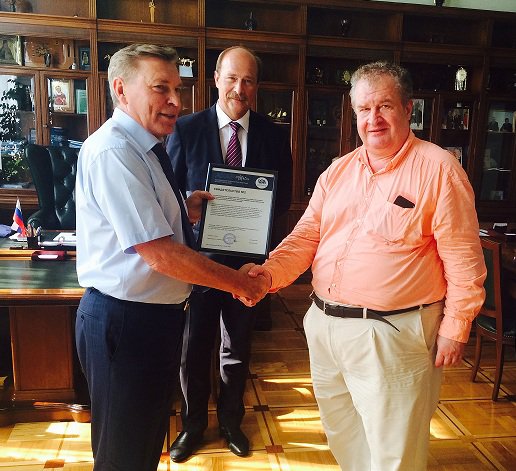 About RUDN
27 Jun
RUDN University and Roskachestvo sign a cooperation agreement
June 21, RUDN Rector Oleg Yastrebov and the head of Roskachestvo Maxim Protasov signed a cooperation agreement.
About RUDN
24 Jun
RUR World University Ranking 2022: RUDN University in the top 100 best universities in the world in terms of teaching quality
RUDN University has risen from 401 to 361 place in the international RUR World University Ranking 2022 over the year. Peoples' Friendship University of Russia entered the top 100 universities in terms of "Teaching Quality", ranking 95th in the world and 8th among Russian universities. In total, 1,024 universities were ranked in 2022 (869 in 2021).
About RUDN
30 May
RUDN University enters the TOP-50 legendary brands of Russia
RUDN University was included in the list of winners in "Our Legends" nomination of the 50 Legendary Brands award from the "Komsomolskaya Pravda" media group. The people's jury is more than 5 million readers of "Komsomolskaya Pravda" determined who was worthy of the award.