RUDN University — # 317 in the ranking of the best universities in the world QS WUR 2022
RUDN University — # 317 in the ranking of the best universities in the world QS WUR 2022
According to the ranking of the best universities in the world QS World University Rankings 2022, RUDN University has risen by 9 positions and took the 317th place.
The QS World University Rankings includes 1,300 universities from 93 countries, RUDN University ranking # 317. During the year, Peoples' Friendship University of Russia rose by 9 positions. Rapid growth of RUDN University is witnessed in "Academic reputation" (# 493 in the world — 62 positions up during one year) and "Reputation among employers" (# 329 — 43 positions up during one year), "Student / faculty ratio" (# 72 — 25 positions up over a year).
Particular success is seen in recognition from employers. RUDN University has 750 internship bases. Among the partners are Mars, Nestle, Hyundai motor, Renault Group, SBER bank, VTB bank, Miratorg and other companies.
Special attention is paid at RUDN University to internship and employment of foreign students in international organizations:

RUDN University doctors from Egypt worked at the Ain Shams University Hospital in Cairo;
students from Bolivia, El Salvador, Palestine, Myanmar, Chad and 26 other countries practiced at the embassies of their countries in Russia;
students from China underwent internship at the Shanghai Industrial Development Holding Company;
Geologists of RUDN University from Angola and Guinea work in West Africa at enterprises to search for alluvial diamonds and evaluate deposits.
RUDN University graduates work in the ministries and embassies of Colombia, Ecuador, Nigeria, Ghana, Greece, etc. The main employers of RUDN University graduates are KPMG, P&G, Renault Group, Huawei, Unilever, Brunel and other large companies.
Peoples' Friendship University of Russia is in TOP — 100 according to the indicator "International students". This year, 160 countries are represented at RUDN University — for the first time citizens of Malawi, Norway, Swaziland, Trinidad and Tobago have become students of the university.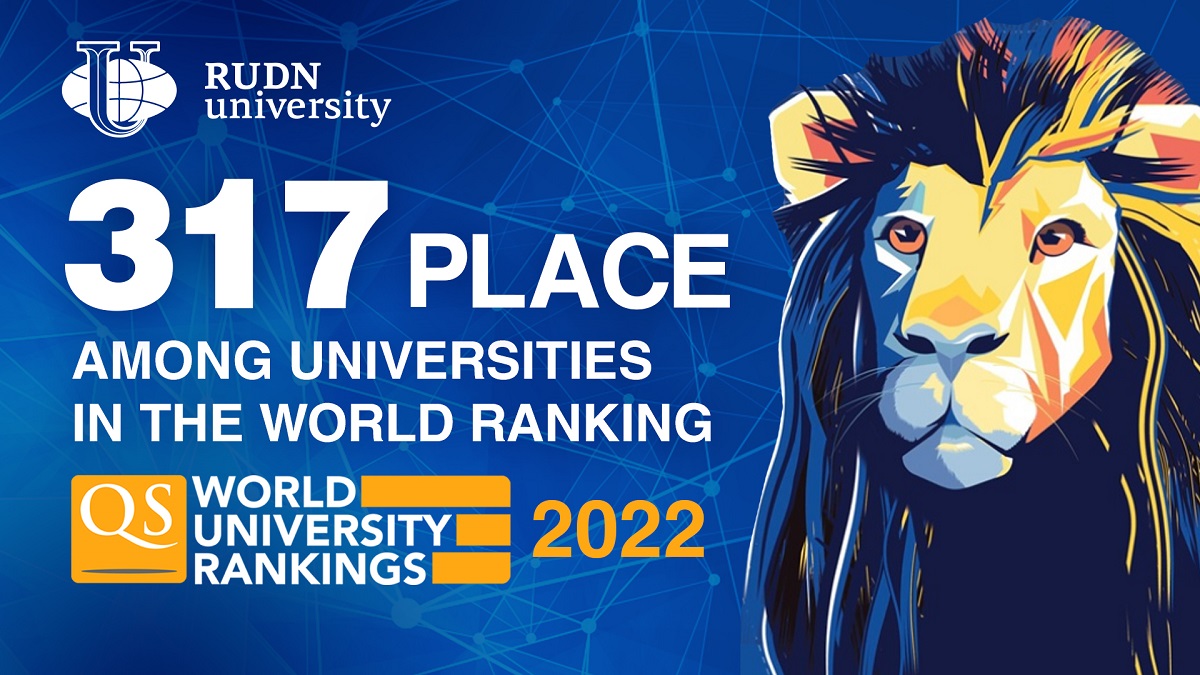 About RUDN
16 Jun
RUDN University becomes the best Russian university in the ARWU subject ranking in "Agriculture" and goes 100 positions up in "Mathematics"
Peoples' Friendship University of Russia has become the best among Russian universities in the international ARWU (Shanghai Ranking's Global Ranking of Academic Subjects) ranking in Agriculture. RUDN University entered this ranking for the first time and immediately found itself among 201-300 best. The university also shot up 100 positions in Mathematics.
About RUDN
23 Apr
RUDN University in the Times Higher Education Impact Ranking 2021
THE University Impact Rankings analyzes the impact of higher education on the development of society and the achievement of the UN Sustainable Development Goals.
About RUDN
12 Mar
RUDN University is in the top 200 universities in the Times Higher Education ranking Emerging Economies 2021
Peoples' Friendship University of Russia is among the top 200 universities according to the Times Higher Education Emerging Economies University Rankings 2021 (THE Emerging Economies 2021).
Only 606 leading world universities were honored to be on the list.