RUDN University enters the TOP-50 legendary brands of Russia
RUDN University was included in the list of winners in "Our Legends" nomination of the 50 Legendary Brands award from the "Komsomolskaya Pravda" media group. The people's jury is more than 5 million readers of "Komsomolskaya Pravda" determined who was worthy of the award.
Well-known Russian companies are declared for the contest "50 Legendary Brands", the readers of the newspaper choosing the best, which are worthy of the title "Nationwide, legendary brand".
This year, about 2,000 applications were received, 97 reaching the stage of popular voting. In total, 5,738,552 votes were cast for favorite consumer brands.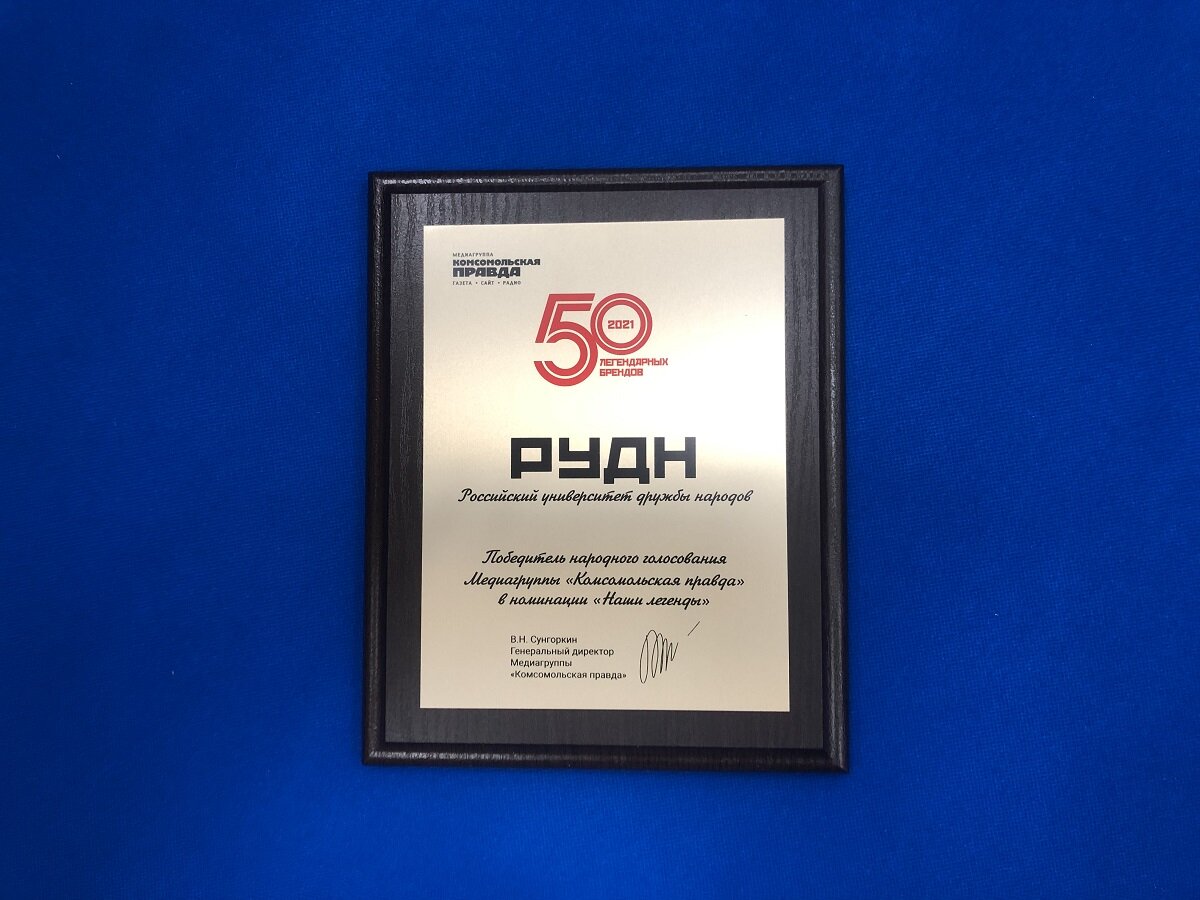 About RUDN
21 Jul
RUDN University is in 4th place in terms of the number of entries in the TOP-10 of the "Expert" ranking
Peoples' Friendship University of Russia is represented in all 16 subject rankings and in five out of six subject profiles of the Expert Analytical Center ranking. RUDN University showed the best results in the following areas: "Ecology" and "Agriculture and Biological Sciences" — 1st place. "Mathematics", "Chemistry", "Artificial Intelligence", "Renewable Energy" are in the TOP — 5 subject ranking. In total, 152 universities were ranked in 2022 (137 in 2021).
About RUDN
27 Jun
RUDN University and Roskachestvo sign a cooperation agreement
June 21, RUDN Rector Oleg Yastrebov and the head of Roskachestvo Maxim Protasov signed a cooperation agreement.
About RUDN
24 Jun
RUR World University Ranking 2022: RUDN University in the top 100 best universities in the world in terms of teaching quality
RUDN University has risen from 401 to 361 place in the international RUR World University Ranking 2022 over the year. Peoples' Friendship University of Russia entered the top 100 universities in terms of "Teaching Quality", ranking 95th in the world and 8th among Russian universities. In total, 1,024 universities were ranked in 2022 (869 in 2021).