RUDN University received the maximum "5 stars" of the QS Stars international ranking. 5 stars is an indicator of the highest quality of not only hotels and restaurants, but also universities, only three Russian universities having such high praise.
The international QS Stars ranking has assigned 5 quality stars to RUDN. Peoples' Friendship University of Russia has the highest scores for six out of eight indicators. The breakthrough occurred, in particular, in "Employability". Significantly increased results are witnessed in the category "Teaching" - by 3 points. The success of RUDN University in the field of "Academic Development" ensured 2nd place among all Russian universities.
A total of 13 Russian universities are included in the QS Stars ranking, and only 3 of them have 5 stars: RUDN University, MGIMO and Plekhanov Economic University.
QS Stars ranking results are announced every 3 years. Positions will be updated following the results of 2020-2023.
In 2016, RUDN University received 5 stars in 5 categories, but the overall condition was rated as 4.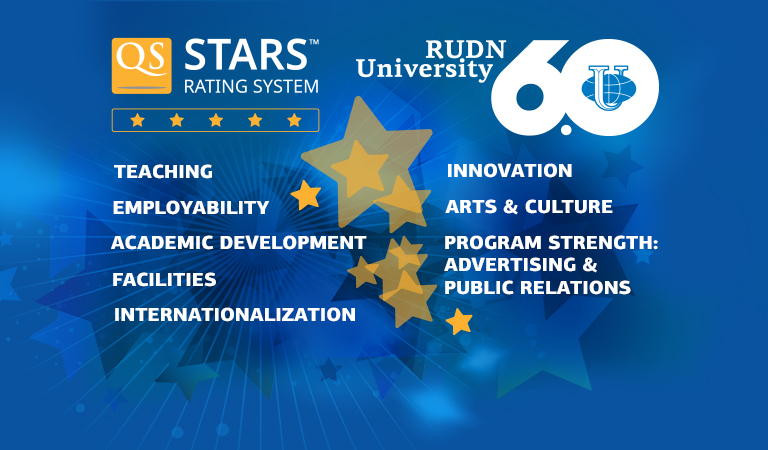 About RUDN
29 Dec 2021
RUDN University and QS World Merit sign a memorandum of cooperation
December 28, RUDN University Rector Oleg Yastrebov and QS World Merit Head of Partnerships Zoya Zaitseva signed an agreement on large-scale cooperation in achieving 17 sustainable development goals identified by the UN.
About RUDN
16 Dec 2021
RUDN University in the 31st place in the international QS EECA 2022 rankings
In a year, RUDN University rose from 43 to 31 place in the international QS University Rankings: Emerging Europe & Central Asia 2022. Peoples' Friendship University of Russia showed the best results in international scientific relations, academic reputation and employer reputation categories.
About RUDN
16 Dec 2021
RUDN University entered the top-30 "greenest" universities in the world according to GreenMetric 2021 ranking
RUDN has risen to the 28th position in the international ranking of environmentally friendly universities UI GreenMetric 2021 remaining the "greenest" university in Russia. This is the best result in the history of the university's ranking participation since 2011. The list of the "greenest" universities was published on December 14. There are 956 universities from 80 countries, including 54 universities from Russia. The goal of the UI GreenMetric — assess universities according to campus development ecological sustainability and the energy-saving model of university management.