RUDN University received the maximum "5 stars" of the QS Stars international ranking. 5 stars is an indicator of the highest quality of not only hotels and restaurants, but also universities, only three Russian universities having such high praise.
The international QS Stars ranking has assigned 5 quality stars to RUDN. Peoples' Friendship University of Russia has the highest scores for six out of eight indicators. The breakthrough occurred, in particular, in "Employability". Significantly increased results are witnessed in the category "Teaching" - by 3 points. The success of RUDN University in the field of "Academic Development" ensured 2nd place among all Russian universities.
A total of 13 Russian universities are included in the QS Stars ranking, and only 3 of them have 5 stars: RUDN University, MGIMO and Plekhanov Economic University.
QS Stars ranking results are announced every 3 years. Positions will be updated following the results of 2020-2023.
In 2016, RUDN University received 5 stars in 5 categories, but the overall condition was rated as 4.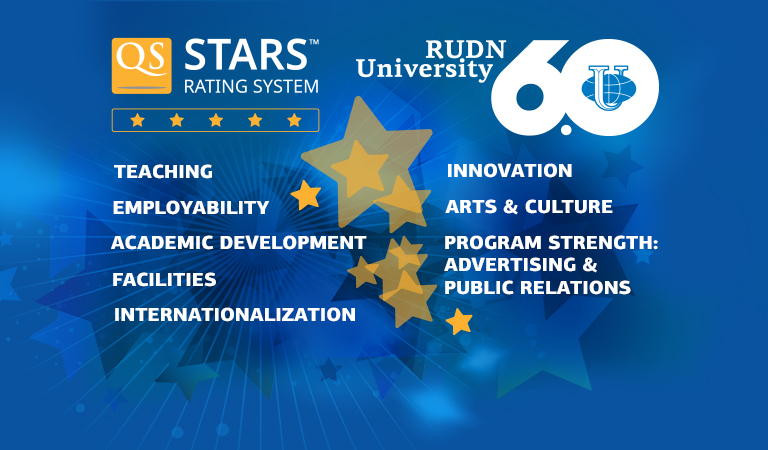 About RUDN
21 Jul
RUDN University is in 4th place in terms of the number of entries in the TOP-10 of the "Expert" ranking
Peoples' Friendship University of Russia is represented in all 16 subject rankings and in five out of six subject profiles of the Expert Analytical Center ranking. RUDN University showed the best results in the following areas: "Ecology" and "Agriculture and Biological Sciences" — 1st place. "Mathematics", "Chemistry", "Artificial Intelligence", "Renewable Energy" are in the TOP — 5 subject ranking. In total, 152 universities were ranked in 2022 (137 in 2021).
About RUDN
27 Jun
RUDN University and Roskachestvo sign a cooperation agreement
June 21, RUDN Rector Oleg Yastrebov and the head of Roskachestvo Maxim Protasov signed a cooperation agreement.
About RUDN
24 Jun
RUR World University Ranking 2022: RUDN University in the top 100 best universities in the world in terms of teaching quality
RUDN University has risen from 401 to 361 place in the international RUR World University Ranking 2022 over the year. Peoples' Friendship University of Russia entered the top 100 universities in terms of "Teaching Quality", ranking 95th in the world and 8th among Russian universities. In total, 1,024 universities were ranked in 2022 (869 in 2021).