RUDN University received the maximum "5 stars" of the QS Stars international ranking. 5 stars is an indicator of the highest quality of not only hotels and restaurants, but also universities, only three Russian universities having such high praise.
The international QS Stars ranking has assigned 5 quality stars to RUDN. Peoples' Friendship University of Russia has the highest scores for six out of eight indicators. The breakthrough occurred, in particular, in "Employability". Significantly increased results are witnessed in the category "Teaching" - by 3 points. The success of RUDN University in the field of "Academic Development" ensured 2nd place among all Russian universities.
A total of 13 Russian universities are included in the QS Stars ranking, and only 3 of them have 5 stars: RUDN University, MGIMO and Plekhanov Economic University.
QS Stars ranking results are announced every 3 years. Positions will be updated following the results of 2020-2023.
In 2016, RUDN University received 5 stars in 5 categories, but the overall condition was rated as 4.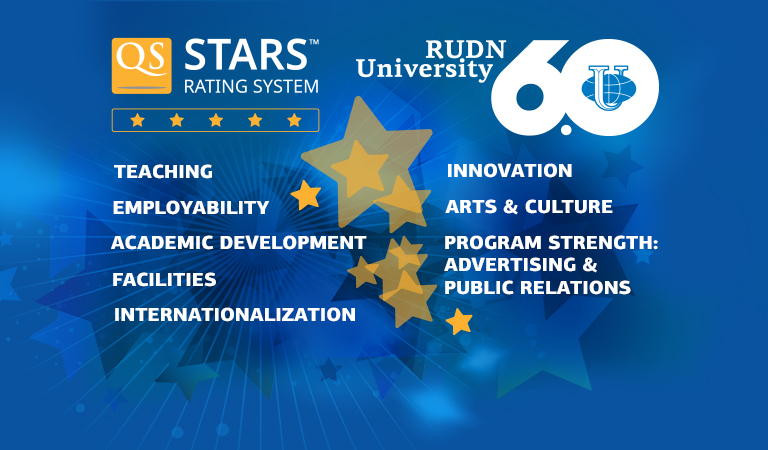 About RUDN
16 Jun
RUDN University becomes the best Russian university in the ARWU subject ranking in "Agriculture" and goes 100 positions up in "Mathematics"
Peoples' Friendship University of Russia has become the best among Russian universities in the international ARWU (Shanghai Ranking's Global Ranking of Academic Subjects) ranking in Agriculture. RUDN University entered this ranking for the first time and immediately found itself among 201-300 best. The university also shot up 100 positions in Mathematics.
About RUDN
09 Jun
RUDN University — # 317 in the ranking of the best universities in the world QS WUR 2022
According to the ranking of the best universities in the world QS World University Rankings 2022, RUDN University has risen by 9 positions and took the 317th place.
About RUDN
23 Apr
RUDN University in the Times Higher Education Impact Ranking 2021
THE University Impact Rankings analyzes the impact of higher education on the development of society and the achievement of the UN Sustainable Development Goals.