State national exam for migrants. Harmonization of federal and regional testing systems- a must for transparency and maximal effectiveness of foreign citizens' socio-cultural adaptation in the RF
State national exam for migrants. Harmonization of federal and regional testing systems- a must for transparency and maximal effectiveness of foreign citizens' socio-cultural adaptation in the RF
Russian language experts, historians, lawyers and representatives of more than 150 local testing centers met in RUDN University to work out recommendations for the Russian language
Russian language experts, historians, lawyers and representatives of more than 150 local testing centers met in RUDN University to work out recommendations for the Russian language, Russian history and RF legislation basics complex testing in the frame of the conference "The Russian language and challenges of socio-cultural adaptation of foreign citizens in the RF"
June 2, RUDN hosted IV All-Russia conference конференция "The Russian language and challenges of socio-cultural adaptation of foreign citizens in the RF" held together with the RF Ministry of education and science.
Testing is supposed to be not only a control tool but also an effective mechanism of migrants' socio-cultural adaptation and urge people abroad to study Russian language and culture.
Opening the conference Rector V.Filippov noted that tolerance in the Russian society means not just standing somebody but actually involves intercultural and interethnic consensus.
It was proposed to create a unified data base of all testing centers with similar accreditation rules, testing material and testing results
The experts elaborated concrete recommendations for the testing of people applying for permanent residence card.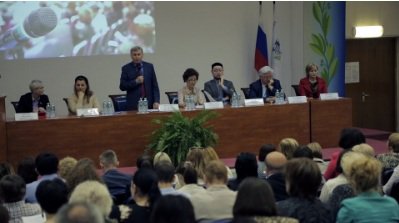 About RUDN
16 Jun
RUDN University becomes the best Russian university in the ARWU subject ranking in "Agriculture" and goes 100 positions up in "Mathematics"
Peoples' Friendship University of Russia has become the best among Russian universities in the international ARWU (Shanghai Ranking's Global Ranking of Academic Subjects) ranking in Agriculture. RUDN University entered this ranking for the first time and immediately found itself among 201-300 best. The university also shot up 100 positions in Mathematics.
About RUDN
09 Jun
RUDN University — # 317 in the ranking of the best universities in the world QS WUR 2022
According to the ranking of the best universities in the world QS World University Rankings 2022, RUDN University has risen by 9 positions and took the 317th place.
About RUDN
23 Apr
RUDN University in the Times Higher Education Impact Ranking 2021
THE University Impact Rankings analyzes the impact of higher education on the development of society and the achievement of the UN Sustainable Development Goals.