"The Russian language turned out to be more difficult than I expected. Prefixes are a real nightmare": Anton Borodin, the best financier graduate from Finland
How finances and furniture are connected, why Russian prefixes terrify a foreigner and where they cook the most delicious shawarma – read an interview with Anton Borodin, the best graduate of the Finance and Credit program from Finland.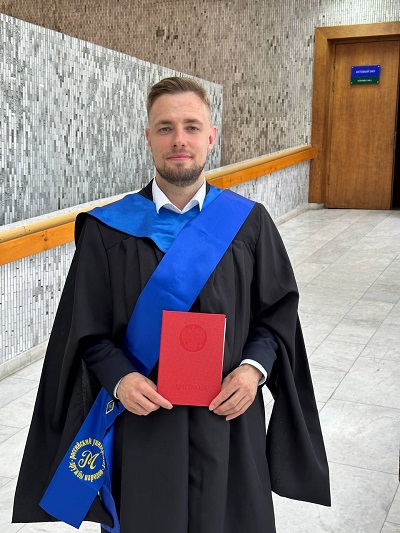 Remember your first day in Moscow. What was it like?
I came to Russia in 2016. The first day was remembered as a trip to the offices. You go to one place to get a certificate, you go to another place for another certificate and after you have to get them sealed in a third place. And it's all on paper! Then I was a little tortured by the bureaucracy. When I applied for a master's degree in 2021, this was no longer the case. Digitization is great!
Why did you decide to study in Russia?
My dad is from Moscow. Since my childhood, we spoke Finnish and Russian with him. Several times as a child I came to Moscow, St. Petersburg and Kazan. Finishing school, I wanted to study economics and Russian. I also wanted to change the environment. Russia was a great option.
Have you ever regretted your choice?
When you come to another country, you leave your comfort zone. You start everything from scratch. You don't know anyone — you learn to build connections and make acquaintances. This is where I grew as a person. I became independent, I realized what it means to be responsible for myself. These lessons are the most important. During my studies, I fell in love with Moscow. I was struck by the distances. Each time returning from vacation, I was surprised at its scale, because in Finland everything is relatively close. During my studies, I liked to walk around the city, especially in the parks. Moscow restaurants are beyond competition!
How was your acquaintance with Russian?
I knew a bit of Russian, though writing and reading were bad. In fact, it turned out to be more difficult than expected. At first it took me a long time to get used to the Cyrillic alphabet. But the prefixes really killed me. This is a real nightmare. He otoshol (left for a while), ushol (left for good), vyshel (went out), podoshol (came up) ... Understand also how each of the prefixes affects the meaning of the word! To understand all the intricacies of Russian, you need to live in Russia and know the contexts.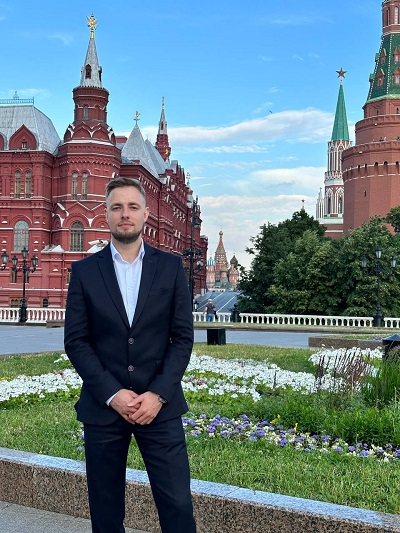 What attracted you in economics?
I always liked mathematics at school, although I did not do very well. After working at factories, construction sites and shops, I became interested in how business works. I was attracted by everything related to numbers, money and economic processes. Later I began to invest, and the need to understand this area grew every day. Stock markets and everything connected with them really attracted me when I was RUDN student. The classes on financial analysis, portfolio management, financial risk and foreign exchange positions were my favorite.
You have two scientific articles. Why does an economist need science?
The world is changing very quickly. The founding fathers of economics, who developed theories and models, came up with them in the context of that time. Now there is a new reality and new challenges. Many different financial instruments have appeared that did not exist one or two hundred years ago. They need to be studied. And science helps to explore existing processes in more depth adapting to the new conditions of reality.
What it takes to manage money well...

First, a goal and a plan. They are the ones, which determine how you manage your money. For example, there is a goal — to save up for a car. Based on this, a savings plan is built. The first thing is to understand what you want.

The second is discipline. Nothing good will come of it if you spend money on all your wish list. Sometimes you need to say "no" to yourself.

And the third thing is patience. It takes time to save up for a goal or get a certain income. The "here and now" is not about money.
But sometimes you just want a pastry. What do you do to afford something?
Find out how much money is spent for what. For example, make a table and track income and expenses for three months. This way you will find out how much money is left for your wish list. And based on this, you can choose whether you will eat a pastry today or first finish paying installments for the headphones. The main problem is the misallocation of funds. For example, many have only one source of income, from which mortgages, consumer loans and splits are paid. You also need money for utilities, food and other unforeseen expenses.
How then to arrange your finances?
There is a table with one leg. It is unstable. And there is a table that has four legs. Which one will you choose? I'm sure the one that is stronger. If one leg of the table is mortgage, there are three more that will help live. It is important to understand what financial instruments you need. For example, if you are paying mortgage, it is clearly not worth taking loans or buying in splits — it may be difficult to pay installments.
What is your professional dream?

I would like to do investing. Now I work in a bank where I am engaged in lending. My objective is to move to the investment department within two to three years.
You took a third place in badminton competitions several times at RUDN. Why do you like this sport?
The game requires thinking. You don't just hit the shuttlecock — you come up with strategies to outwit your opponent. I also love to play padel. It is a mixture of tennis and squash and a very popular game in Northern Europe and Southeast Asia.
Favorite place on the RUDN University campus is...
The street with restaurants opposite the university. There I tried the most delicious shawarma. I will miss it and shishtauk especially.
What is the most delicious Russian dish?
Borsch. There is nothing to add.
What advice would you have wanted to hear in your first year, but you did not?

Learn how to manage money properly and do not spend it on nonsense.
Interviewed by Anastasia Zhuravleva, student of the Faculty of Philology ("Journalism", 4th year).
Alumni
18 Aug
"Bargaining with Arabs at the market is pure pleasure", Anna Lashina, the best regional studies graduate, speaks about Arabic poetry, nuclear research and ballroom dancing
Why Arabs talk loudly, how science helped find love, what is the connection between quickstep, patience and the Arabic language – read an interview with Anna Lashina, the best graduate of "Foreign Regional Studies: Middle East".
Alumni
19 Jul
"I came to Russia to study and return home to develop Cameroon," Tatiana Dense Koussi, graduate of RUDN Academy of Engineering
In 2019, Tatiana founded the Youths Make a Difference (YMD) International Youth Organization. It's been over a year since the last interview. She graduated from the university with a degree in Technical Systems Management, returned to Cameroon and signed a memorandum of understanding with the Ministry of Youth Affairs. Read the iterview to find out what has changed.
Alumni
03 Jul
"I dream of developing a drug against blood cancer" — Yulia Romanchuk, the best pharmaceutical graduate from Belarus
Read about how to fall in love with chemistry and not get out of the laboratory, eat berries during practice and survive classes in physics in an interview with Yulia Romanchuk, the best graduate at Pharmacy.