"The doctor should not be afraid to stain the coat": medical students pass their main exam
About how the practice was organized for medical students of the 4th and 5th years, which residents were "hired" back in March and which exam is the main one for the final year students - in an interview with Alexei Abramov, MD, professor, director of RUDN University Medical Institute.

Alexey Yuryevich, 4th and 5th-year medical students have practice in May instead of summer. Why so?
4th-5th years - this is already paramedical staff. After the 3rd year, everyone who wants to take exams and confirm the right to work as nursing staff becomes a medical nurse. While on-the-job training they work as nurses, usually in the summer. However, Moscow's healthcare system is currently on high alert. The Mayor of Moscow proposed to postpone practice for 4th and 5th-year medical students for May. The idea was supported by the Ministry of Health and the Ministry of Education. Practice began on May 1, and may last until the end of the high alert situation in Moscow.
How are students distributed and where do they go?
Previously, our students were distributed among practice bases with clinical departments of the RUDN University. And now we are submitting students' data to the Moscow Department of Health, which sends them where needed. Every student is interviewed to evaluate all the factors and make the right decision. At the same time, students are offered places to choose from. Someone goes to so-called "clean" hospitals. While those who are ready to work in the "red zone" in the infectious diseases wards sign an agreement giving their consent. They undergo mandatory instruction and training, receive a certificate and then go to work in infectious diseases departments and hospitals - including those that are re-profiled to work with coronavirus.
How many students refused to work in the "red zone"?
I would not use the word "refuse." There are those who cannot go because of health or social factors — there are less than 300 of them and they cannot be blamed.
It is important to understand that neither we, nor the Moscow Department of Health, or the Ministry of Science and Higher Education make students go to the "red zones". Of course, students must complete the curriculum and undergo practical training, however, it is exactly their choice where to go. There may be different situations: certain chronic diseases, pregnancy, young children, living with elderly relatives and so on. All this is clearly spelled out and taken into account individually.
For example, since February, a separate building has been allocated at the RUDN University, where students who returned from countries with an unfavorable coronavirus infection situation were housed for 14 days. Now in this building we are accommodating medical students, residents, graduate students who work in infectious diseases departments. Even Muscovites who want to minimize contacts with loved ones and avoid infecting families live there.
How many students of RUDN Medical Institute are already working as volunteers in Moscow hospitals?
As soon as universities switched to distance learning, about 500 students and residents of RUDN University became volunteers in medical institutions. By the time the order to shift practice of 4th and 5th-year students was released, there were already more than 1,000 volunteers. Among them there are students even of 1st and 2nd years, of the 6th year, there are foreigners who work as medical aid for free. Those who wanted applied for paramedical jobs. However, we understand that no salary compensates for the risk, so I would say that everyone works on a voluntary basis.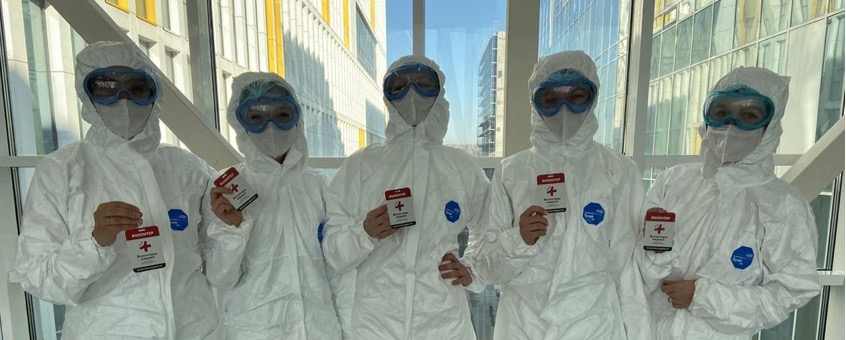 What exactly are residents of RUDN University helping Moscow hospitals with?
Residents are already doctors who have received a diploma and have passed primary accreditation. So far they just don't have narrow specialization. They can already provide medical care and work as assistant doctors, including in the infectious diseases wards, in cardiopulmonary resuscitation, where doctors and medical staff are now badly needed. Those who specialize in resuscitation, epidemiology, pulmonology are especially in demand. For example, all 30 members of the Department of Infectious Diseases with the courses of epidemiology and phthisiology of RUDN University from the very first days have been working in Infectious Diseases Hospitals No. 1 and No. 2.
There will probably be many applicants to these departments this year. How will the selection of applicants for residency change?
My guess is that we will get more motivated applicants than before. As usual, graduates of the 6th year will be enrolled according to primary accreditation results. However, enrollment this year will be entirely online. Now we are considering the initiative of the Board of Rectors of medical universities - to give additional points and benefits for admission to residency for those who worked in the "red zones" with patients with coronavirus infection. I think this is absolutely fair.
How will six-year students who are now working in the "red zones" take the state exam?
They are taking the main test now. Those who have already gone to help people have already passed the main exam - they have proved by deed that they are doctors. And we, for our part, are doing everything possible so that all students both master theory and fulfill their duty. Even now, all these students are studying remotely. They find time, despite night shifts and daily work. We already take into account their work schedule and individualize the curriculum. And for graduates, state exams will be organized electronically this year.
Do you balme those students who are afraid to "get their coat dirty?"
If you have chosen the profession of a doctor, it is impossible to be in a snow-white coat all the time. You should always be ready to help - it doesn't matter if you are at work, walking along the street, or flying in an airplane. The doctor should help patients when they needs it. Now every student has a choice. Someone is more interested in scribbling negative comments while sitting on the couch. I do not blame them, but I am sure that such people will not become good doctors.
I think the best are the ones who went to work. I am proud of them. This is an indicator that we are teaching correctly, because besides practical skills and competences, there should be a feeling that you are a doctor, that you are called to help your neighbor. Without this, you will not actualize yourself in the profession.

For a month now, I have been working in City Clinical Hospital No. 52 in the intensive care unit, this is the EMO center. Here, patients are in a very serious condition for a long time, doctors literally recover their lungs and fight for their lives. Some patients are transferred to other departments because they are recovering and can breathe on their own. Someone stays for 2 months without significant changes. Someone dies.
At first I watched the nurses work, then I did tasks, later I was assigned to work independently in isolation wards. And on this first independent shift, a young man in a very serious condition was brought to my ward. He had a septic shock. We did not sleep all night. At some point, his blood pressure began to drop rapidly. The doctor shouted: "Adrenaline!" While I was preparing the syringe, the doctor counted down 80! .. 70 ... 60 ... 50! .. In the morning his got more stable and we all exhaled tiredly and were very happy. After 3 days, it was my shift again and I immediately went to check this guy. Unfortunately, he had died.
Now all students are sent to practical training. I think this is a great opportunity to gain experience and really learn something. In addition, you can move to a hostel, and also you get money. I didn't move to the hostel, as it is faster to get to the hospital from home, and my younger sister and I live together. She works at City Clinical Hospital No. 52 as a volunteer.
5-year student, General Medicine

I am doing practical training in Kommunarka being in the "red zone" for 12 hours or more. Having worked for almost a month in the intensive care unit, I can confidently say that this was my best decision, which helps me realize myself professionally. This is exactly the opportunity where, in the presence of ambition and desire, one can learn to use theory in practice. And as everyone knows: theory without practice is dead, practice without theory is blind. Therefore, every day, when switching from a "clean" zone to a "dirty" one, I know that every day I become a new version of myself. Coming to the intensive care unit strictly at 8:00 in the morning, we start by checking the appointment sheets, then seeing patients in the presence of the Head of the department, after which we start our basic tasks caring for patients, continuously monitoring life support monitors. Being in intensive care unit is not so scary, because you know that anesthesiologists-resuscitators are always behind your back, and you can always turn to them for help and ask questions. And in case of emergency there is a first-category resuscitator, he is also Head of the ICU-3 department, who, despite the end of working hours, periodically stays back to monitor the situation. I am glad that I had such a chance to be useful not only for employees of State Clinical Hospital No. 40, but also for seriously ill patients. In the complex picture, one of the central elements of which is disease, there is a tremendous opportunity to study not only the body, but also the personality. Medical record has one serious drawback: it does not say anything about the person and his life story, about the experience of the person who has encountered a disease and is struggling for survival.
5-year student, General Medicine

I am doing practical training at State Clinical Hospital No. 15 named after O.M. Filatov. The decision to go to work in the "red zone" was made immediately, I am sure I made the right choice.
Our university provided accommodation for isolation while working with COVID-19, but I stayed at home, as the family decided to temporarily move to the country house.
The experience that I get every shift in our 4th department (the former 2nd ophthalmic department) is invaluable. I remember that during the first shift it was hard to get used to the suit, respirator and glasses that fogged up every hour, but adaptation of the body is an interesting thing and you stop noticing discomfort after a while.
I would like to note that in State Clinical Hospital No. 15 they did an amazing job of organizing places of rest in the "green zone": there is always something to eat, a lot of places on comfortable sofas and very responsive volunteers and management
We have patients in different conditions, but we are happy that 98% of them are dismissed, which means we are doing everything right, helping and caring for patients with such a serious disease.
5-year student, General Medicine

I have always wanted to go to stop the epidemic with Doctors Without Borders. Working with COVID-19 was a real challenge for me. A year ago, as a third year student, I passed the exam and went to work in purulent surgery, where I learnt to do everything a nurse should, treating patients with cardiac arrest and stopping bleeding after surgery. Every weekend I went around with a nurse and learned to give IV shots. Thanks to these skills, I have become a valuable specialist in Kommunarka, they call me in any difficult case. Of course, this is difficult, but I'm glad I'm in the ranks. I am employed in 2 hospitals, both with COVID-19
(Marina's official work place is State Clinical Hospital No. 17, while she has a part-time job in Kommunarka).
4-year student, General Medicine

I am a volunteer. As a future doctor, I consider it wrong to stay away in difficult times for the country. Some of my fellow students and I are helping doctors in the "red zone" at City Clinical Hospital No. 7 named after Yudin. During the shift, I watch over patients, conduct various manipulations and monitor biochemical parameters. If necessary, I help the junior medical staff. We work from 7:15am to 8:00pm. I would also like to thank Deputy Director of the Institute Zurab Sulikoevich for prompt assistance and our separate accommodation in the hostel for those working with CVID. I clearly understand the high risk of infection, but I hope that my work will be useful for already infected people.
5-year student, Dentistry

My friends and I are in the "red zone" of State Clinical Hospital No. 7 named after Yudin, Kolomenskaya metro station. Every day we organize the schedule ourselves, of course, agreeing with the management of the department. We work, as a rule, from 7:15am to 8:00pm. Patients in the department are of different ages and varying degrees of severity. It is sometimes striking how many concomitant diseases young people have; all of them need intensive care right up to mechanical ventilation.
In the early days of self-isolation, we all went home leaving the hostels. My brother and I flew home to Grozny, and I do not regret even for a second that I returned for the sake of working! We both did COVID-19 tests before leaving home. We were virus-negative and came back to Moscow, where Deputy Director of the medical institute Zurab Sulikoevich helped us organize accommodation in a separate block of dormitories, in which students working exclusively with COVID live. Today, I feel like a part of this team that is making incredible efforts to fight the pandemic.
 5-yearstudent, Dentistry

Initially, I worked as a nurse at the Central Clinical Hospital of the Russian Academy of Sciences, and our hospital was re-designed for COVID-19. I do all the duties of a ward and treatment nurse (droppers, injections, pills, monitoring a patient, taking tests). We work for 12 hours: from 9am to 9pm, but since you need to put on equipment, turn over your shift and then take off your equipment - you need to come earlier and leave later. Work with patients is the same as before, but is more complicated due to the equipment and more careful monitoring of the condition of each patient. I think it is necessary to make every possible effort to stop the pandemic. Fear of infection is always present, but our hospital monitors the health of each employee (smears, blood tests are taken from time to time and there is an action plan for possible scenarios).
5-year student, General Medicine

I work in the Clinical Hospital of the Presidential Administration of the Russian Federation. Since the beginning of April, our hospital has been quickly converted to receive patients with a new coronavirus infection. I work in the endoscopic department. There is a lot of work, but we respond quickly to every challenge. Due to circumstances and my own desire, I work full time and I am very happy. We work a 24-hour shift every 4th day. There is no fear, but I am completely confident that I have chosen the right path in life and in my fifth year of study I can help senior colleagues in a difficult task.
5-year student, General Medicine
Education
22 Aug
RUDN mathematicians win silver and bronze at the International Mathematics Competition for University Students 2023
The XXX International Mathematics Competition for University Students 2023 has ended in Bulgaria. The competition brought together 393 of the strongest students from 40 countries, including Singapore and Indonesia, South Africa and Algeria, Mexico and Colombia, Spain and Norway. RUDN mathematicians won silver and bronze.
Education
06 Jul
"Gold" and "Silver": future ecologists of RUDN University bypassed 48 participants in the International Interpreting Competition
The third-year bachelor students in Ecology and Nature Management Shkopkina Angelina and Mustafina Kamila who are also mastering the professional conversion course "Translator" at the Institute of Environmental Engineering not only had the opportunity to show all their language skills and abilities, but also to become the best in interpreting among 48 other participants in the International Interpreting Competition in Minsk (the Republic of Belarus).
Education
04 Jul
Geographic information systems, field mapping and laboratory analysis… Students from Nigeria are the best at the conference in Mendeleev university
4 days of work, 4 sections, 270 participants — RUDN University environmentalists from Nigeria won the competition of young scientists in the nomination "Best poster report" among the participants of the conference at the Russian University of Chemical Technology named after D. Mendeleev.