«I wish all the knowledge obtained at university helped young people of the world mature», says President of Madagascar at RUDN Doctor Honoris Causa convocation ceremony
«I wish all the knowledge obtained at university helped young people of the world mature», says President of Madagascar at RUDN Doctor Honoris Causa convocation ceremony
2 March, Hery Rajaonarimampianina, President of Madagascar was awarded the title of RUDN Doctor Honoris Causa in recognition of his contribution to cooperation in education and science between RUDN University and the Republic of Madagascar.
Hery Rajaonarimampianina was elected President of Madagascar in 2014. His policy as head of the country is equality in political, social, ethnic and religious spheres. He is striving for new Madagascar free from poverty – «Let's do away with crisis respecting our diversity!». He wants to unite citizens of the cuntry for reviving public life and develop strategy in the interests of young people.
«RUDN University gives a great level of professional education for successful careers. Multiculturalism at the university gives an advantage in terms of personality growth and understanding the world. We are ready to do our best to strengthen relations between our countries, in particular in the fields of tourism, agriculture, mining and medicine», stressed Mr. Rajaonarimampianina at the ceremony.
«In 2018, RUDN is planning to open the Center for the Russian language in Madagascar. We are also starting a project of developing telemedicine and offer the latest elaborations in mining. RUDN can greatly contribute to the development of the country», said RUDN Vice-Rector Evgeny Schesnyak.
Reference
1.Today there are 28 students from Madagascar studying at RUDN, mostly majoring in medicine and humanities.
2. The first students from Madagascar entered RUDN in 1963. Since than 170 students have graduated.
3. Simon Seva Mboiny, graduate of RUDN Faculty of History and Philology is Counsellor-Head of Prime-Minister's Office, founder of the Association of Graduates of soviet and Russian HEIs in Madagascar and General Director of the National Radio and TV of Madagascar.
4. President of RUDN Association of African students - Alis Ndriambanuna Suamirai, student from Madagascar (Sociology).
5. President of the Association of Madagascar students - Syandzara Beandruna Rodlish, 1st –year Master student of the Faculty of Ecology.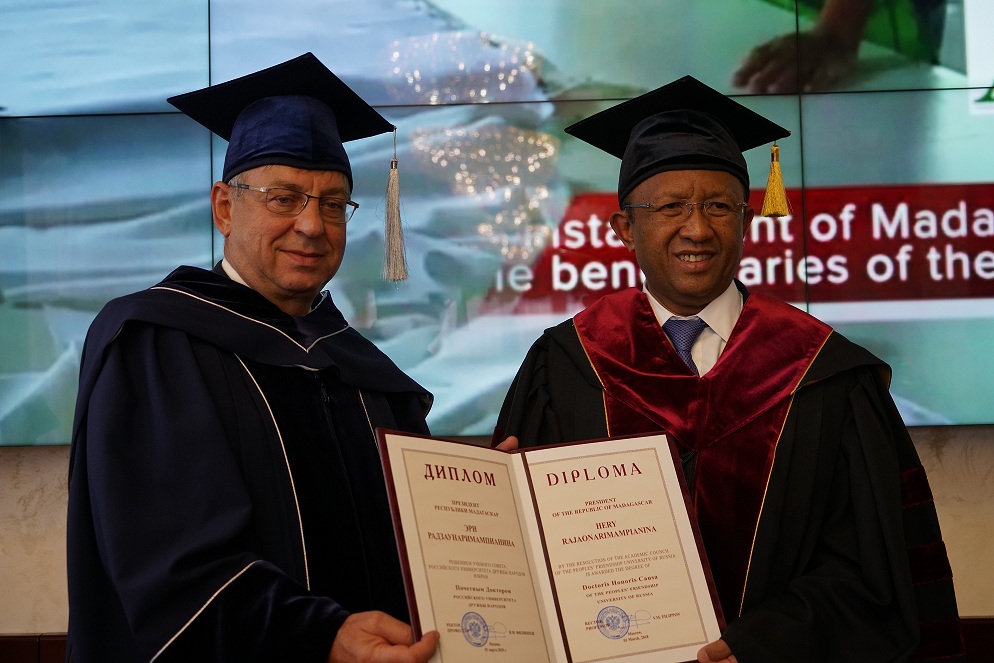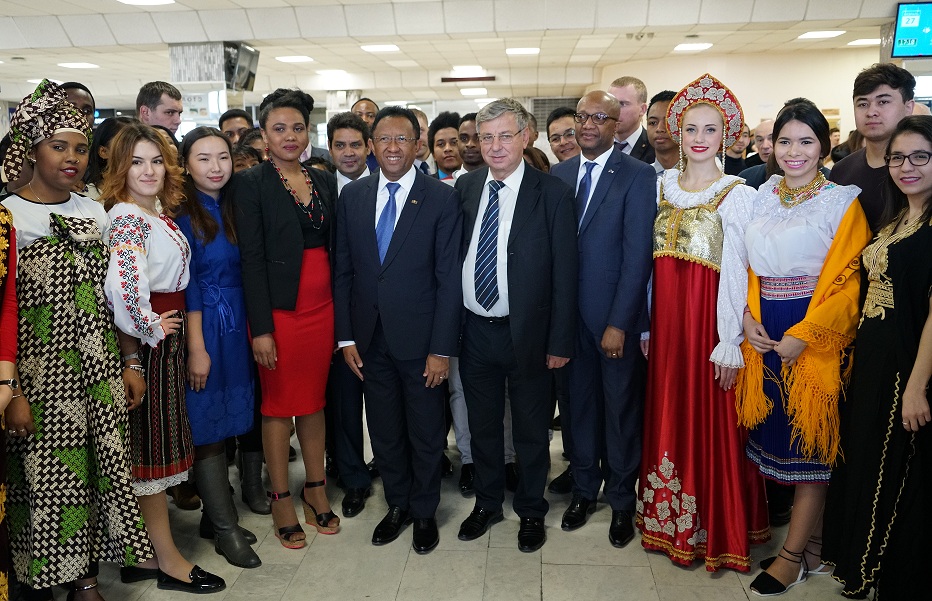 Life in RUDN
12 Sep
Living in Latin America for 6 years, travelling around Europe, and dreaming of teaching Russian history: Alexander Vorobyov, student at RUDN University
In August, Alexander Vorobyov, a master's student at the Department of Russian History at RUDN University, gave a lecture at the National Autonomous University of Nicaragua for students, teachers, university staff and representatives of the Russian Embassy in the Republic of Nicaragua.
Life in RUDN
04 Sep
BINGO! A new canteen and co-working space open in the building of the Humanities and Social Sciences
Finally, what the students and teachers of the faculties of the Humanities and social sciences have been waiting for so long has happened — a new canteen and co-working space are open.
Life in RUDN
01 Sep
Congratulations from RUDN University Rector Oleg Yastrebov on the Day of Knowledge!
Making the world a better place is our joint work! It can be very difficult, but I know we can do it! This knowledge is our strength!