RUDN University accepts congratulations on the anniversary
RUDN has become alma mater for many talented people, trained more than one generation of true professionals who make the world a better place. Birthday is an occasion to unite and once again say: "I love RUDN!"
Interesting acquaintances that became the beginning of a strong friendship; knowledge that served as the foundation for professional achievement; good stories and events that warm the soul with memories of life at the university, and of course, love - RUDN University has remained in the heart of everyone who has ever come into contact with it.
You can write congratulations to your university in the "Congratulate RUDN" section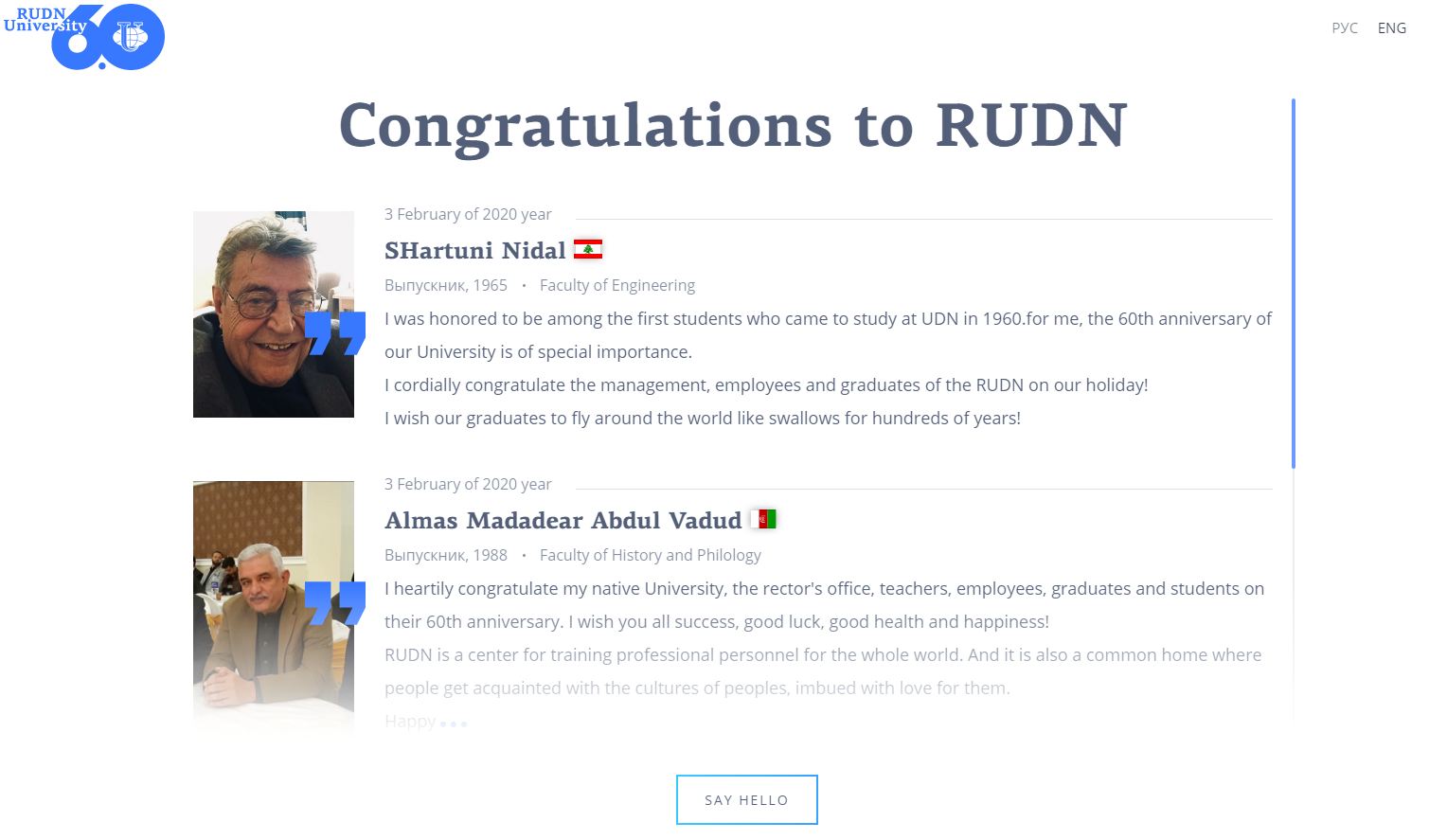 Life in RUDN
05 Dec
Great love for the profession and alma mater. The story of Victoria Ismagilova, an excellent student of 10 semesters of RUDN Engineering Academy
Almost every answer by Victoria is full of warm words about RUDN University, about teachers and about the entire student community. Our heroine is a future petroleum engineer. Read about why you should not divide professions into male and female, how to find an oil field using a computer and what Batman has to do with it in an interview with Victoria Ismagilova, a 10-semester A- student of the Oil and Gas Business.
Life in RUDN
02 Dec
"I have a stool and a lampshade in my collection, as well as graphics works and paintings," Anastasia Chugunova, an excellent student of Design of the architectural environment
Our heroine chooses the Soviet avant-garde or modern depending on the mood. She believes that the most important thing in architecture is to combine practical and aesthetic approaches. She loves architectural bionics. It all started with the love for drawing. Here is the story of Anastasia Chugunova, an architecture student who has been an excellent student for 5 years.
Life in RUDN
02 Dec
"Psychology helps fight procrastination" — Polina Bodrova, 10-semester A- student at the Institute of Foreign Languages
Read an interview with Polina Bodrova, a 10 semester A- student of Psychological and Pedagogical Education about the secret of successful reports, the role of psychology in teaching and Pablo Picasso's favorite phrase.