Victoria Orlova, a student at RUDN Medical Institute: During four courses of study I have been thinking "Why is the profession of a nurse so underestimated?"
Victoria Orlova, a student at RUDN Medical Institute: During four courses of study I have been thinking "Why is the profession of a nurse so underestimated?"
It is widely believed that a nurse is supposed to give and bring. But this is absolutely not true. My name is Victoria Orlova, I am a 4th year student of the Medical Institute of the Peoples' Friendship University of Russia, majoring in "Nursing".

Nurses have a huge responsibility on their shoulders. Specialists of my profession are always close to the patient and can be the first to notice changes in the patient's condition and inform the doctor about it to prevent possible deterioration.
The nurse is an independent specialist. Her duties, of course, are primarily doing what the doctor says. At the same time, nurses watch the patient's condition, monitor the intake of necessary medications in the right dosage, in accordance with the schedule, process documentation, give patients injections and dressings. The nurse knows the name, purpose of prescribed drugs and their dosage, and knows how to perform nursing manipulations. Students who major in "Nursing" study biology with the basics of genetics, anatomy, biochemistry, the basics of nursing, as well as management disciplines, for example management theory.
Nurses, like other healthcare professionals, participate in scientific research, conferences and seminars, prepare publications for scientific journals and volunteer.
During the spread of coronavirus infection, medical workers needed the help of volunteers. I was a third-year student and, together with my classmates, decided to go to help in the State Clinical Hospital named after. S. P. Botkin. We worked in a room where medical workers prepare to enter the red zone). We measured the temperature of workers, selected protective suits, surgical suits and shoes, carried out current and general cleaning in the room, received boxes of food and put them in refrigerators, collected Class B waste (extremely epidemiologically hazardous waste that is generated in infectious diseases departments) in the red zone.
It was rewarding experience. We volunteered for almost two months — from the end of May to the beginning of July 2021. In addition to performing our immediate tasks, we gained experience from medical workers. Then the room was closed. The senior nurse suggested that we continue volunteering as a summer internship in the Department of Purulent Traumatology and Surgery. We gladly agreed. We were taught to perform dressings for various pathologies, intravenous blood sampling, intramuscular and subcutaneous injections, and many other nursing manipulations.
Volunteering is voluntary activity. For our work, we didn't receive material rewards, but we got invaluable experience.
Later, my colleagues and I were awarded a diploma of the President of the Russian Federation and a medal for volunteering. We proudly went on stage for awards, it was very nice to hear "Thank you for your work!"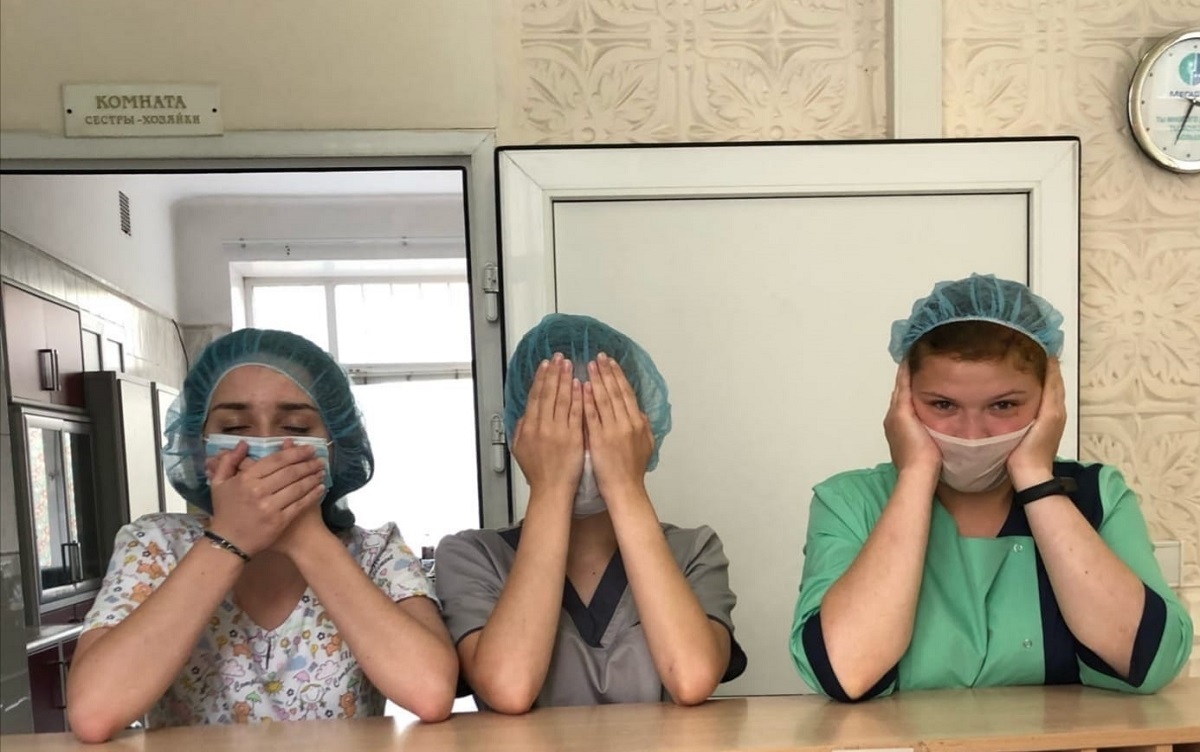 Life in RUDN
02 Dec
"I have a stool and a lampshade in my collection, as well as graphics works and paintings," Anastasia Chugunova, an excellent student of Design of the architectural environment
Our heroine chooses the Soviet avant-garde or modern depending on the mood. She believes that the most important thing in architecture is to combine practical and aesthetic approaches. She loves architectural bionics. It all started with the love for drawing. Here is the story of Anastasia Chugunova, an architecture student who has been an excellent student for 5 years.
Life in RUDN
02 Dec
"Psychology helps fight procrastination" — Polina Bodrova, 10-semester A- student at the Institute of Foreign Languages
Read an interview with Polina Bodrova, a 10 semester A- student of Psychological and Pedagogical Education about the secret of successful reports, the role of psychology in teaching and Pablo Picasso's favorite phrase.
Life in RUDN
28 Nov
"Discussing how to cook paella after civil litigation classes is great," — Daria Efremova, 10-semester A — student, Law Institute
How to properly procrastinate, why a lawyer needs dancing and why working in an IT company is not the limit... Read an interview with Daria Efremova, who has been studying at RUDN Law Institute for 5 years, getting only A-grades and managing to work and relax.