New trends and strategies in the economies of emerging markets discussed at RUDN
May 29-31, 2018, the international scientific and practical conference "New Trends, Strategies and Structural Changes in the Economy of Emerging Markets" was held at RUDN Economics faculty.
More than 180 researchers from 24 countries discussed more than 40 reports on new trends in the global economy, regional integration and global financial markets; BRICS: international instability, growth trajectories and structural transformations; innovative development, energy efficiency and digital economy; monetary policy, financial institutions and markets; and methods of quantitative analysis of the economy.
The program of the conference also included a master class from the chief editors of high-ranking scientific journals - International Journal of Economic Policy in Emerging Economies (Scopus, London); "Bulletin of the Peoples' Friendship University of Russia. Series of Economics "; International Journal of Emerging Markets (Scopus, Emerald), who gave practical recommendations on the formulation of research results.
The section of young researchers "World Trends and Prospects for the Development of Innovative Economy" brought together more than 50 students of the Economics faculty.
A compilation of extended abstracts of 84 reports selected by the Program is due to be published in English.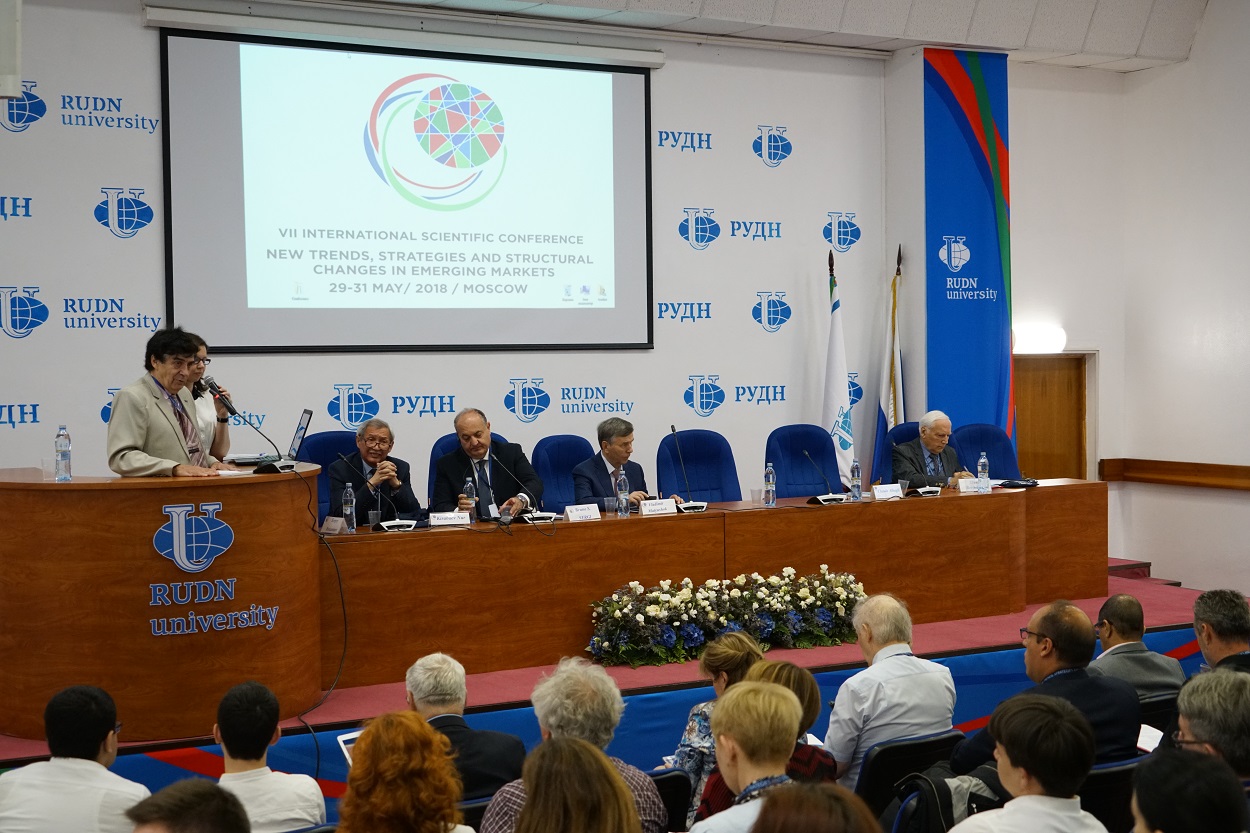 Science
02 Dec
RUDN chemists have created a biodegradable polymer for disposable medical products
RUDN chemists have created a biodegradable polymer based on chitosan and polyhydroxybutyrate. Chitosan, which is obtained from animal shells and fungal cells, gives the compound antimicrobial properties, so it can be used for disposable medical and hygienic materials and products.
Science
29 Nov
RUDN University Mathematician Develops an Approach for Individual Therapy of Haemophilia and Thrombosis
RUDN University professor together with colleagues from France and the USA has developed a technique for describing blood clotting regarding the individual characteristics of patients. This will help to make more accurately diagnosis and select drugs dosages for the treatment of haemophilia, thrombosis and other blood coagulation disorders.
Science
25 Nov
RUDN chemists have found an effective catalyst for the synthesis of raw materials of the chemical industry
RUDN chemists have proven the effectiveness of metal complexes for catalysis of cyanhydrin production — substances important for the chemical industry. Chemists managed to achieve 96.3% of the reaction efficiency.