RUDN chemist developed a new catalyst for "green" biofuels
A RUDN chemist has synthesized a catalyst for the production of gamma-valerolactone — an energy-intensive "green" biofuel. The catalyst based on zirconium dioxide and zeolite has shown high efficiency in converting the waste of wood plant materials — methyl levulinate — to gamma-valerolactone.
One of biofuel sources can be lignocellulose, which is obtained from agricultural waste and wood processing. Methyl levulinate can be firstly derived from lignocellulosic biomass, which is then converted into gamma-valerolactone on the basis of noble metal catalysts. Gamma-valerolactone has significant potential for high-calorific value liquid biofuel, which is compatible with traditional petroleum fuels, that is, it can be used for modern vehicles without major engine modifications. The high cost of catalysts containing platinum, palladium and ruthenium is one of the main obstacles to the mass production of this cheap biofuel. Therefore, chemists are trying to create catalysts based on available metals.
Rafael Luque, director of the scientific center of RUDN Joint Institute for Chemical Research, obtained a new catalyst from easily available substances — zeolite and zirconium dioxide. Zirconium is found in nature much more often than noble metals, and its extraction is simpler. 300 thousand tons of zirconium are extracted annually, compared to 20 tons per year for ruthenium. The chemists chose zeolites as a catalyst carrier, which consist of silicon, aluminum and oxygen. Zeolites are attractive materials for the preparation of nanocomposite materials and catalysts due to their open frame-cavity structure with various acid sites. By mechanochemical mixing of zirconium salt and zeolite, followed by heat treatment, the RUDN chemist and his colleagues managed to obtain a catalyst with zirconia nanoparticles.
"Absolutely, biofuels have a low profit margin based on their low market value and the design of optimum processes in terms of catalysts and methodologies is essential in order to achieve a positive techno-economic balance."
The RUDN chemist tested a new catalyst in the hydrogenation reaction of methyl levulinate in a flow reactor in a proton solvent environment without using unsafe hydrogen gas. In the experiment, the catalyst showed high activity and selectivity in the target reaction of gamma-valerolactone formation. The authors also managed to reveal that the nature of zeolite and zirconium oxide nanoparticles play a different role in the hydrogenation mechanism. The acid sites of zeolite contribute to the formation of by-products, while the formation of gamma-valerolactone proceeds on zirconium oxide. Thus, the study is not only applied, but also fundamental. The authors of the article also emphasize that it is a flow reactor that allows to achieve a high yield of the product. Moreover, it is easier to control and manage conversion and selectivity. The selectivity in the course of the synthesis carried out by chemists reached 100% with a conversion of 50%.
The authors note that, in the future, the hydrogenation of methyl levulinate in a proton solvent environment using inexpensive zirconium-zeolite catalysts may become the basis of technological processes for converting lignocellulosic biomass into second-generation biofuel.
"It is still early to predict as it will depend on techno-economic analysis of different processes and technologies. In principle, the new catalyst is cheap, simple and easy to synthesize."
The article is published in the journal Molecular Catalysis.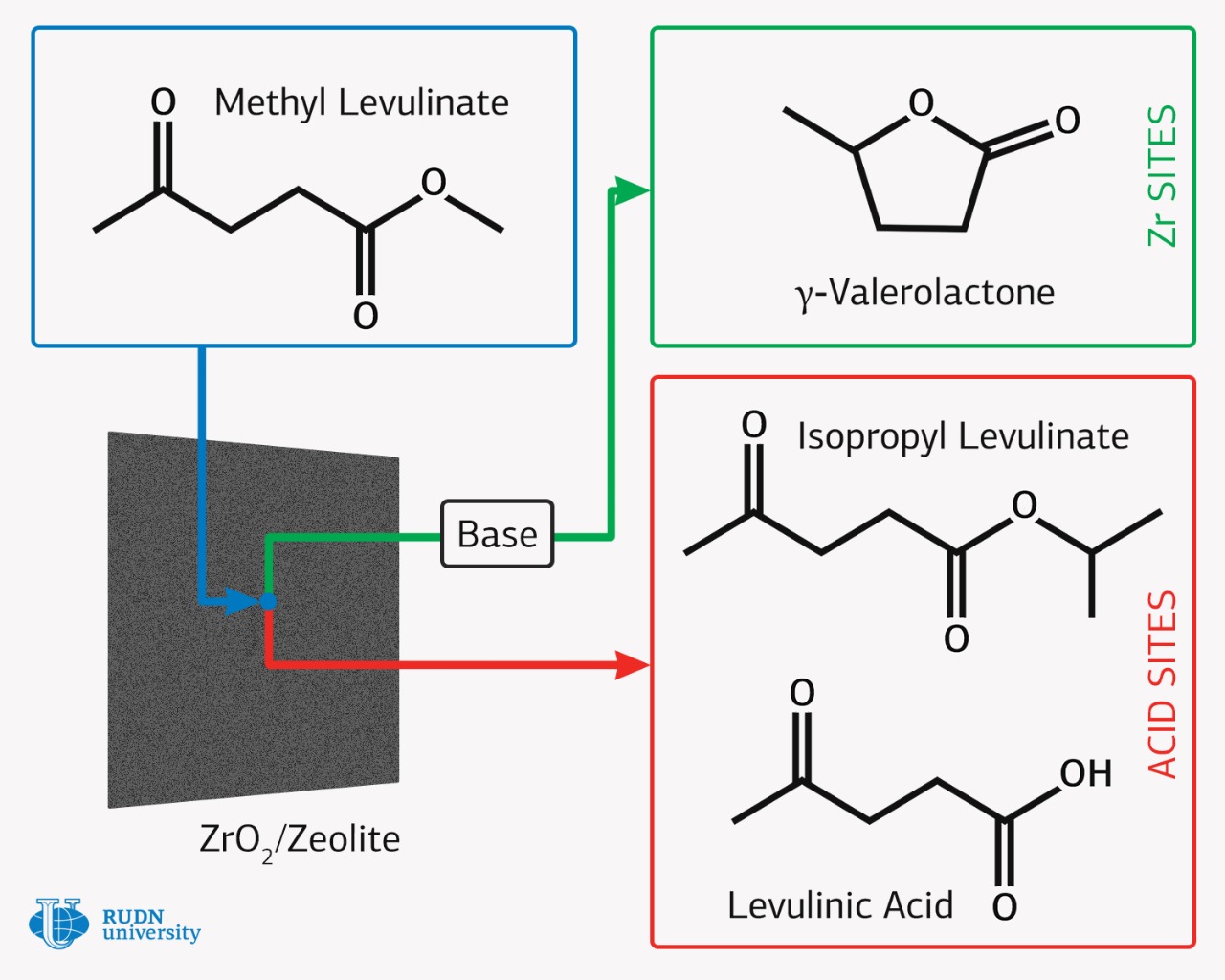 Science
20 Oct
RUDN University Professor Suggested how to Clean Up Space Debris
A specialist in spacecraft movement control analyzed the process of placing vehicle stages, boosters, and other space debris into the so-called disposal orbit and suggested cleaning lower orbits up with a spacecraft that has modules with engine units on board. These modules will attach to space debris objects and move them away. As for the geostationary orbit, a preferable way to clean it up would be a towing spacecraft that transports space debris objects into the disposal orbit.
Science
14 Oct
A Biologist from RUDN University Found Sex Differences in Inflammatory Reactions in Rat Pups
A biologist from RUDN University studied the development of the immune response in prepubertal male and female animals. According to her, the severity and mortality of infectious and inflammatory diseases at this age depend not on the sex hormones, but mainly on the chromosome set or karyotype.
Science
11 Oct
Chemist Benjamin List: the Nobel Prize in chemistry and a visit to RUDN University
October 6, the Nobel Committee announced the 2021 Nobel Prize Winners in Chemistry. They were scientists Benjamin List (Germany) and David Macmillan (USA) for new methods of molecular synthesis. RUDN chemists know Professor Liszt personally — in 2019, the researcher came to participate in the university conference.