RUDN chemist developed a new catalyst for "green" biofuels
A RUDN chemist has synthesized a catalyst for the production of gamma-valerolactone — an energy-intensive "green" biofuel. The catalyst based on zirconium dioxide and zeolite has shown high efficiency in converting the waste of wood plant materials — methyl levulinate — to gamma-valerolactone.
One of biofuel sources can be lignocellulose, which is obtained from agricultural waste and wood processing. Methyl levulinate can be firstly derived from lignocellulosic biomass, which is then converted into gamma-valerolactone on the basis of noble metal catalysts. Gamma-valerolactone has significant potential for high-calorific value liquid biofuel, which is compatible with traditional petroleum fuels, that is, it can be used for modern vehicles without major engine modifications. The high cost of catalysts containing platinum, palladium and ruthenium is one of the main obstacles to the mass production of this cheap biofuel. Therefore, chemists are trying to create catalysts based on available metals.
Rafael Luque, director of the scientific center of RUDN Joint Institute for Chemical Research, obtained a new catalyst from easily available substances — zeolite and zirconium dioxide. Zirconium is found in nature much more often than noble metals, and its extraction is simpler. 300 thousand tons of zirconium are extracted annually, compared to 20 tons per year for ruthenium. The chemists chose zeolites as a catalyst carrier, which consist of silicon, aluminum and oxygen. Zeolites are attractive materials for the preparation of nanocomposite materials and catalysts due to their open frame-cavity structure with various acid sites. By mechanochemical mixing of zirconium salt and zeolite, followed by heat treatment, the RUDN chemist and his colleagues managed to obtain a catalyst with zirconia nanoparticles.
"Absolutely, biofuels have a low profit margin based on their low market value and the design of optimum processes in terms of catalysts and methodologies is essential in order to achieve a positive techno-economic balance."
The RUDN chemist tested a new catalyst in the hydrogenation reaction of methyl levulinate in a flow reactor in a proton solvent environment without using unsafe hydrogen gas. In the experiment, the catalyst showed high activity and selectivity in the target reaction of gamma-valerolactone formation. The authors also managed to reveal that the nature of zeolite and zirconium oxide nanoparticles play a different role in the hydrogenation mechanism. The acid sites of zeolite contribute to the formation of by-products, while the formation of gamma-valerolactone proceeds on zirconium oxide. Thus, the study is not only applied, but also fundamental. The authors of the article also emphasize that it is a flow reactor that allows to achieve a high yield of the product. Moreover, it is easier to control and manage conversion and selectivity. The selectivity in the course of the synthesis carried out by chemists reached 100% with a conversion of 50%.
The authors note that, in the future, the hydrogenation of methyl levulinate in a proton solvent environment using inexpensive zirconium-zeolite catalysts may become the basis of technological processes for converting lignocellulosic biomass into second-generation biofuel.
"It is still early to predict as it will depend on techno-economic analysis of different processes and technologies. In principle, the new catalyst is cheap, simple and easy to synthesize."
The article is published in the journal Molecular Catalysis.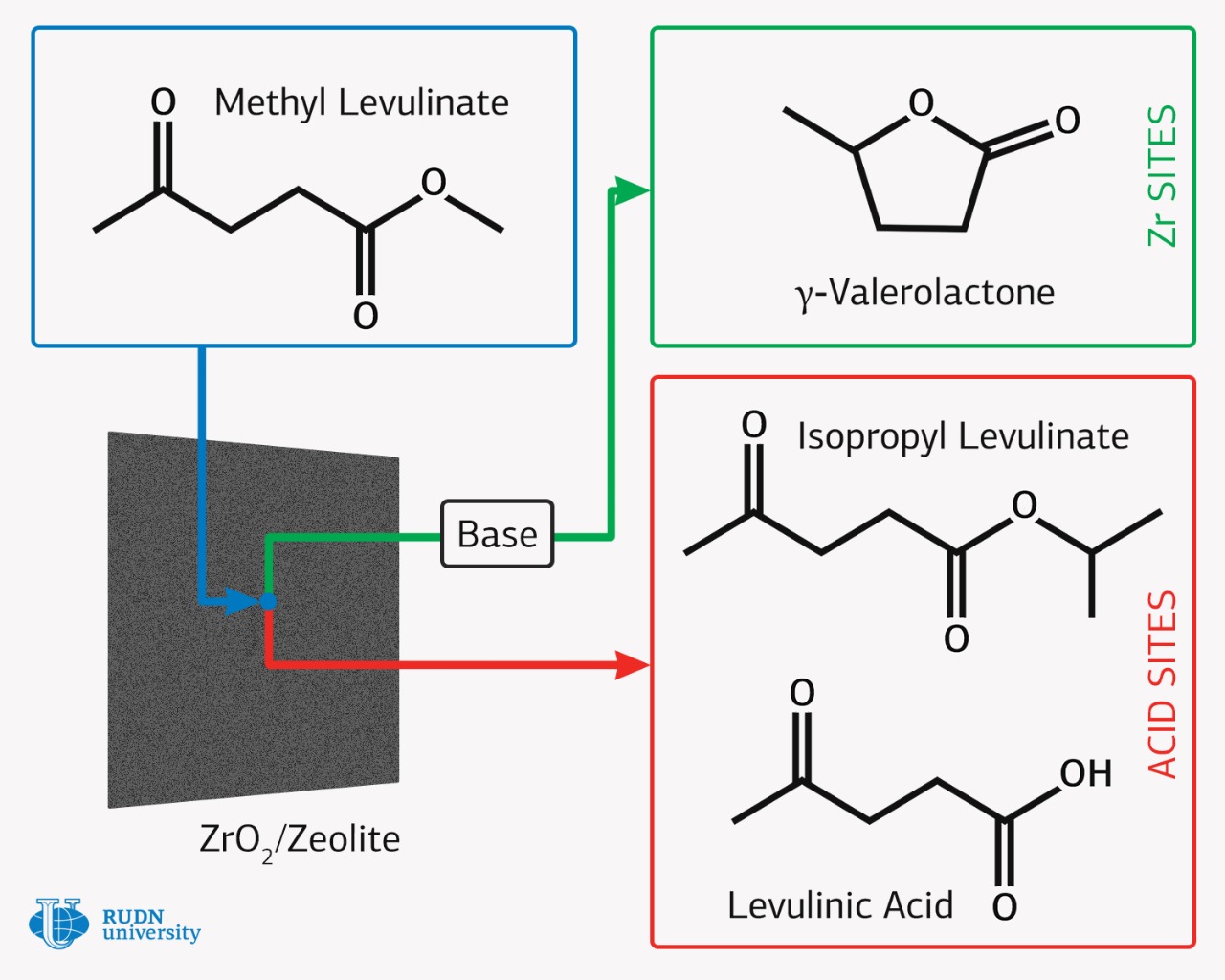 Science
04 Jul
RUDN University Scientists Fit Pets in the Classification of Ecosystem Services
RUDN University scientists conducted a survey among residents of Moscow and found out the reasons why they have pets. The results proved that pets should be included in the classification of ecosystem services. This will help to consider the interests of pet owners in urban planning and management.
Science
27 Jun
RUDN Mathematicians: 5G will cope with traffic when using WiGig
RUDN mathematicians investigated the possibility of combining 5 GNR technology and WiGig — a high-frequency range that allows you to transfer data at speeds up to 10 Gbps. This will smooth traffic fluctuations in 5Gnetworks and cope with user requests.
Science
23 Jun
Scientists Reveal the Water Column of the Yamal Lakes Can Be a Microbial Filter
Scientists from the Winogradsky Institute of Microbiology RAS, RUDN University, St. Petersburg State University and the Tyumen Scientific Centre SB RAS studied the microbial communities from several lakes of the Yamal Peninsula. It turned out that methanotrophs (bacteria that use methane as a source of energy) consume methane more actively in the deep mature lakes of the peninsula than in small thermokarst lakes. In this regard, methane emissions into the atmosphere from the surface of deep lakes are low, and only small (relatively younger thermokarst lakes with constitutional ground ice) can make a significant contribution to methane emissions in the north of Western Siberia. Thus, bacteria perform an important function for the climate balance — they reduce the emission of methane into the atmosphere.