RUDN University Biologist Outlined the Molecular Mechanisms of Herbal Extracts in Fish
The RUDN University biologist with colleagues from Egypt, Italy, Iran, Canada, Thailand and Turkey summarized research data on the effect of phytonutrients on fish health at the molecular level.
One of the main tasks when breeding fish is to maintain their health. Synthetic drugs can cause undesirable side effects and be harmful to the environment. Scientists offer natural drugs, but little is known about how they affect fish at the molecular level. The RUDN University biologist together with colleagues from Egypt, Italy, Iran, Canada, Thailand and Turkey collected research data on this topic and summarized their results.
"Medicinal herbs and their extracts have a diverse effect on the processes in the body of aquatic animals. These natural compounds, when added to the fish diet, can affect growth rates, and stimulate the immune system, and they can reduce oxidative stress. However, the exact mode of action of these supplements is still not well described. Considering that studies at the molecular level can provide an accurate understanding of how feed additives work, we have collected the results of studies on the effect of herbs on the expression of various genes in fish," said Morteza Yousefi, PhD, Associate Professor, Department of Veterinary Medicine, RUDN University.
The researchers selected more than 100 articles that examined the effects of herbal supplements on the production of genes related to immunity, digestion, growth, and the reproductive system.
Scientists have concluded that growth is stimulated by herbal supplements due to increased expression of genes gh, igf, muc and some others. This occurs through interaction, for example, with tannins (a group of phenolic compounds), curcumin (which is part of the turmeric root), limonene (a hydrocarbon from the terpene group). Among the herbal preparations that affect the immunity of fish, scientists have identified several plant families. For example, Moringaceae secrete carotenoids, flavonoids and xanthins, which help to increase phagocytosis (capture of foreign particles), increase the level of peroxidase. The effect of herbal supplements on the reproductive system goes through a change in the level of hormones released by the hypothalamus, pituitary gland and gonads
"Secondary plant metabolites can stimulate immunity through innate and adaptive immune responses and trigger immune cell activity, enhance phagocytosis, and secrete inflammatory markers to resist various pathogens. They show promising results in most studies and have low toxicity, and therefore can be recommended as a preventive and therapeutic measure for aquaculture. We also revealed the direct and indirect actions of herbal extracts and phytochemicals on the reproductive axis (mainly steroidogenic pathways) in vertebrates, suggesting a potential pathway for future research," said Morteza Yousefi, PhD, Associate Professor, Department of Veterinary Medicine, RUDN University.
The results are published in Animals.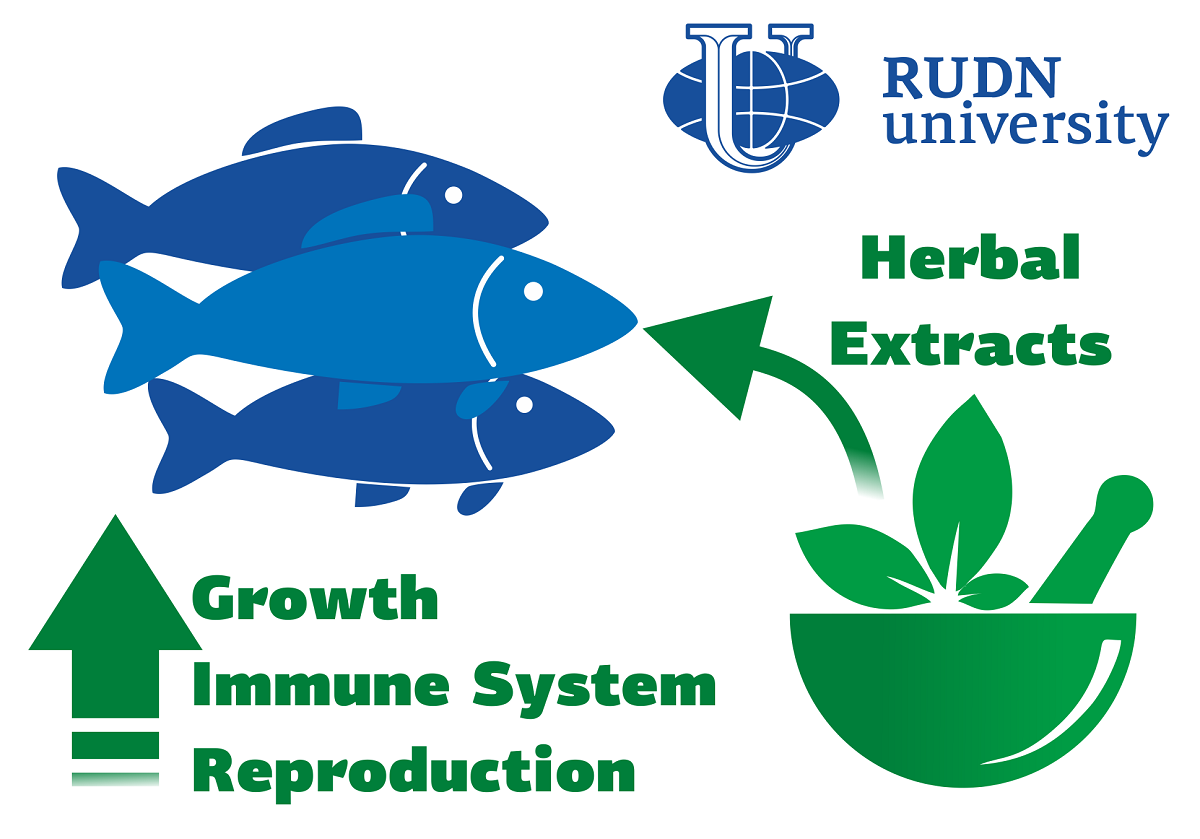 Science
20 Sep
RUDN University mathematician determined the conditions for the coexistence of three species in the wild
RUDN University mathematician together with colleagues from India and France for the first time studied in detail the system of coexistence of three species of living creatures in the wild. The results help to understand what parameters determine the extinction andли survivalof species, and how the number of species changes in space and time.
Science
15 Sep
RUDN University Chemist Created Coordination Polymers Films with up to 99.99% antibacterial efficiency
RUDN University chemist with his colleagues from Portugal has developed two types of coating based on new coordination polymers with silver. Both compounds were successfully tested against four common pathogens.
Science
12 Sep
RUDN scientists have improved titanium dental implants with graphene nanosloyers
RUDN researchers have created and tested a method for processing titanium dental implants. It turned out that theanoslos of graphene on the surface of titanium improve its interaction with stem cells,which are placed on the implant so that it better "takes root".Thanks to this method ofprocessing, stem cells are better kept on the surface, multiply and turn into the desired cells.