RUDN University doctors evaluated the effectiveness of hernia treatment with a mesh endoprosthesis
RUDN University doctors have followed the recovery of patients after the treatment of a postoperative hernia using a polypropylene mesh-endoprosthesis.
Ventral hernias, or hernias of the abdominal wall, are a very common type of hernia. Most often they are formed after surgery. If the postoperative scar healed incorrectly, for example, due to infection, then a protrusion of the anterior abdominal wall develops. In the early stages, this is noticeable only when lifting weights, coughing. In the later stages, it is also visible externally, it causes pain, especially with fast walking and sudden movements. In some cases, postoperative ventral hernia can reach a huge size. Recently, mesh endoprostheses, or meshes, have been used to treat postoperative ventral hernias. During the operation — hernioplasty — the doctor sets the abdominal organs in place, and an implant in the form of a mesh is installed in the area of the hernia "gate". Such nets take root well, do not interfere with the work of organs and reduce the recovery period. Physicians of RUDN Unviersit, under the guidance of professor Andrei Protasov, MD, head of the Operative surgery and clinical anatomy by I.D. Kirpatovsky followed the recovery of patients after such an operation for five years.
"Operations for hernias of the anterior abdominal wall are the second place by the number of surgical operations performed. Only perations for acute appendicitis get ahead of them. Our goal was to conduct a retrospective analysis of data over a five-year period of time and evaluate the results of surgeries," Serdar Kuliev, surgeon, associate professor of the Department of Operative Surgery and Clinical Anatomy, RUDN University.
Doctors conducted a comparative study and assessed the level of complications and quality of life of patients with postoperative ventral hernias after hernioplasty. A total of 96 patients participated in the study. The patients were followed up for five years after the hernioplasty using mesh endoprostheses. Complications were assessed using the Clavien-Dindo scale, a standard classification of surgical complications. The doctors also assessed the quality of life using the EuraHS QoL questionnaire developed by the European Society of Herniology.
Wound complications were found in 11.4% of patients, general complications 4.2%. Only 1% had a recurrent hernia. Most patients (more than 70%) felt a significant improvement. Pain decreased, physical activity and satisfaction with appearance increased. This happened already in three month after the operation.
"Our results show that during the five-year period after hernioplasty with a mesh endoprosthesis, there is a low percentage of wound complications and relapses. The quality of life of patients is also significantly improved," Anna Kulakova, surgeon, assistant of the Department of Operative Surgery and Clinical Anatomy, RUDN University.
The results are presented in the British Journal of Surgery.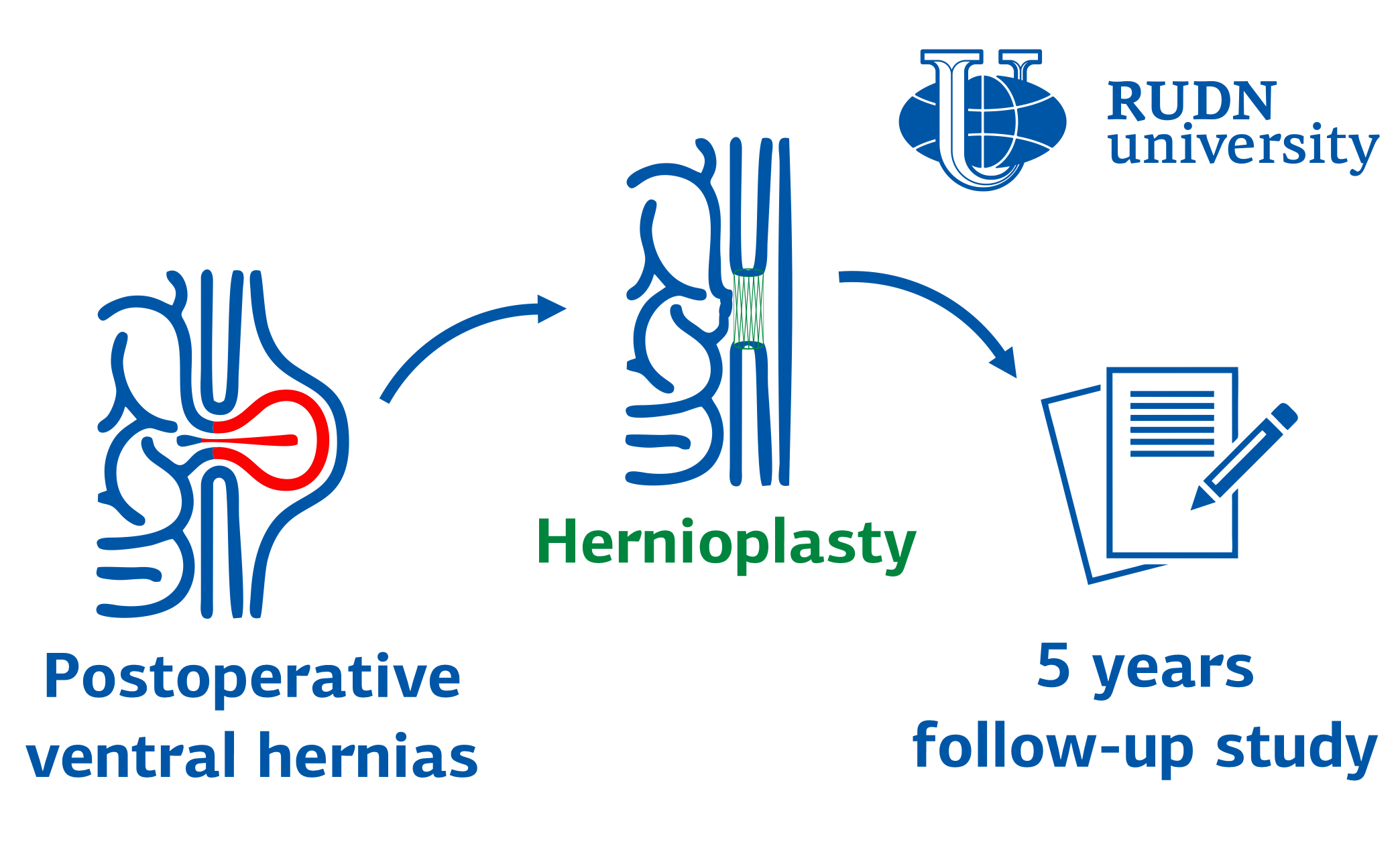 Science
21 Nov
RUDN University brings together 1,500 experts from 70 countries to propose solutions for 17 SDGs
The conference "For the sustainable development of civilization: cooperation, science, education, technology (Africa's Pathway to 17 SDGs: an integrated approach)" opened at RUDN University*. It is attended by ministers of Sierra Leone and Ethiopia, as well as leading world scientists from Algeria, Brazil, Germany, Zambia, India, Indonesia, Morocco, Namibia, Ethiopia, South Africa and other countries.
Science
27 Oct
RUDN University environmentalists teach to obtain bio-oil from microalgae
How to make money on wastewater and turn biological mass into clean energy? What is valorization of waste and sludge? How does this process relate to sustainable development? Dr. Kumar Vinod, professor at the Department of Life Sciences at Graphic Era University (India), spoke about water without treading water.
Science
04 Oct
RUDN Engineers Find the Way to Overcome Water Shortage with Rain
RUDN University engineers calculated how to collect precipitation for water supply over a large area in an arid region. The results will help solve the problem of water shortages through the construction of several dams and ponds.