RUDN University medics detect alterations in amino acid profiles in children with ADHD
RUDN University doctors found alterations in serum amino acid profile in children with attention deficit hyperactivity disorder (ADHD). The findings will help to understand the mechanism of the disorder and develop new treatment strategies.
Attention deficit hyperactivity disorder (ADHD) is a neurodevelopmental disorder that manifests itself in childhood. Children with ADHD find it difficult to concentrate and manage their impulsivity. It is known that ADHD is also manifested at the neurochemical level — for example, the work of dopamine and norepinephrine is disrupted. However, there is still no definitive data on how the responsible for brain function amino acids profile changes in ADHD. Although drugs consisting of amino acids are often used for the treatment of ADHD. Scientists of the RUDN University detected the alterations of the amino acid profile in blood serum in children with ADHD.
"Amino acids serve a significant role in brain development and functioning. In particular, certain amino acids or their precursors are well-established to be involved in neuronal signaling as neurotransmitters. Correspondingly, disruption of amino acid metabolism results in significant neurological disorders, particularly in children. Therefore, unraveling the potential underlying mechanisms implicated in ADHD pathogenesis is essential for improving our understanding of the disorder and further development of management strategies", Anatoly Skalny, DSc, Head of RUDN Department of medical elements studies
102 children aged 7 to 14 years were involved in the study. 71 of them were diagnosed with ADHD, the rest of the participants were neurotypical (without diagnosed disorders). The level of amino acids in the blood serum was measured using liquid chromatography. Then scientists compared the data obtained in children with ADHD and neurotypical children using statistical methods.
It turned out that the serum amino acid profile in children with ADHD differs from neurotypical children. Histidine, glutamine, and proline levels were found to be 29%, 10%, and 20% lower, respectively. Aspartic acid and glutamate were found to be 7% higher, and hydroxyproline-42% higher. Accordingly, the ratio of glutamine to glutamate in children with ADHD is 28% lower than normal, and the ratio of proline to hydroxyproline is 29% lower. The first ratio is one of the indicators of the transmission of nerve impulses, and the second can be a marker of disorders of collagen metabolism and connective tissue. Related diseases are sometimes considered to be associated with ADHD.
"The observed alterations in Pro/Hypro and Gln/Glu levels and ratios are likely associated with the coexisting connective tissue pathology and alterations in glutamatergic neurotransmission in ADHD, respectively. However, further in vivo and in vitro studies are required in order to investigate the detailed mechanisms linking amino acid metabolism with ADHD", Anatoly Skalny, DSc, Head of RUDN Department of medical elements studies.
The study is published in the journal Biomedical Reports.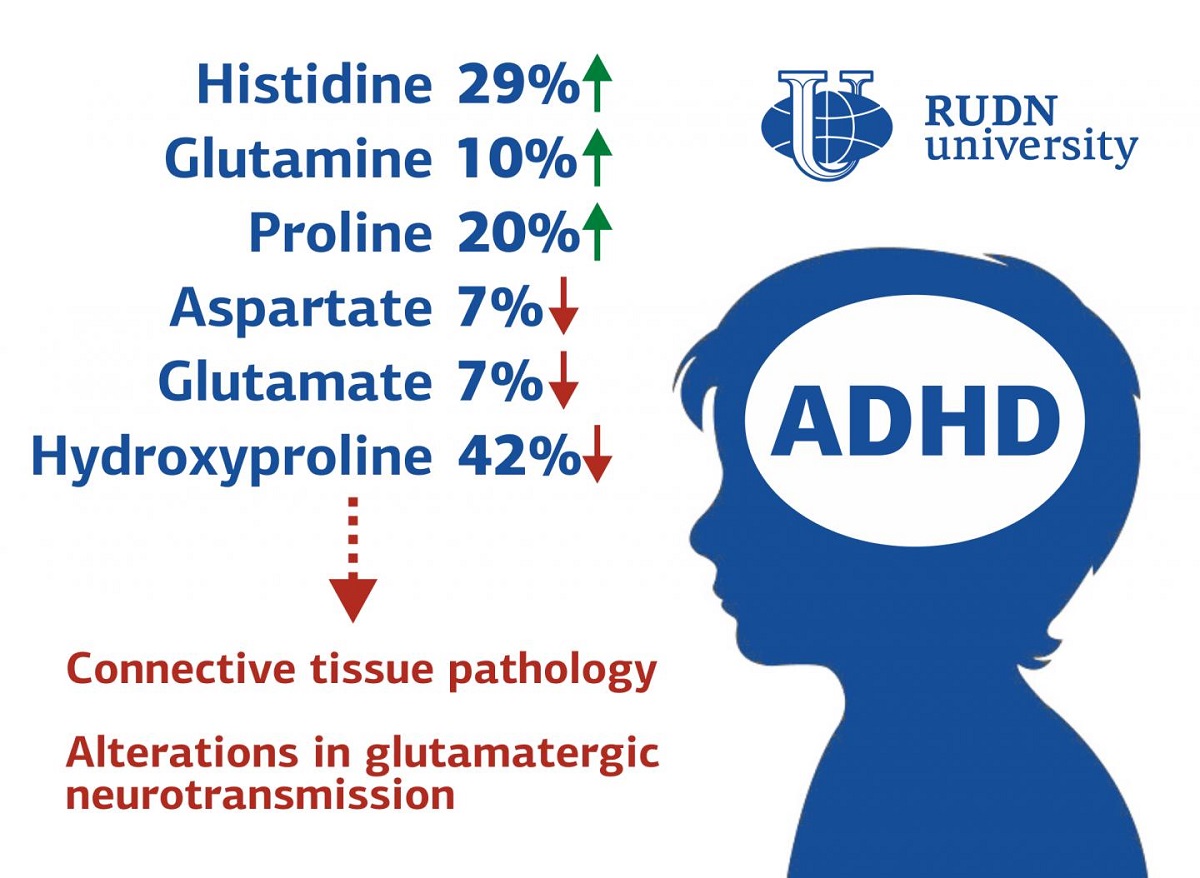 Science
20 Oct
RUDN University Professor Suggested how to Clean Up Space Debris
A specialist in spacecraft movement control analyzed the process of placing vehicle stages, boosters, and other space debris into the so-called disposal orbit and suggested cleaning lower orbits up with a spacecraft that has modules with engine units on board. These modules will attach to space debris objects and move them away. As for the geostationary orbit, a preferable way to clean it up would be a towing spacecraft that transports space debris objects into the disposal orbit.
Science
14 Oct
A Biologist from RUDN University Found Sex Differences in Inflammatory Reactions in Rat Pups
A biologist from RUDN University studied the development of the immune response in prepubertal male and female animals. According to her, the severity and mortality of infectious and inflammatory diseases at this age depend not on the sex hormones, but mainly on the chromosome set or karyotype.
Science
11 Oct
Chemist Benjamin List: the Nobel Prize in chemistry and a visit to RUDN University
October 6, the Nobel Committee announced the 2021 Nobel Prize Winners in Chemistry. They were scientists Benjamin List (Germany) and David Macmillan (USA) for new methods of molecular synthesis. RUDN chemists know Professor Liszt personally — in 2019, the researcher came to participate in the university conference.