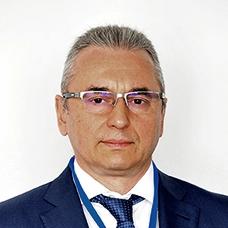 Director of the Engineering Academy, Director of the Department of Mechanics and Mechatronics
Yuri Nikolayevich Razoumny - Doctor of Technical Sciences, Professor, Academician of the Tsiolkovsky Russian Academy of Cosmonautics, Academician of the International Academy of Astronautics, Lifetime Associate Fellow of American Institute of Aeronautics and Astronautics, Member of the RAS Council on Space, member of the HAC expert Council on aviation and rocket and space technology, member of the International programme Committee of the International Astronautical Federation, member of the editorial Committee of the Acta Astronautica journal (Great Britain), member of the editorial Committee of the REACH journal (Germany), Chairman of the programme Committee of the IAA/AAS SciTech Forum held annually in RUDN University.
Biography
1980
Graduated from Mozhaisky Military Space Academy.
1980 - 1983
Engineer, senior engineer of the ground measuring station for spacecraft flight control, Ussuriysk, Primorsky Krai.
1983 - 1996
Junior researcher, senior researcher, head of the scientific laboratory, deputy head, head of the science Department ballistic justification for future space systems 50 Central Research Institute of space facilities of the Ministry of Defense of the USSR / Russian Federation, Korolev, Moscow region.
1996 - 1998
Head of the State Committee of the Russian Federation on military-technical policy (SCMTP Russia), head of the Department of the Ministry of Foreign Economic Relations of the Russian Federation (MFER Russia).
1998 - 2007
Professor of the Department of Ballistics and Aerodynamics of Bauman MSTU, 2007-2011 - Professor and Deputy Head of the Department of Dynamics and Flight Control of Rockets and Space Vehicles of Bauman MSTU.
2011 - 2012
Head of the 4th center for reliability and quality of rocket and space technology and space mission design of FSUE Central Research Institute of Machine Building of the Federal Space Agency.
2012 - 2017
Professor of the Department of System Analysis of the Aerospace Faculty of MAI.
2015 - 2016
Head of the Department of Space Flight Mechanics of the Institute of Space Technologies of Peoples' Friendship University of Russia.
2016 - present time
Professor and Director of the Department of Mechanics and Mechatronics, Director of the Academy of Engineering of RUDN University.
Honours and awards
Medals "For excellent service in the armed forces of the USSR" 2 and 3 degrees, "For distinction in military service" 1 degree, other awards of the government of the USSR, Ministry of Defense, Federation of Cosmonautics of Russia.
Scientific interests
System analysis and synthesis of complex technical systems, mechanics and control processes, solving control problems using neurotechnology and machine learning, optimization of orbits and orbital structures of satellite systems for various purposes, methods for ensuring the safety of space activities in conditions of space pollution and other risks and restrictions, optimization of space infrastructure based on the concept of servicing spacecraft in orbit, methods for controlling spacecraft in orbit when performing target tasks.
Author of more than 200 scientific works, including 143 published works, including 20 copyright certificates of the USSR and patents of the Russian Federation for inventions.