RUDN takes the 117th place in THE Emerging Economies University Rankings 2019
RUDN improved its position by 183 points and took the 117th place in the THE Emerging Economies University Rankings 2019. The university showed significant growth in terms of "Teaching", "Citing", and "Internationalization".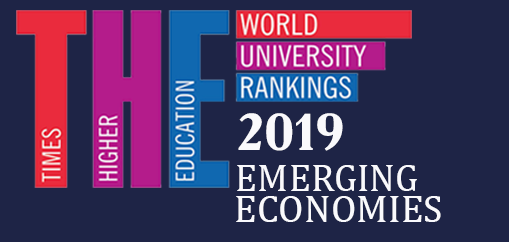 International scientific collaborations, joint educational programs, international accreditation of programs, opening of new laboratories, projects to attract talented young people to research activities, full-time postgraduate studies, a significant increase in publications in Q1-Q2 journals - a comprehensive approach to project implementation has ensured the promotion of RUDN in the rating.
Traditionally, RUDN maintains a leading position in the field of internationalization. In 2018, the university first admitted students from the Republic of Niger, the Netherlands and Croatia. Today, representatives of 157 countries of the world and more than 9,000 students are studying at RUDN.
RUDN holds Olympiads in 8 directions in 25 countries, has opened 20 specialized classes, and implements 74 educational programs in foreign languages.
About RUDN
16 Aug
RUDN University, PSB, Rosfinmonitoring and the Russian Academy of Sciences are developing the Sodruzhestvo telecommunications platform
Promsvyazbank (PSB) continues to support the industrial development and telecommunications of the international social and educational digital platform "Sodruzhestvo (Commonwealth)". The corresponding memorandum at the "Army-2023 International Military-Technical Forum" was signed on August 15, by:
About RUDN
04 Aug
Projects on agronomy, ecology, landscape architecture, organization of park spaces… RUDN University and Gorky Park develop cooperation
RUDN University Rector Oleg Yastrebov and Gorky Park Director Elena Lupina signed a cooperation agreement. They discussed the exchange of resources, educational activities and innovative and educational projects in the field of agroecology.
About RUDN
23 Mar
RUDN returns the name of Patrice Lumumba
The Peoples' Friendship University of Russia (RUDN) again has the name of Patrice Lumumba, the first Prime Minister of the Democratic Republic of the Congo, who has become a symbol of the African peoples' struggle for independence. This was announced on Thursday by Russian Prime Minister Mikhail Mishustin.