RUDN takes the 117th place in THE Emerging Economies University Rankings 2019
RUDN improved its position by 183 points and took the 117th place in the THE Emerging Economies University Rankings 2019. The university showed significant growth in terms of "Teaching", "Citing", and "Internationalization".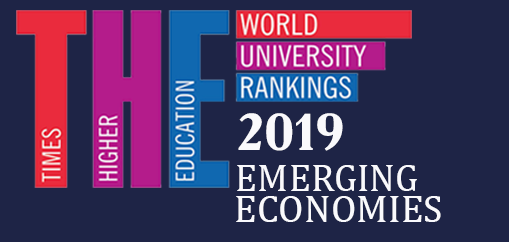 International scientific collaborations, joint educational programs, international accreditation of programs, opening of new laboratories, projects to attract talented young people to research activities, full-time postgraduate studies, a significant increase in publications in Q1-Q2 journals - a comprehensive approach to project implementation has ensured the promotion of RUDN in the rating.
Traditionally, RUDN maintains a leading position in the field of internationalization. In 2018, the university first admitted students from the Republic of Niger, the Netherlands and Croatia. Today, representatives of 157 countries of the world and more than 9,000 students are studying at RUDN.
RUDN holds Olympiads in 8 directions in 25 countries, has opened 20 specialized classes, and implements 74 educational programs in foreign languages.
About RUDN
31 Jan
RUDN University becomes a federal innovation platform in the priority area "Informatics. Digitalization"
The new list of federal innovation sites (FIS) of the Russian Federation includes 30 new organizations. Among them is the Peoples' Friendship University of Russia. This became possible thanks to the development of the Digital Preparatory Faculty of RUDN University.
About RUDN
16 Dec 2022
RUDN University confirms the title of the "greenest" university in Russia and strengthens its position in the global ranking
RUDN rose to the 26th position in the UI GreenMetric 2022 ranking and confirmed the status of the "greenest" university in Russia. The ranking includes 1,050 world universities, of which 52 are Russian.
About RUDN
21 Jul 2022
RUDN University is in 4th place in terms of the number of entries in the TOP-10 of the "Expert" ranking
Peoples' Friendship University of Russia is represented in all 16 subject rankings and in five out of six subject profiles of the Expert Analytical Center ranking. RUDN University showed the best results in the following areas: "Ecology" and "Agriculture and Biological Sciences" — 1st place. "Mathematics", "Chemistry", "Artificial Intelligence", "Renewable Energy" are in the TOP — 5 subject ranking. In total, 152 universities were ranked in 2022 (137 in 2021).