RUDN takes the 117th place in THE Emerging Economies University Rankings 2019
RUDN improved its position by 183 points and took the 117th place in the THE Emerging Economies University Rankings 2019. The university showed significant growth in terms of "Teaching", "Citing", and "Internationalization".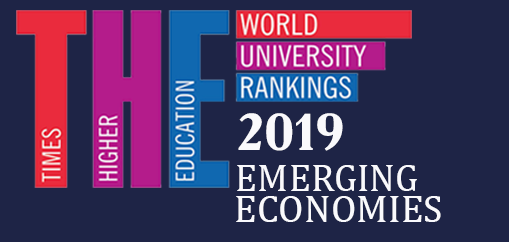 International scientific collaborations, joint educational programs, international accreditation of programs, opening of new laboratories, projects to attract talented young people to research activities, full-time postgraduate studies, a significant increase in publications in Q1-Q2 journals - a comprehensive approach to project implementation has ensured the promotion of RUDN in the rating.
Traditionally, RUDN maintains a leading position in the field of internationalization. In 2018, the university first admitted students from the Republic of Niger, the Netherlands and Croatia. Today, representatives of 157 countries of the world and more than 9,000 students are studying at RUDN.
RUDN holds Olympiads in 8 directions in 25 countries, has opened 20 specialized classes, and implements 74 educational programs in foreign languages.
About RUDN
27 Jun
RUDN University and Roskachestvo sign a cooperation agreement
June 21, RUDN Rector Oleg Yastrebov and the head of Roskachestvo Maxim Protasov signed a cooperation agreement.
About RUDN
24 Jun
RUR World University Ranking 2022: RUDN University in the top 100 best universities in the world in terms of teaching quality
RUDN University has risen from 401 to 361 place in the international RUR World University Ranking 2022 over the year. Peoples' Friendship University of Russia entered the top 100 universities in terms of "Teaching Quality", ranking 95th in the world and 8th among Russian universities. In total, 1,024 universities were ranked in 2022 (869 in 2021).
About RUDN
30 May
RUDN University enters the TOP-50 legendary brands of Russia
RUDN University was included in the list of winners in "Our Legends" nomination of the 50 Legendary Brands award from the "Komsomolskaya Pravda" media group. The people's jury is more than 5 million readers of "Komsomolskaya Pravda" determined who was worthy of the award.