RUDN takes the 117th place in THE Emerging Economies University Rankings 2019
RUDN improved its position by 183 points and took the 117th place in the THE Emerging Economies University Rankings 2019. The university showed significant growth in terms of "Teaching", "Citing", and "Internationalization".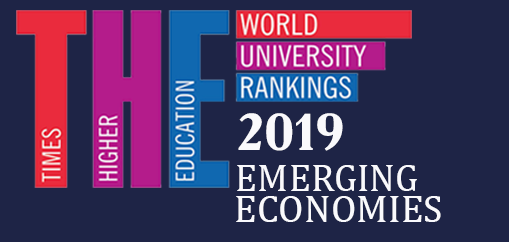 International scientific collaborations, joint educational programs, international accreditation of programs, opening of new laboratories, projects to attract talented young people to research activities, full-time postgraduate studies, a significant increase in publications in Q1-Q2 journals - a comprehensive approach to project implementation has ensured the promotion of RUDN in the rating.
Traditionally, RUDN maintains a leading position in the field of internationalization. In 2018, the university first admitted students from the Republic of Niger, the Netherlands and Croatia. Today, representatives of 157 countries of the world and more than 9,000 students are studying at RUDN.
RUDN holds Olympiads in 8 directions in 25 countries, has opened 20 specialized classes, and implements 74 educational programs in foreign languages.
About RUDN
16 Jun
RUDN University becomes the best Russian university in the ARWU subject ranking in "Agriculture" and goes 100 positions up in "Mathematics"
Peoples' Friendship University of Russia has become the best among Russian universities in the international ARWU (Shanghai Ranking's Global Ranking of Academic Subjects) ranking in Agriculture. RUDN University entered this ranking for the first time and immediately found itself among 201-300 best. The university also shot up 100 positions in Mathematics.
About RUDN
09 Jun
RUDN University — # 317 in the ranking of the best universities in the world QS WUR 2022
According to the ranking of the best universities in the world QS World University Rankings 2022, RUDN University has risen by 9 positions and took the 317th place.
About RUDN
23 Apr
RUDN University in the Times Higher Education Impact Ranking 2021
THE University Impact Rankings analyzes the impact of higher education on the development of society and the achievement of the UN Sustainable Development Goals.