Diploma for export: a Nepalese medical doctor became RUDN Graduate #100,000
22 June, RUDN Rector Vladimir Filippov conferred Diploma 100,000 on Bhattarai Hari from Nepal, who graduated RUDN Medical Institute with honors.
22 June, RUDN Rector Vladimir Filippov conferred Diploma 100,000 on Bhattarai Hari from Nepal, who graduated RUDN Medical Institute with honors.
Bhattarai has been dreaming to become a doctor all his life. When he was 18, he took part in a contest for school students to win a scholarship of the Nepalese government to study medicine abroad. He won and chose RUDN, a famous university a lot of friends and relatives had recommended.
There are more than 7,500 international students from 154 countries studying at RUDN mostly majoring in medicine, law, dentistry, linguistics, international relations, philology, economics, civil engineering, oil and gas business and pharmaceutics. A lot of students come to study agronomy, maths, physics and chemistry. The countries sending most students are China, Vietnam, Syria, Namibia, SAR, Nigeria, Afghanistan, Mongolia, Cote d'Ivoire and Columbia.
The selection of candidates for the nomination "RUDN Graduate 100,000" was done in 2 stages – dozens of candidates were suggested by faculties and institutes and 9 were finally chosen. Each of them made a video presentation of his or her achievements. Members of the Academic Board chose the best.
Our hero came to Russia in October 2010." I didn't know a word of Russian and I thought that Russians never smile. Students from Nepal met me in the airport. I was stunned when I first saw Moscow! I was very impressed by the different colors of the leaves on the trees- it was amazing! What I missed a lot was my usual food especially fresh mango, but we cooked various national dishes. Russians turned out to be very friendly and hospitable people"
In the near future RUDN Graduate 100,000 has serious plans - go back to Nepal, take a professional test, get a license and work. "After I will go to residency and later do my PhD", he says. "I am dreaming of becoming a cardiologist in a state clinic in Nepal and later also teach at a university"
"A doctor should convince patients that they will win over the disease. The Russian diploma will help me save lives in Nepal", Bhattarai Hari, RUDN Graduate #100,000.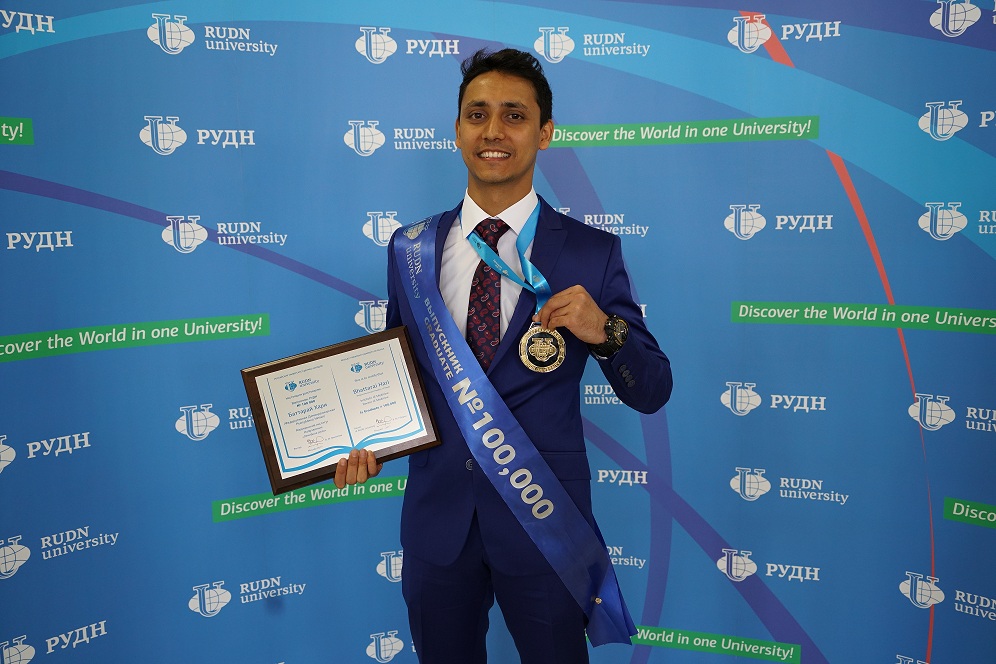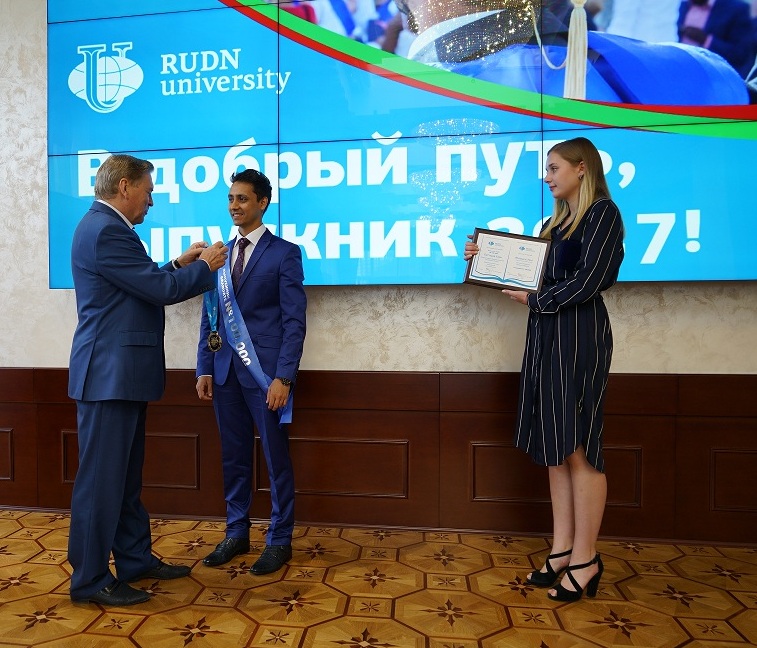 Alumni
10 Mar
Student, Graduate, Prime minister: César Verduga Vélez, RUDN graduate from Ecuador
We are introducing interesting heroes of the university. César Verduga Vélez is a RUDN graduate'71 from Ecuador.
Alumni
10 Oct 2022
"I clearly followed the instruction of our teachers — to be a source of knowledge for people," — Ngan Tony Francois Pierre, RUDN University graduate from Cameroon
RUDN University has trained graduated about 200 thousand students, including specialists from all over the world. One of them is Francois, a graduate of the RUDN Faculty of Economics, a major Cameroonian entrepreneur and author of 9 books on economics and business. In 2010, Francois completed his postgraduate studies and defended his Ph.D. at RUDN.
Alumni
25 Aug 2022
"For 2 years now, I have been helping every first-year student from Yemen take their first steps into student life," Al-Rahabi Mohammed Abdulkarim Mohammed, graduate of RUDN University
The trip of Mohammed to Russia is a part of his dream of becoming a diplomat. The young man studied international relations for 4 years, and after that he decided to change the track and broaden his horizons. This year he is graduating from RUDN University master's program "Arts and Humanities". Read the 7 years' story and plans for the future in an interview.