"I liked walking around snowy Moscow, especially after buying a warm jacket and gloves," says Jorge Marco Calderon Verduga, RUDN Faculty of Humanities and Social Sciences graduate
Marco Calderon Verduga came to Russia from Ecuador. He graduated with a bachelor's and master's degree in Political Science from the Peoples' Friendship University of Russia. Read an interview about the choice of university and adaptation in Moscow.

Why did you choose RUDN University?
I had an irresistible desire to flee somewhere alone. Studying abroad is one of the best ways to combine business with pleasure. I started looking for universities in Europe and the USA through the scholarship program of the Government of the Russian Federation. I came across the most international university in Russia — RUDN University. At first sight, I fell in love with the beautiful educational buildings, the high monument "Friendship of Peoples" near the main building and a spacious square with a bright fountain. I submitted the documents, and after a couple of weeks, a letter arrived: "Congratulations! You have been enrolled and you qualify for free tuition! My happiness knew no bounds.
When I arrived, I was impressed not only by the campus, but also by the atmosphere that reigns in it. Every week, student communities from different countries arrange interesting exhibitions that are impossible to miss! If I had to go back in time, I wouldn't have changed a thing.
What emotions did you experience when you first came to Russia?
I came from hot Ecuador — we have sun every day in Portoviejo. This is one of the oldest cities in South America, famous for its beautiful trees. After the warm Pacific coast, the cold of Russia could not but strike. But I liked walking around snowy Moscow — especially when I bought a warm jacket and gloves. To keep warm, I drank a lot of tea and hot chocolate. I was also warmed by sports at the RUDN University.
Most of all I was shocked by the dumplings. Friends shared the recipe with me. Since then, I've loved Russian cuisine.
Who or what helped you to adapt in Russia?
I learned Russian and walked around beautiful Moscow. To quickly learn the language, I read a lot. If I got tired of reading, I turned to the TV. And if there was no energy left, then I turned on Russian songs in headphones. I also interacted with teachers a lot. The environment also played a big role. They were happy to talk to me and listened attentively, even when I did not speak Russian well. And when I needed help with paperwork, they patiently explained everything.
What motivated you to major in Political Science?
There are many politicians in my family: ministers, deputies and senators. For example, my uncle Cesar Verduga Vales studied at the Faculty of Economics at the Peoples' friendship university in the 1960s. He was twice prime minister of Ecuador and minister of labor. Here Uncle Cesar met his future wife from Argentina. Ana Khusid studied History at the Faculty of History and Philology (now the Faculty of Philology and the Faculty of Humanitarian and Social Sciences). Ana Khusid was a writer, teacher, playwright, historian and painter, as well as a member of the General Directorate of Culture of the National University of Quilmes and a columnist for the National Radio. She touched on a little-known topic — motherhood in childhood.
Tell me about your master's thesis
I chose the topic "Indian movements and organizations in the political processes of Ecuador and Bolivia at the present stage." Native Americans are strong and capable people and their voices must be heard. Political movements help with this — they are looking for opportunities to voice claims that are related to the special rights of indigenous peoples and nationalities. I have written about the impact in promoting political, economic and institutional reforms. We studied examples of their effective application, including through negotiations in the political-institutional space.
How does the knowledge gained at RUDN University help you realize yourself in life?
This is where I learned to be independent. Imagine a young guy flew over the Pacific Ocean and ended up in another country all alone — without parents and friends. Living in a hostel, you grow up instantly — this is inevitable. I also gained experience in organizing events — I participated in exhibitions from the largest Latin American community of RUDN University — a community of students from Ecuador.
I had good teachers at the preparatory department, I miss them. Thanks to their teaching method, I learned Russian and to this day I remember how to speak it. And in the bachelor's and master's programs, the teachers gave a lot of knowledge in history, politics and economics.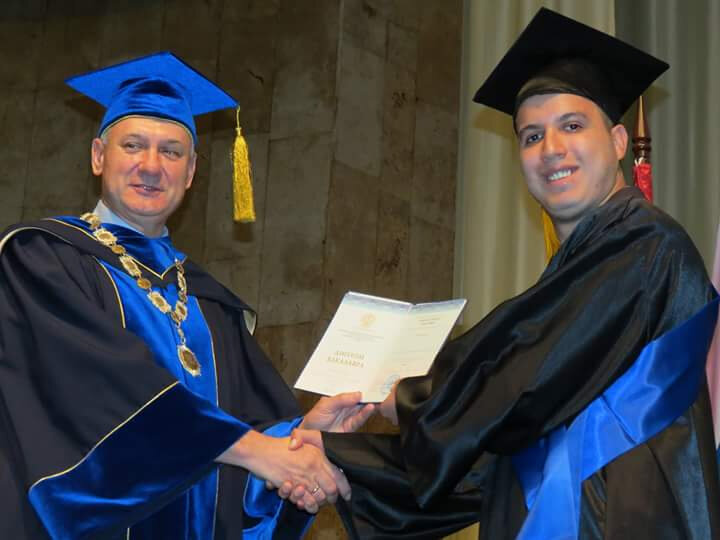 Alumni
10 Oct
"I clearly followed the instruction of our teachers — to be a source of knowledge for people," — Ngan Tony Francois Pierre, RUDN University graduate from Cameroon
RUDN University has trained graduated about 200 thousand students, including specialists from all over the world. One of them is Francois, a graduate of the RUDN Faculty of Economics, a major Cameroonian entrepreneur and author of 9 books on economics and business. In 2010, Francois completed his postgraduate studies and defended his Ph.D. at RUDN.
Alumni
25 Aug
"For 2 years now, I have been helping every first-year student from Yemen take their first steps into student life," Al-Rahabi Mohammed Abdulkarim Mohammed, graduate of RUDN University
The trip of Mohammed to Russia is a part of his dream of becoming a diplomat. The young man studied international relations for 4 years, and after that he decided to change the track and broaden his horizons. This year he is graduating from RUDN University master's program "Arts and Humanities". Read the 7 years' story and plans for the future in an interview.
Alumni
22 Jul
"People read Viktor Pelevin in China — there are many Chinese elements in his works that can resonate" — Tian Yang (China)
Why do people read Viktor Pelevin in China? Who are the New Historicists and what is their theory about? How can an author create new frontiers for a story? Read an interview with Tian Yang, graduate of RUDN Philological faculty.