The world of the Russian language: RUDN Digital Pre-University Faculty celebrates its one year anniversary
300 students from 31 countries have been learning Russian online with RUDN University teachers. The Digital Pre-University Faculty of RUDN University celebrates its first anniversary on September 15!
The Digital Pre-University Faculty is:
an opportunity to learn Russian before coming in Russia;
a chance to gain knowledge of general education disciplines from anywhere in the world;
an opportunity to learn Russian in 10 foreign languages;
24/7 communication with tutors who speak the native languages ​​of students;
no deadlines — admission is all year round;
studies at a convenient time adjusted to different time zones;
an opportunity to immerse yourself in the world of the Russian language, to feel the life of a Russian student, staying at home.
The students told why they chose RUDN Digital Pre-University Faculty.
"I love Russia very much, I want to understand it better, I'm planning to study here and therefore I study Russian in China online," — Yu Chengjie, China.
"Because of the pandemic, I could not come to Russia to study and applied to the Digital Pre-University Faculty. It was difficult to study, it required discipline and persistence, but I gained useful knowledge and experience", — David Pozo, Ecuador.
"My advice to those who want to learn Russian is to practice more. Conversation clubs, in which anyone can participate, is a good opportunity for this. "- Marisa Frederick, Nigeria.
The teaching methodology developed by RUDN is suitable for those who want to learn Russian for various purposes — for preparing to study in Russia, for work, for travel.
Applicants can choose any of three training options: individual lessons, module training, or a special course to prepare for admission to Russian universities.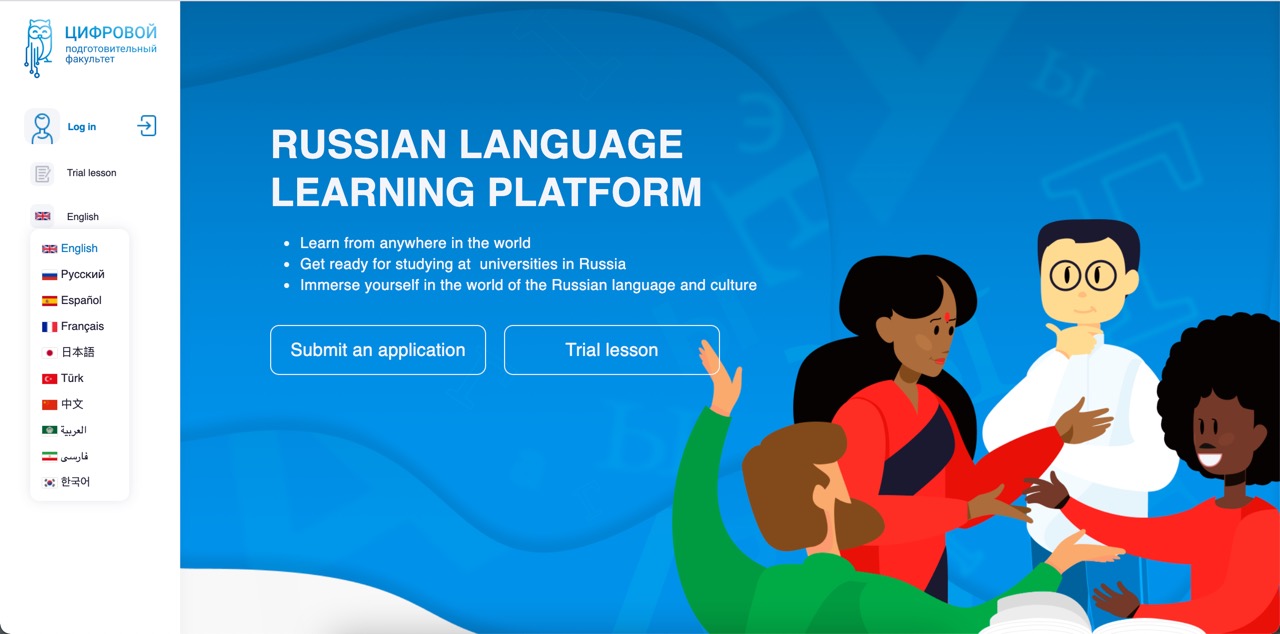 Education
24 May
"It is difficult to convey to people the idea of conserving the earth's resources," Anastasia Voevodina, student at RUDN Institute of Environmental Engineering
Anastasia Voevodina, a third-year student at the RUDN University Institute of Ecology, treats environmental issues with great responsibility. The girl successfully combines her studies with volunteer activities.
Education
27 Apr
Students of RUDN Engineering Academy are the winners of the industrial Hackathon of the student week "Mosprom studweek"
During the "Mosprom studweek", the results of an industrial hackathon on solving applied technical problems of Mosprom were summed up. 23 teams, 115 participants from 7 universities of Moscow competed in solving technical cases. RUDN University was represented by four teams of the Engineering Academy. The winner was "Champion's Breakfast", the team of 3rd year students of the Department of Mechanics and Control Processes. 5 students -winners were invited to an internship at the State Space Research and Production Center named after M.V. Khrunichev.
Education
26 Apr
Students of the RUDN University Law Institute became prize-winners in the competition on international commercial arbitration
The regular season of the student IX M. G. Rosenberg International Commercial Arbitration Moot Competition, which was held at the Russian Foreign Trade Academy and the Chamber of Commerce and Industry of the Russian Federation, has ended. More than 30 teams from Russia and neighboring countries took part in the competition.