The first QS Subject Focus Summit "Languages and Migration in the Context of Globalization" held at RUDN University
The first QS Subject Focus Summit "Languages and Migration in the Context of Globalization" held at RUDN University
December 15, on the basis of RUDN University, the first QS subject summit in the areas of "Modern Languages" and "Linguistics" started. The topic of the QS Subject Focus Summit is "Languages ​​and Migration in the Context of Globalization".
The summit was attended by 300 experts in the field of linguistic education and science from 50 countries, including Australia, Great Britain, Germany, Spain, China, USA, France and Japan.
Valery Falkov, Minister of Science and Higher Education of the Russian Federation addressed the participants: "It seems symbolic to me that famous researchers from Russia and other countries have gathered within the walls of RUDN to discuss the issues of science and education, which are at the intersection of different fields of knowledge. The solution of many socially significant tasks depends on the success of modern linguistic education and linguistic science: the effectiveness of the language policy implementation, the Russian language promotion abroad, migration processes regulation, peoples of Russia languages ​​and cultures preservation and development, the success of communication in various professional spheres, including science, inclusive education development and training regional personnel for the social and humanitarian sphere ".
Nunzio Quacquarelli, founder and CEO of the QS Quacquarelli Symonds Ltd, Pyotr Kucherenko, Deputy Minister of Science and Higher Education of the Russian Federation, Vladimir Filippov, RUDN President and Oleg Yastrebov, RUDN Rector also made welcoming speeches.
"Today our speakers and participants will talk about the culture of teaching and learning, artificial intelligence and many other topics. Effective communication and the ability to understand your colleagues and their cultures have never been more important. It is linguistics that helps us understand how people perceive the world and how we relate to each other. I am happy to declare that RUDN University is the best platform to talk about languages and linguistics. For more than 60 years RUDN University has been uniting people of different cultures by knowledge. This has led to impressive growth in subject rankings for modern languages ​​and linguistics." said Nunzio Quacquarelli, founder and CEO of QS Quacquarelli Symonds Ltd.
The Summit was organized by the Institute of Modern Languages, Intercultural Communication and Migration of RUDN University, founded in 2018, to concentrate efforts on strengthening the University's position in the subject areas "Modern Languages" and "Linguistics". And for two years in a row RUDN University has shown the most rapid progress in the QS subject rankings. 2020 was a breakthrough year in language areas — the university took 101-151 places in the QS Modern Languages ​​ranking ("Modern Languages", +50 positions per year) and 151-200 places — in QS Linguistics ("Linguistics", +100 positions per year ).
"RUDN University unites students from 158 countries and dozens of majors. They communicate with each other about their studies, scientific projects, and their interests. Students are different, but they find a common language. Research in the field of linguistics is one of the scientific priorities of RUDN University. With a focus on this area, we have shown the fastest growth in these subjects in the QS international rankings. I am glad that the first QS summit on modern languages ​​and linguistics is being held at RUDN University," said Oleg Yastrebov, Rector of RUDN University.
On the first day of the Summit, 25 leading experts in the field of linguistics and modern languages ​​presented their reports. Among the key speakers were István Kecskés, Jean-Marc Dewaele, Michael Haugh, Laura Alba-Juez, Andrei Kibrik, Nobuyuki Hino and others
On the second day of the Summit, reports were presented by 40 experts, including Lyudmila Bokova, Anna Wierzbicka, Alexey Maslov, Vladimir Zorin, Michael McCarthy, Robert O'Dowd, Anthony Green and many others
On the third day of the Summit, among 30 leading experts in the field of linguistics and modern languages ​​who presented their reports were Tatiana Chernigovskaya, Marina Raevskaya, Alain Viaut, Tatiana Martsenkovskaya, Roman Kralik, Douglas Ponton and others.
The QS Subject Focus Summit at RUDN University is a scientific and technical event of a new format. An online platform was developed especially for the Summit, which made it possible to fully immerse in the virtual space of the university. Participants could communicate with each other, visit exhibitions, conduct negotiations and view documents and videos. Three thematic tracks ran in parallel, and all experts could freely move between them. Speakers communicated with the audience in real time. All Summit materials will be available one month.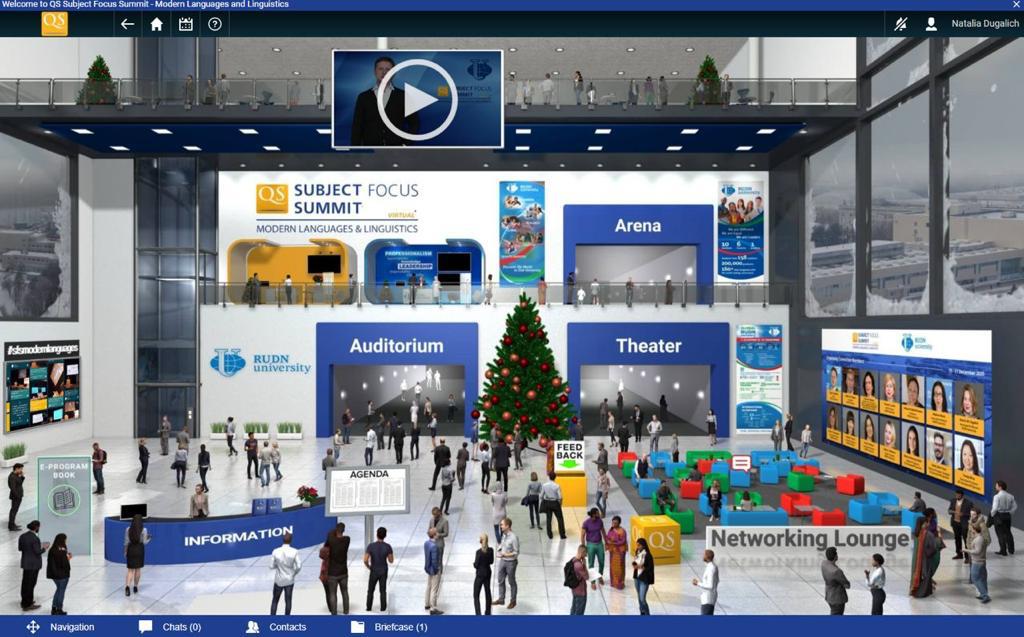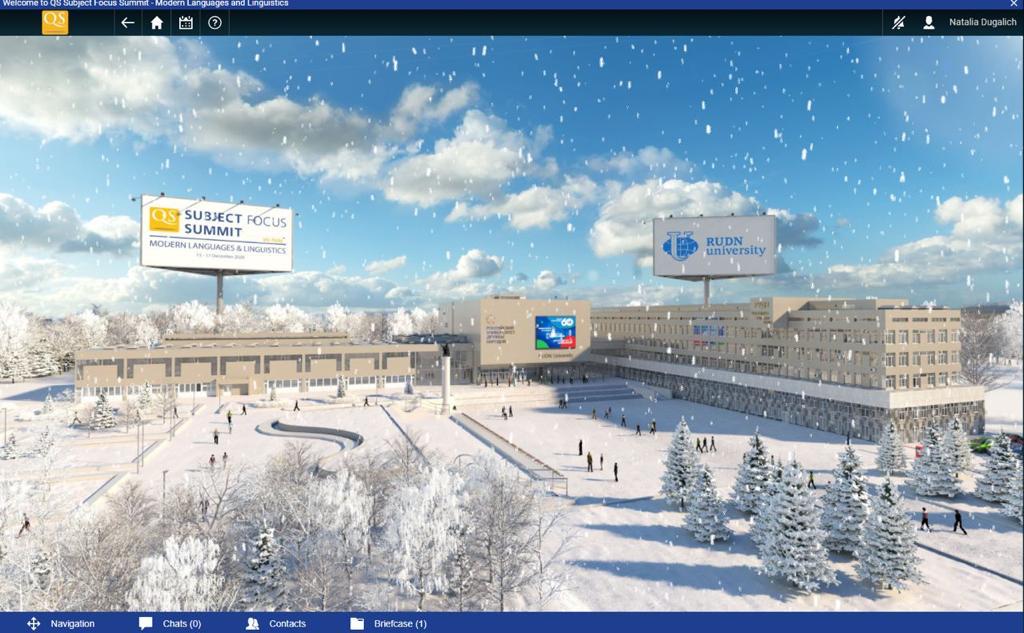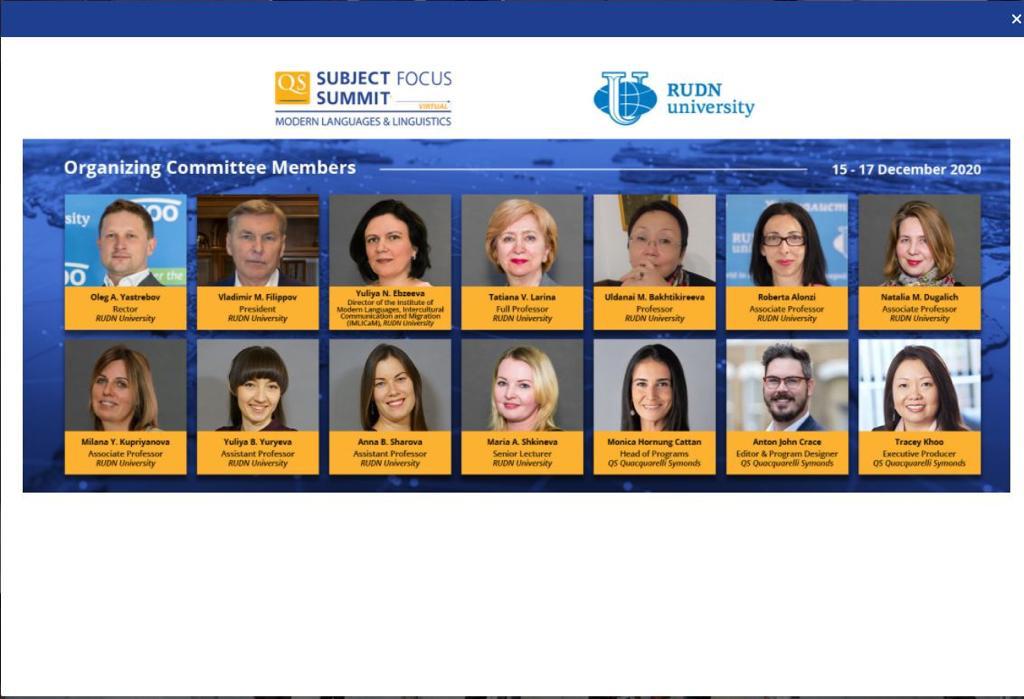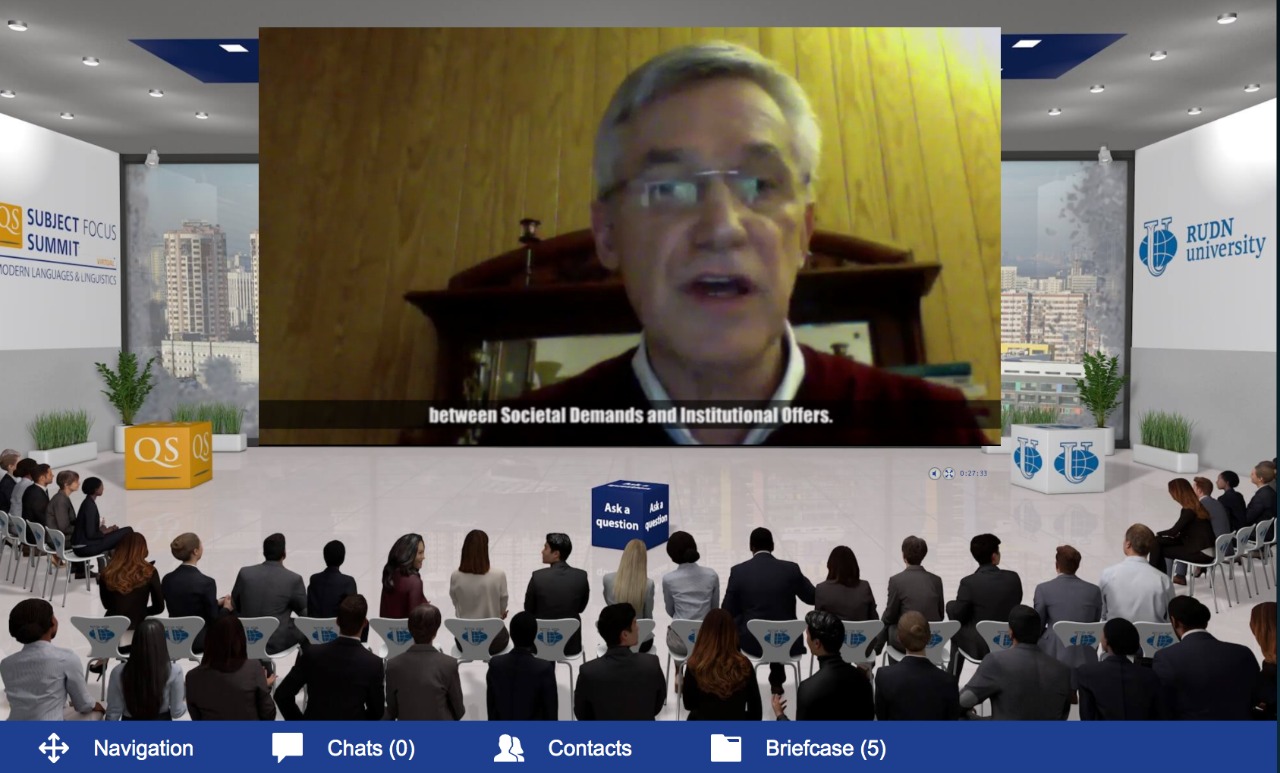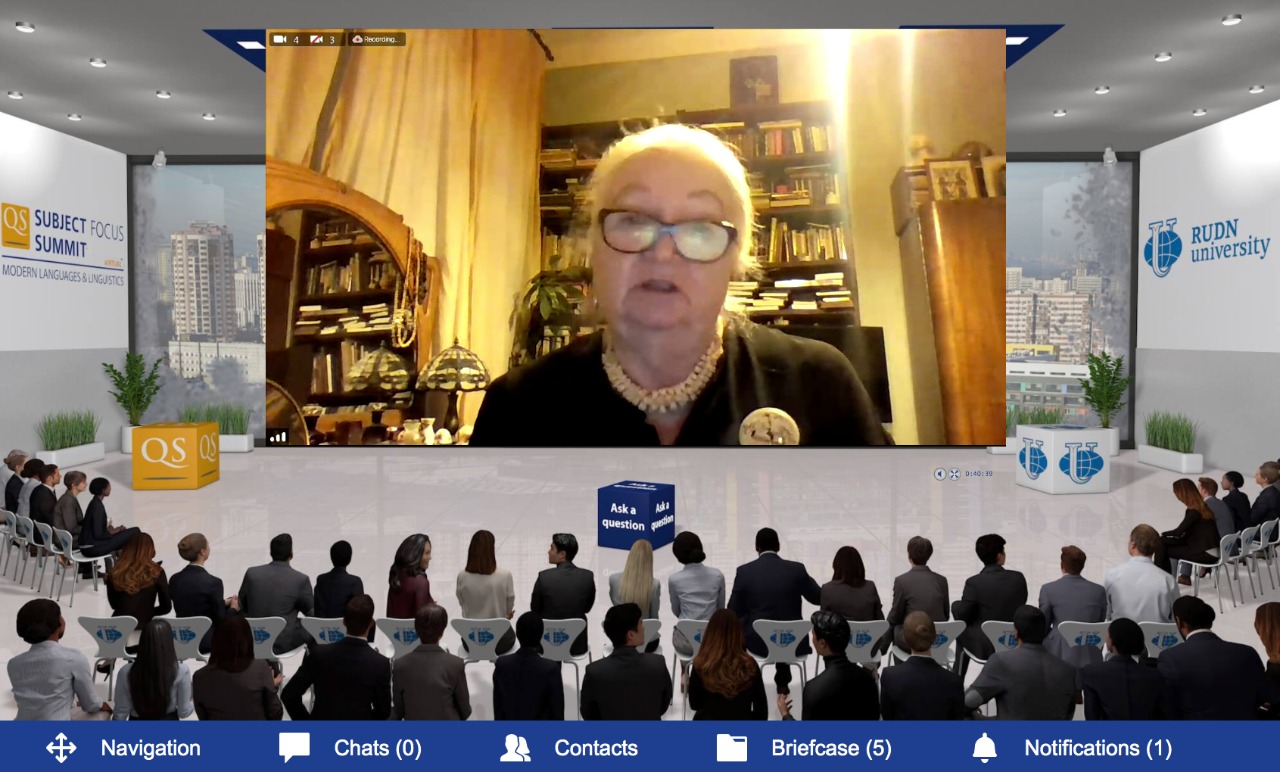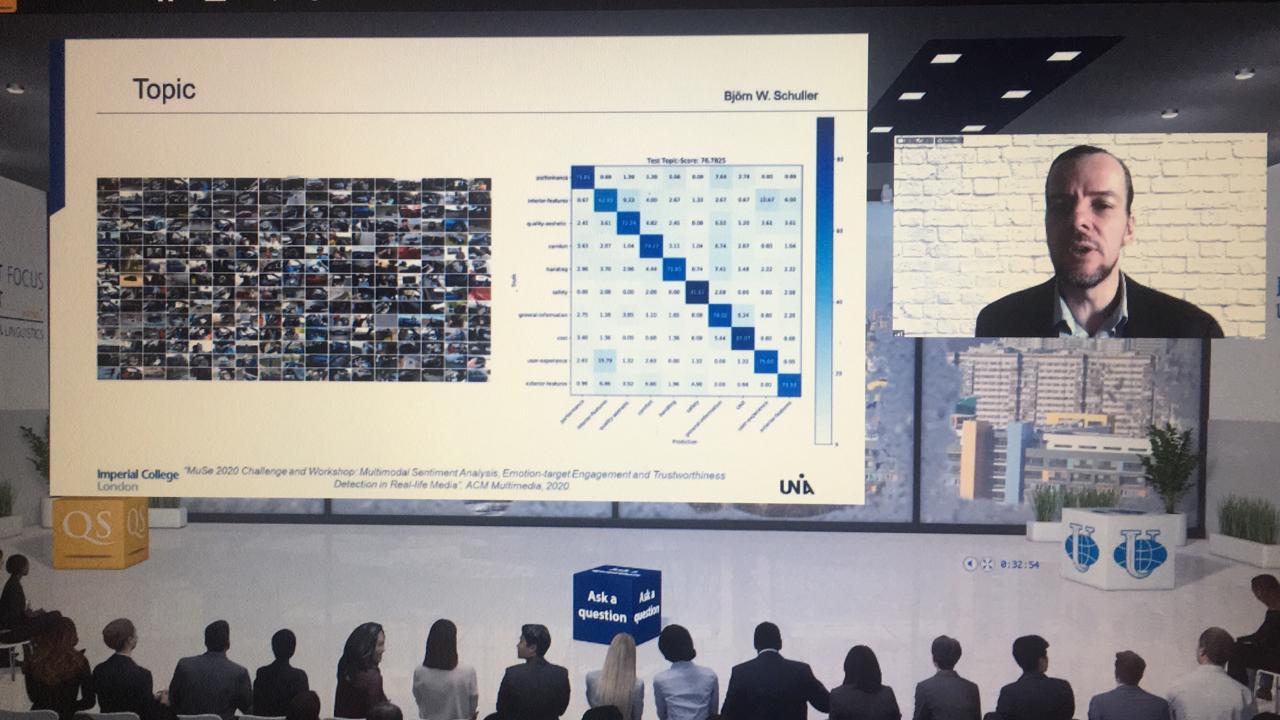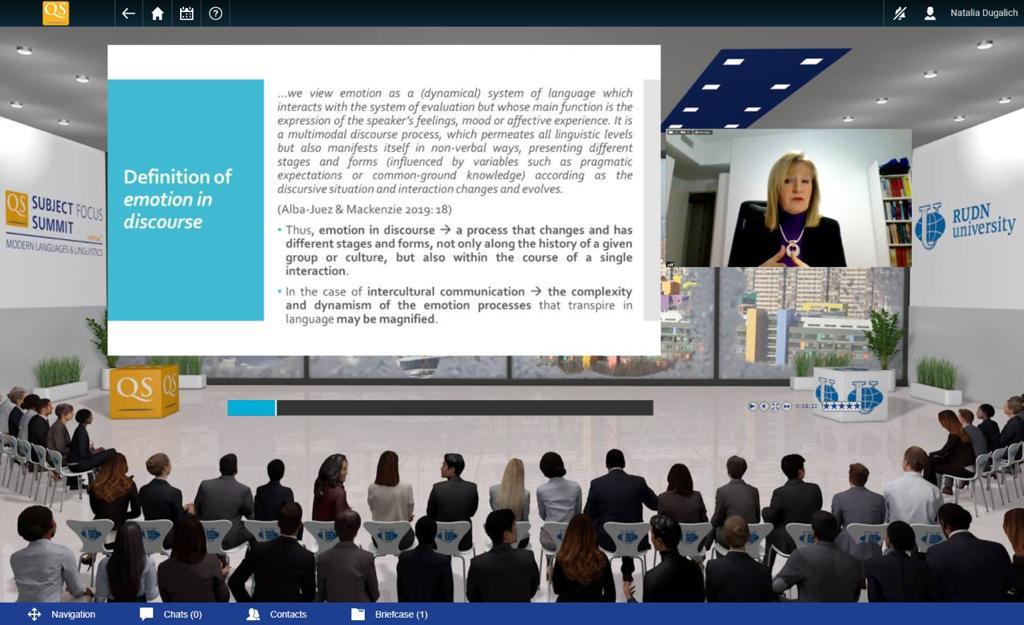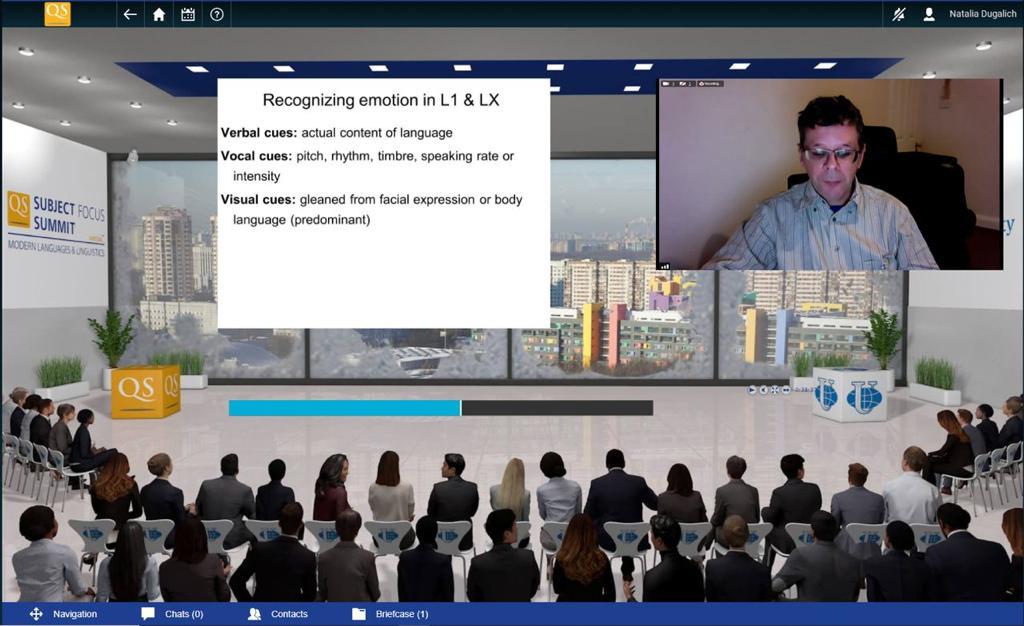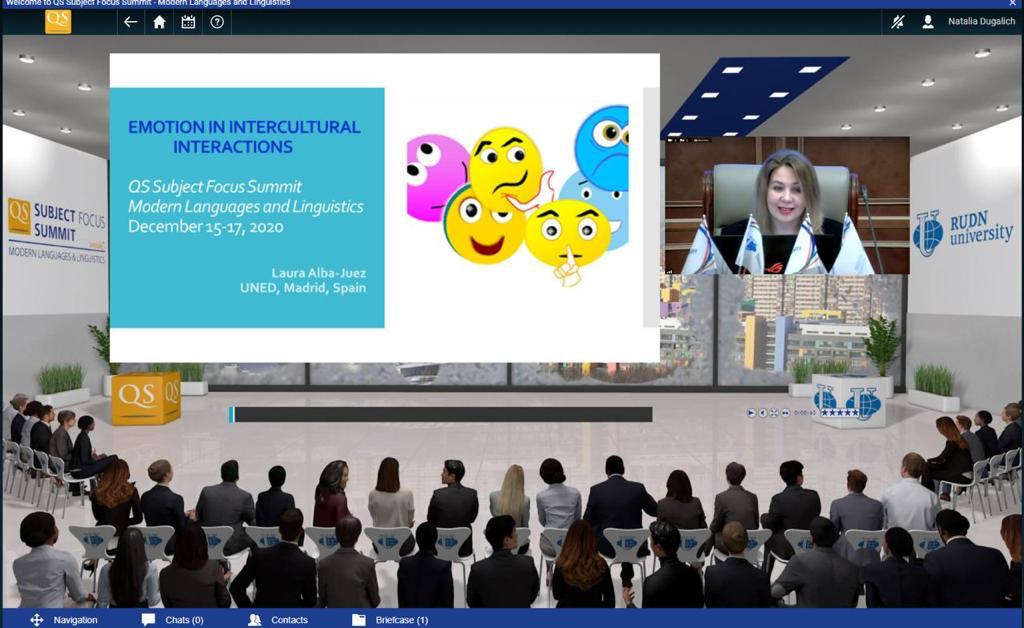 International cooperation
20 Aug
Nuclear education for sustainable development: RUDN experts hold lectures in Africa
RUDN representatives told schoolchildren and students of Kenya and Senegal about trends in nuclear energy, Russian technologies and education in Russia.
International cooperation
29 Jul
RUDN Rector Oleg Yastrebov meets the Ambassador of Syria to Russia
July 16, Oleg Yastrebov, RUDN University Rector and Riad Haddad, Ambassador of the Syrian Arab Republic to Russia held talks. During the meeting, they discussed the study of Syrian students at RUDN University and validation of Russian diplomas. RUDN University Rector assured the meeting participants that the issue of diploma validation would be resolved in the near future.
International cooperation
12 Feb
They trust us: RUDN University will train specialists for 160 countries
More than 70 representatives of the embassies of foreign countries in Russia, representatives of the Federation Council, and the Ministry of Science and Higher Education of the Russian Federation took part in the round table "The contribution of RUDN University to training national personnel for foreign countries." The event was held on February 5, in an online format and was timed to celebrate the 61st anniversary of RUDN University.