"In the cinema, we are shown other realities. Medical ethics does not allow telling a patient that he is dying," Roman Sharifi, resident of RUDN Medical Institute
"In the cinema, we are shown other realities. Medical ethics does not allow telling a patient that he is dying," Roman Sharifi, resident of RUDN Medical Institute
Read in an interview with Roman Sharifi, resident of the Medical Institute from Afghanistan about the profession of an oncologist, how doctors tell about disappointing diagnoses and how to cope with psychological stress.

What made you choose RUDN University?
I chose a university to develop in science. It is known all over the world. I heard a lot about quality education and comfortable living from compatriots. For almost 40 years, students have been coming here from Afghanistan. I was told that the teachers and management treat foreigners well, you can share problems and suggestions with them. Indeed, RUDN University has become a companion for me to achieve my goals.
What emotions did you experience when you first came to Russia?
I felt anxious because I ended up in a place far from my homeland without knowledge of the Russian language and culture. As soon as I started getting to know the locals, my fear disappeared. I was in Germany, Norway, France, but here people have a completely different mentality — they have more humanity, respect and understanding. A foreigner feels like a native here. The idea of ​​the peoples of Russia is close to me, and it is incomparable with anything.
I got here thanks to a competition in which 600 Afghan schoolchildren participated — I passed it successfully and got a state budget-funded place at the Kabardino-Balkarian University. Since 2012, I studied Russian at the preparatory faculty, in 2013 I enrolled in the program "General Medicine" and after graduation, in 2019, I became an intern at RUDN University.
What was your first impression of RUDN University?
I went through the gate, saw a fountain and a cross-shaped building. There is a special atmosphere here — friendship reigns and many students from different countries come to find their vocation. They help each other, regardless of skin color, religion and citizenship. The aura of mutual understanding influenced me so much that when I first went to the library, I helped some guys from the Medical Institute solve a problem in anatomy. This was the first time that someone listened to me so attentively from start to finish.
Why did you choose "Oncology" out of all directions?
It is my personal tragedy, since many of people I know, friends and relatives died from oncology. One of my classmates died of leukemia. It was hard for his parents, brothers, sisters and me. I set a goal to find an effective medicine or to develop a method of treatment, I promised myself to become a smart and purposeful oncologist.

How do you deal with psychological stress?
There was a lot of negativity in Afghanistan because of the war. When I talk to patients, I cite the example of my parents who have seen a lot of difficulties. I myself also had problems — it was hard after moving to Russia, there was not enough money. But I set a goal to fight obstacles. Visualization helps to solve problems. I draw a circle, put myself in the center, and place negative things around. I draw a diagram and think about which path to choose in order to eliminate adverse events or get away from them. This is how I deal with stress.
Have you ever reported a serious illness / disappointing diagnosis to a patient?
In the movies, we are shown very different reality. Medical ethics does not allow telling a patient that he is dying. Before reporting the diagnosis, we communicate with relatives to find out what strengths and weaknesses the patient has, with a psychologist, chief physician and management. Next, the patient will have a conversation, where we explain that he has such and such disease and talk about life. Someone goes into shock or faints, someone reacts ok, but depression begins later. Therefore, we work together with psychologists to monitor the condition of a person. We try to tell the patient that difficulties can be overcome.
Why are cancers so common? How can you reduce the risk of cancer?
Since the 1990s, the spread of disease has slowed down because equipment has become more efficient and there is more knowledge. The main causes of the disease are still unknown. There are cancer cells in the body that start growing in some people's bodies. From different points of view, the development of these cells and their prevalence depends on physiology, genetics, lifestyle and stressful situations. Doctors speculate that the genetic cause can be resolved. DNA, the code of every person, can be changed. This procedure can be started at birth. Doctors think about how to slow down the development of cancer, and I am thinking about how to stop it at the very beginning.
People are primarily doctors for themselves, they know their own bodies, know what is bad for them and what is good. First, to reduce your risk of cancer, I recommend improving your quality of life. Reducing stressful situations as much as possible is number two. Third, if there were cases of cancer in the family, then you need to go for examinations every six months. Tests help to find out if there are risks of malignant tumor and if it is possible to strengthen the immune system, which is a good step for people with a genetic predisposition.
Does your attitude affect the outcome of treatment?
Cancer is a dangerous and fatal disease. Even if the patient is terminal, one should not lose faith in either the sick person, or his relatives, or doctors. We treat patients with drugs and surgical interventions, but there is mental treatment too. This skill is a must-have for every doctor who wants treatment to be effective. In order for the patient to fight, the doctor must clearly know how to treat him and what approach to use in working with him specifically.
In the fourth year, we had a 15-day practice in an oncological hospital. There was a young man with leukemia, he was in moral decline, worrying about his children, wife and parents. He had many negative events in his life. The doctors said he had six months to live and he was ready to give up. Then I asked him what it would prove? Only that we are weak, that we cannot fight for our relatives and do not want to live with them. A person is capable of thinking both about bad and good things.
In case of leukemia, you can lengthen your time. This is a skill that a person has in the head. You need to think positively, you should not forget how many problems you have already left behind. Ahead, at least, there is the future of loved ones. You have to let them know that they were fighting for a priceless life. Some patients live only when their friends and relatives visit them, but this is not right. Every moment must be appreciated. I told this young man that he can extend these six months by a year or more if he wants. Which he did — six months have already become three years. From time to time I contact his family, they are doing well, the children have already finished school.
Do you believe in miracles?
I am pragmatic. I believe that everything is consistent in life. Every step and every reaction has a specific cause and effect. This is not a miracle.

What problems do you see in the healthcare sector in Afghanistan and how do you plan to fix them?
Corruption is a problem that exists in all countries and must be eliminated. This difficult process should start from kindergarten and school. At this age, people need to cultivate responsibility and patriotism so that they are ready to give everything for the sake of their country. First, this idea needs to be installed in children. Some young people value only fun — playing games on the phone, chatting with friends, relaxing, but this is not the goal. Every person should have spiritual values. Schoolchildren should know national and world history, thanks to which they now live peacefully.
If the country is important to you, start with yourself — help your neighbor, friend, parents and city. If a person wants to leave a mark on history, something must be done. Actions always speak louder than words. And it depends on us, on me, on you. You can already take the right step for your country.
What ideas and plans do you have to improve the level of medicine in Afghanistan?
At home, there are few opportunities for training, and there is not enough equipment for practice. Students study organs from the posters on the walls. Physicians should have an opportunity to study theory and apply it in practice, visit specialized classrooms and laboratories, and practice on dummies and biomaterials. Then the information will be remembered for a lifetime. This is common practice in Russia. In RUDN, for example, there is a center for simulation training, where future doctors develop skills without risk to the patient — on dummies, using special equipment.
Students have become lazy due to modern technologies that allow them to find information in one click. And they should be used with benefit — not to make life easier, but to gain new knowledge.
Do your childhood ambitions match the choices you made?
As a child, a person has plans and ideas that change as they grow up. In some ways my dreams converge, and in others they do not, but the overall goal remains the same. I wanted to become a rich doctor in order to treat patients for free. However, in our reality one cannot do without financing for treatment and development.
You have taken part in reading contests more than once. How did you come to loving literature?
Literature attracts me by sensuality and talent to convey ideas to listeners. I can understand from a person what emotions he is experiencing, what he wants and how you can talk to him. At the competition "Vivat, student 2015" I already knew before the performance how to convey to the audience the emotionality of the poem about the friendship of peoples. Then I realized that I really love literature. And now it helps me in writing scientific articles.
Thanks to works of art, I have a large vocabulary. When I see a scientific term, I already know how to beautifully describe it in simple words. I know how to write simply about complicated things.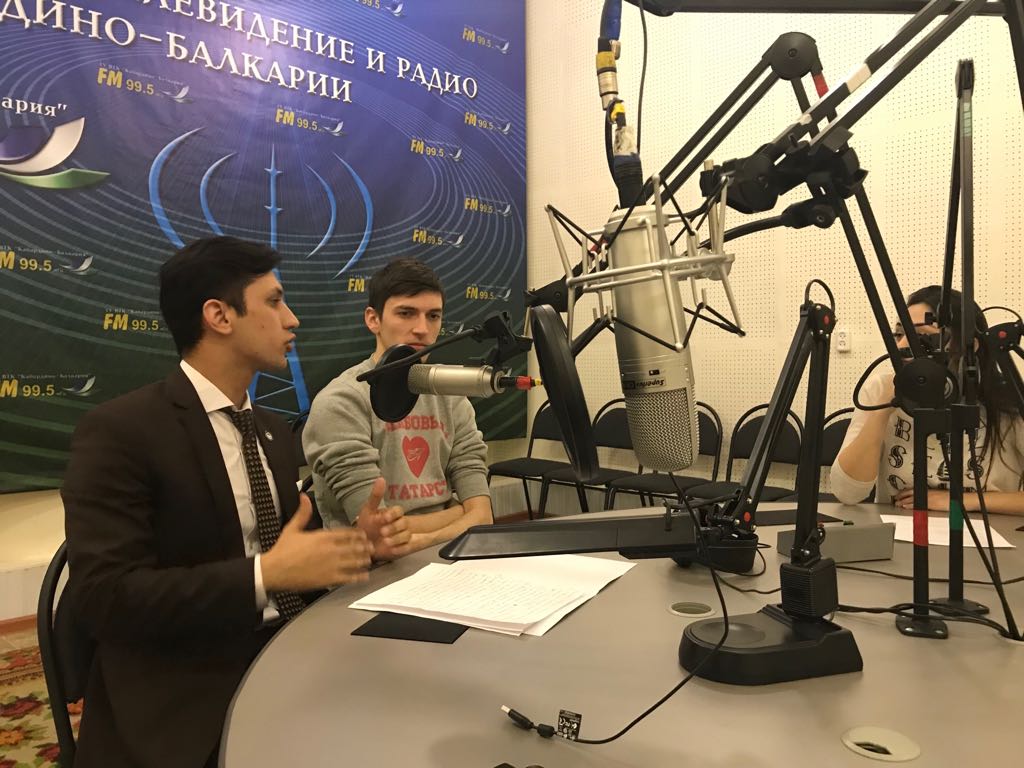 Life in RUDN
03 Aug
"In my work, the main thing is people. Whatever I design, it should be completely satisfying to society," – Morjadino Da Fonseca Vera Kruz, PhD student at the Academy of Engineering from Sao Tome and Principe
Morjadino flew from warm Sao Tome to Moscow to receive the profession of an architect of buildings and structures. He loves Khrushchev apartment buildings (5-storey buildings of the 60's), lives according to the laws of Vitruvius and wants to create something useful for society. We asked Morjadino what motivated him to move to Russia, why he chose Architecture and what project he presented at the Golden Section festival.
Life in RUDN
01 Aug
Resident of RUDN Institute of Medicine saves a man's life on board the plane
July 18, one of the passengers of Qatar Airways Moscow-Doha flight QR340 felt bad. Alaa Al Hajj, a Lebanese resident of RUDN Institute of Medicine (Traumatology and Orthopedics), who was flying on vacation, came to his aid. The young doctor provided first aid and convinced the crew to make an emergency landing at Kuwait International Airport to transfer the passenger to the medical team. Thanks to Alaa, the man remained alive.
Life in RUDN
07 Jul
Meaningful summer means comfortable academic year!
The third working semester of the International student construction brigade "Meridian of Friendship" was opened at RUDN University. Vice-Rector for Student Affairs Mikhail Katsarsky motivated the students to work, speaking about his student path in the construction team, tied bandanas to the leaders and handed out tasks.