RUDN University Chemist Creates Powerful Antimicrobial Drug Many Times More Effective Than Existing Ones
RUDN University chemist together with colleagues from Poland created a compound based on silver and organic ligands. Potentially, it may help fight viruses and bacteria many times more effectively than existing drugs.
Coordination polymers are hybrids consisting of metal centres connected by organic ligands. They are often bioactive, so chemists are investigating the way to use them in medicine. Infectious diseases and especially viral diseases are the cause of most global pandemics. Viruses have claimed human lives for centuries and contributed to the deaths of millions of people around the world. RUDN University chemist together with colleagues from Poland created a coordination polymer based on silver and proved its effectiveness against bacteria and viruses, as well as for suppressing the growth of cancer cells.
"An assembly of biologically active metal ions and biorelevant organic pillars into metal—organic network provides an appealing way for designing new bioactive materials. The new compound showed remarkable antiviral activity, significant antibacterial activity against clinically important bacteria, and selective cytotoxicity against human cervix carcinoma cells," said Alexander Kirillov, Doctor of Chemical Sciences, Associate of the RUDN University's Joint Institute for Chemical Research.
Chemists have proposed a coordination polymer based on silver, which is obtained by self-assembly — starting compounds are assembled into an ordered structure like pieces of a puzzle. The reaction takes place in an aqueous or methanol medium at a temperature of about 25 degrees Celsius, using silver oxide, quinolinic acid and water-soluble aminophosphine PTA. Chemists studied the structure of the resulting complex by various methods, including X-ray diffraction analysis. The biological properties of the compound were studied on the herpes simplex virus type 1, as well as Staphylococcus aureus, Escherichia coli, and Pseudomonas aeruginosa bacteria. In addition, the chemists evaluated the ability of the new compound to destroy cancer cells of human cervix and lung carcinomas.
The new coordination polymer completely suppressed the herpes virus. Its concentration decreased by more than a million times. This is up to 2 orders of magnitude higher if compared to acyclovir (this common antiviral drug suppresses herpesvirus by four orders of magnitude, that is, reduces its amount by 10 thousand times). The antibacterial effect of the coordination polymer was approximately twice as effective as that of silver nitrate, a common bactericidal agent. The coordination polymer also has a pronounced cytotoxic effect on cervix carcinoma cells, although it did not affect the growth of lung cancer cells.
"Apart from widening the family of PTA-driven coordination polymers, the present work also provides an important contribution to better understanding of different bioactivity features of such compounds, also revealing their significant potential toward the development of novel antiviral and antimicrobial agents," said Alexander Kirillov, Doctor of Chemical Sciences, Associate of the RUDN University's Joint Institute for Chemical Research.
The results are published in Inorganic Chemistry.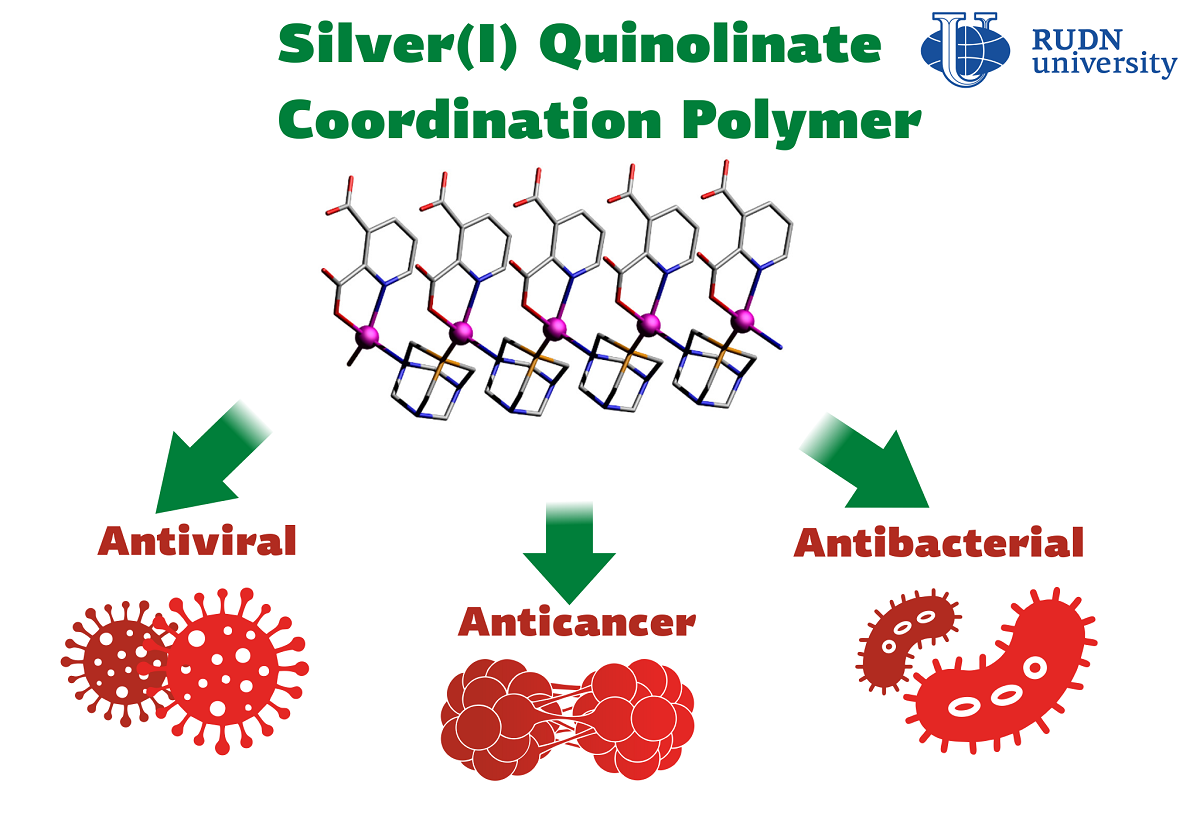 Science
11 Aug
RUDN University doctors evaluated the effectiveness of hernia treatment with a mesh endoprosthesis
RUDN University doctors have followed the recovery of patients after the treatment of a postoperative hernia using a polypropylene mesh-endoprosthesis.
Science
09 Aug
RUDN University mathematician named the main problems of autopilots when detecting pedestrians
A RUDN University mathematician with colleagues from Egypt, Saudi Arabia and China has collected the latest research in the field of deep learning for detecting pedestrians for vehicles with autopilot. The authors identified weaknesses and outlined targets for further research.
Science
07 Aug
RUDN engineer propose a green split system in houses using ground warmth
A RUDN engineer with colleagues from Iran proposed a new model for cooling and heating indoor air using soil energy. This eco-friendly approach is completely harmless and allows you to change the air temperature by 21%.