The first Russian nanosatellite is put into orbit. RUDN students will take part in its testing. Live broadcast of the launch in RUDN Mission Control Center
17 August. 2017, the first Russian nanosatellite TNS-0 #2 will be put into orbit by astronauts Sergey Ryazansky and Fedor Yurchikhin during spacewalk.
17 August. 2017, the first Russian nanosatellite TNS-0 #2 created by «Russian space systems» holding (RSS is part of Roscosmos state corporation) will be put into orbit by astronauts Sergey Ryazansky and Fedor Yurchikhin during spacewalk.
TNS-0 №2 was delivered to the International Space Station in June 2017, by «Progress» cargo space vehicle.
The sputnik weighs 4 kg and despite small size can carry up to 6 kg load, first of all scientific instruments.
An important feature of the nanosatellite is that it is cheaper in manufacturing and orbiting compared to larger satellites.
On orbit the satellite flight computer, power system and solar batteries as well as solar sensors will be tested.
One of the focus areas in the frame of TNS-0 #2 exploitation will be university applied research development. RUDN students and more than 60 space industry specialists who are mastering specialized programs at RUDN will get access to the satellite information. It will allow them to have adequate experience in designing small space vehicles and accompanying systems.
Together with RSS professionals future specialists in the field of space technologies will get acquainted with the Center's hardware and software, acquire skills necessary for communication sessions and primary processing of telemetric information.
RUDN Mission Control System will broadcast the Russian astronauts spacewalk and TNS-0 #2 launch.
Start: 5.45 pm
Source: http://russianspacesystems.ru/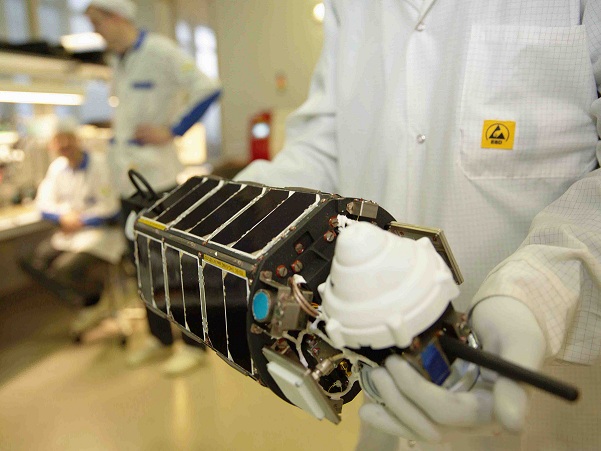 Science
25 Nov
RUDN chemists have found an effective catalyst for the synthesis of raw materials of the chemical industry
RUDN chemists have proven the effectiveness of metal complexes for catalysis of cyanhydrin production — substances important for the chemical industry. Chemists managed to achieve 96.3% of the reaction efficiency.
Science
17 Nov
RUDN University Chemists Obtained an Unusual Planar Nickel complex exhibiting Magnetic Properties
RUDN University chemists obtained a metal-containing complex with an unusual planar architecture. The unexpected structure was formed due to the spontaneous fixation of carbon dioxide from the air during the reaction. This compound exhibits unusual magnetic properties (spin glass behaviour). This can be useful for creating memory storage devices.
Science
14 Nov
RUDN chemists have shown how a new antitumor drug interacts with blood proteins
RUDN chemists investigated in detail the molecular mechanism of interaction of the newly created antitumor drug with blood proteins. The results will not only allow us to judge the effectiveness of the drug, but also are of interest from the point of view of understanding the mechanisms of action of such drugs.