The Institute of Applied Mathematics and Telecommunications holds the IX International Congress of Ultra Modern Telecommunications and Control Systems ICUMT in Munich (Germany)
The delegation of RUDN Institute of Applied Mathematics and Telecommunications headed by professor K.Samuilov attended the IX International Congress of Ultra Modern Telecommunications and Control Systems in Munich (Germany).
6 - 8 November, 2017, RUDN University, Brno Technological University (Czech) and Tampere Technological University (Finland) held the IX International Congress on Ultra Modern Telecommunications and Control System, ICUMT (http://www.icumt.info/2017/).
The Congress is traditionally held with the support of IEEE (Institute of Electrical and Electronics Engineers), the materials being published in a collection of articles indexed in Web of Science, Scopus and IEEE Xplore.
The meetings were held in the frame of two main tracks – telecommunications and control as well as workshops. One of them - the International Workshop on Applied Problems in Theory of Probabilities and Mathematical Statistics, APTP+MS, has long been held by RUDN and the RAS Federal Research Center «Informatics and Control».
RUDN delegation comprising 15 people delivered 18 reports reflecting results of research projects («Advanced research of 5G wireless IoT nets» supervised by K.Samuilov, «Elaboration of mathematic models and their analysis methods for IoT infrastructure functioning quality assessment» supervised by Y.Orlov and Y.Gaidamak, «Computer modeling and computational-analytical methods of research of complex physical and technical systems and info-communicational technologies» supervised by A.Kryanev and L.Sevastianov) and presented results of research of the Center for modeling hi-tech systems and info-communications.
In 2017, the Congress is organized in the frame of 5-100 Project.
We invite you to participate in ICUMT in October 2018, at RUDN University!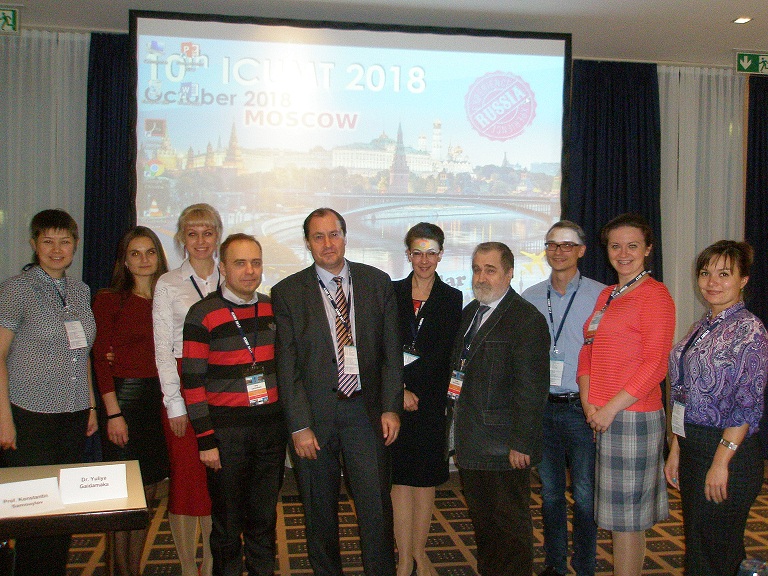 Science
09 Jun
Multilingual Education during COVID-19: University Teachers from Several Continents and 18 Countries Explored Common and Specific Features of Remote Training
The RUDN University Academic Council Commission on Foreign Languages held its June research seminar in cooperation with international community of language teachers who became part of the international pro-bono project on challenges and solutions to foreign languages training during COVID-19.
Science
07 Jun
RUDN University Biologists Studied the Effect of Jungles on Global Warming
Biologists from RUDN University described the role of tropical rainforests in the production of methane, the second most harmful greenhouse gas after CO2. It turned out that some areas of rainforests not only consumed methane but also emitted it.
Science
04 Jun
Russian Chemists Suggested a Method for Producing Metal-Based Catalysts with Unparalleled Efficiency
A team of chemists from RUDN University and Nesmeyanov Institute of Organoelement Compounds (INEOS) synthesized two heterometallic clusters with almost 100% efficiency. These compounds can be used as catalysts in pharma, production of polymers, and other branches of the chemical industry.