RUDN University graduates are awarded Letters of Gratitude from the Ministry of Education
Nine graduates of RUDN University were awarded Letters of Gratitude from the Minister of Science and Higher Education of the Russian Federation. The Rector of the university Oleg Yastrebov handed letters to the graduates and thanked them for their active participation in student life, labor, social and scientific activities.
The merit of RUDN University graduates is the growth of the university's position in world rankings, Oleg Yastrebov emphasized, presenting Letters of Gratitude.
"We are grateful to the Ministry of Science and Higher Education for noting the achievements of our university and graduates in research and social activities. The positions of RUDN University in the ratings during the last 7 years have been growing at the fastest pace in Russia and this is the great merit of such university graduates ", said Oleg Yastrebov, RUDN University Rector.
Among the graduates marked by the Ministry are lawyers, chemists, economists, physicians, mathematicians and builders ... They are united by excellent academic performance, active participation in student life, and successful research.

Three generations of my family studied at RUDN University. This tradition began in the 70s, so the choice of RUDN University was obvious to me from my childhood. For two years now, I have been developing a scientific project 'Interstate Relations between Russia and Austria'. Further, I hope to start teaching and promoting this project to attract even more students to interstate communications. The doors to the scientific world were opened for me by my scientific advisor — Maxim Chernyaev. Together we published the first research paper, then there was a series of ups and downs, but we did not give up, went ahead and tried ourselves in more serious events, among them winning the Vladimir Potanin scholarship, Presidential scholarship and an award that I received today for success in scientific achievements.
Faculty of Economics
At RUDN University, I learned that you may not only be an A-student, but also do social work, help students realize their creative potential, tell the whole world about the traditions and culture of your country.
Engineering Academy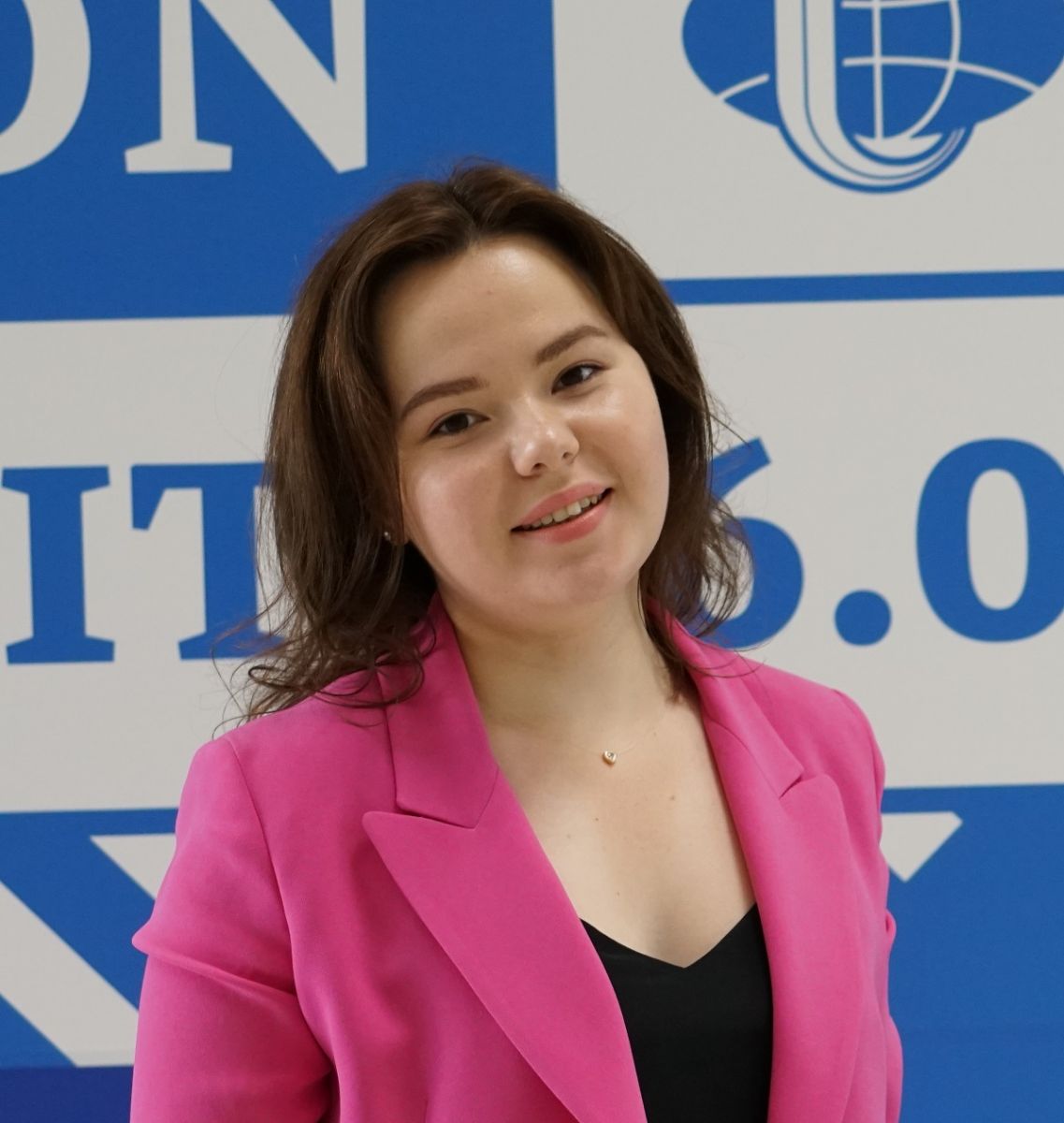 In my third year of bachelor's program, I was among the organizers of the conference 'Achievements of synthesis and complex formation' at RUDN University. We met European professors, prepared the program and it was an amazing experience when you see people whose articles and books you read. An achievement that I am proud of is a developed synthesis method. The first part of this work was published in June in the journal of Quartile Q1. Now I am preparing the second part and I hope it will be published in the same journal in the fall.
student of Chemistry at the Faculty of Science
My grandmother is a medical worker and in the 10th grade I started thinking about following in her footsteps. I made up my mind and did it. RUDN is an atmosphere of friendship between peoples, from the admission board to the lessons at the university. My incentive to study and do research is the Assembly of excellent students. I met RUDN students who strive to be the best and, of course, wanted to join their team.
student of Pharmacy, Medical Institute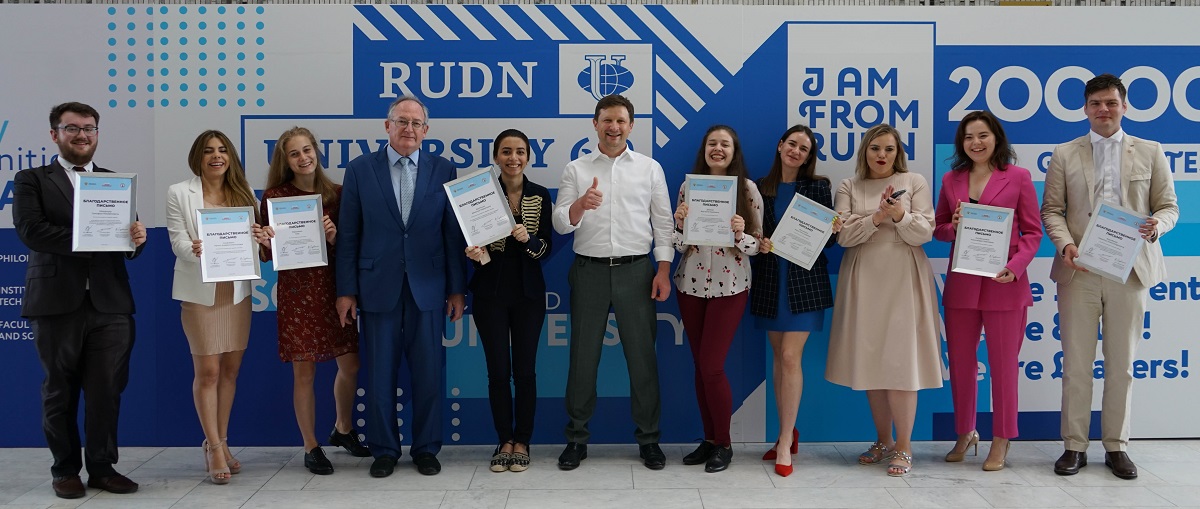 Graduates awarded with Letters of Gratitude from the Minister of Science and Higher Education of the Russian Federation:
Haykanush Artyunyan, Bachelor of the Institute of Hotel Business and Tourism, "Hotel Business" (Armenia)
Kirill Bogatyrev, Master of the Faculty of Economics, "Management" (Russia)
Kirill Vorobyov, Master of the Academy of Engineering, "Oil and Gas Business" (Russia)
Alexandra Golubenkova, Master of the Faculty of Science, "Chemistry" (Russia)
Margarita Dubina, Bachelor of the Institute of Law, "Jurisprudence" (Russia)
Timofey Mazarchuk, Master of the Faculty of Economics, "Economics" (Russia)
Alla Marukhlenko, graduate of the Medical Institute, "Pharmacy" (Ukraine)
Faina Moskaleva, Master of the Faculty of Science, "Applied Mathematics and Informatics" (Russia)
Ramos Andrea Alexandra Sandoval, Master of the Academy of Engineering, "Construction" (Venezuela)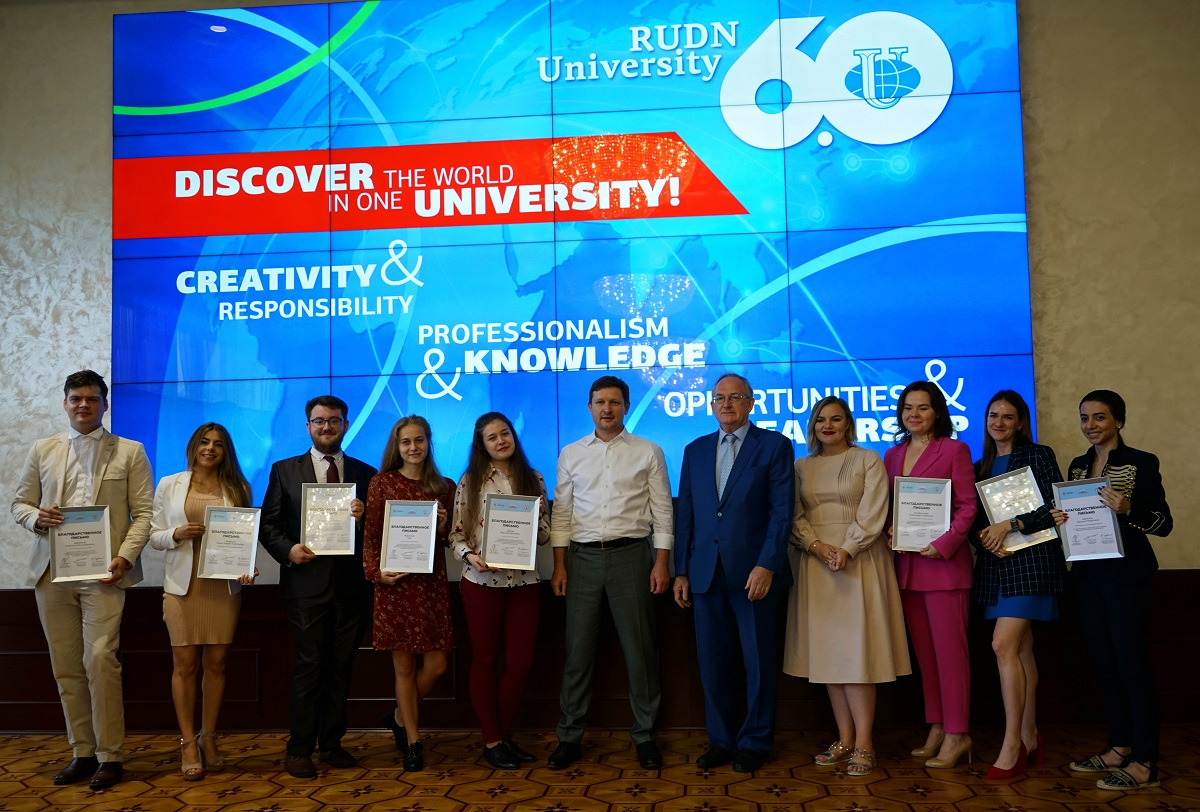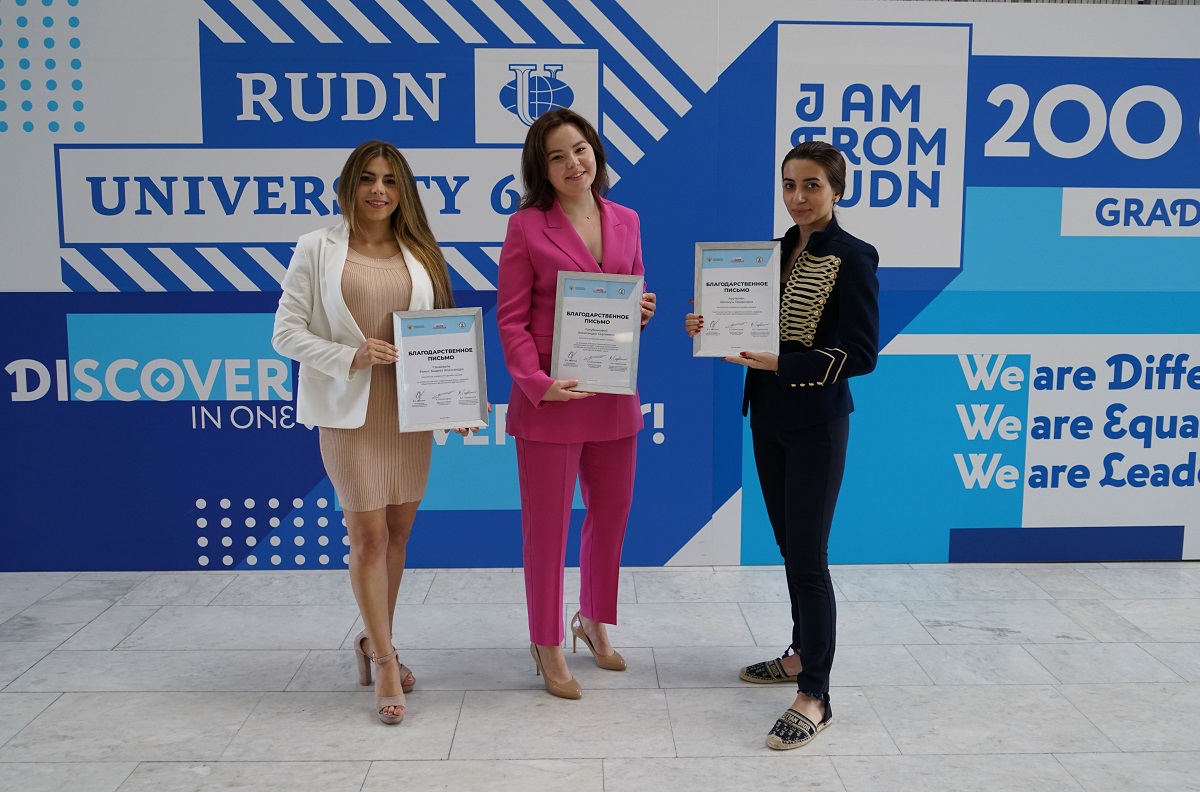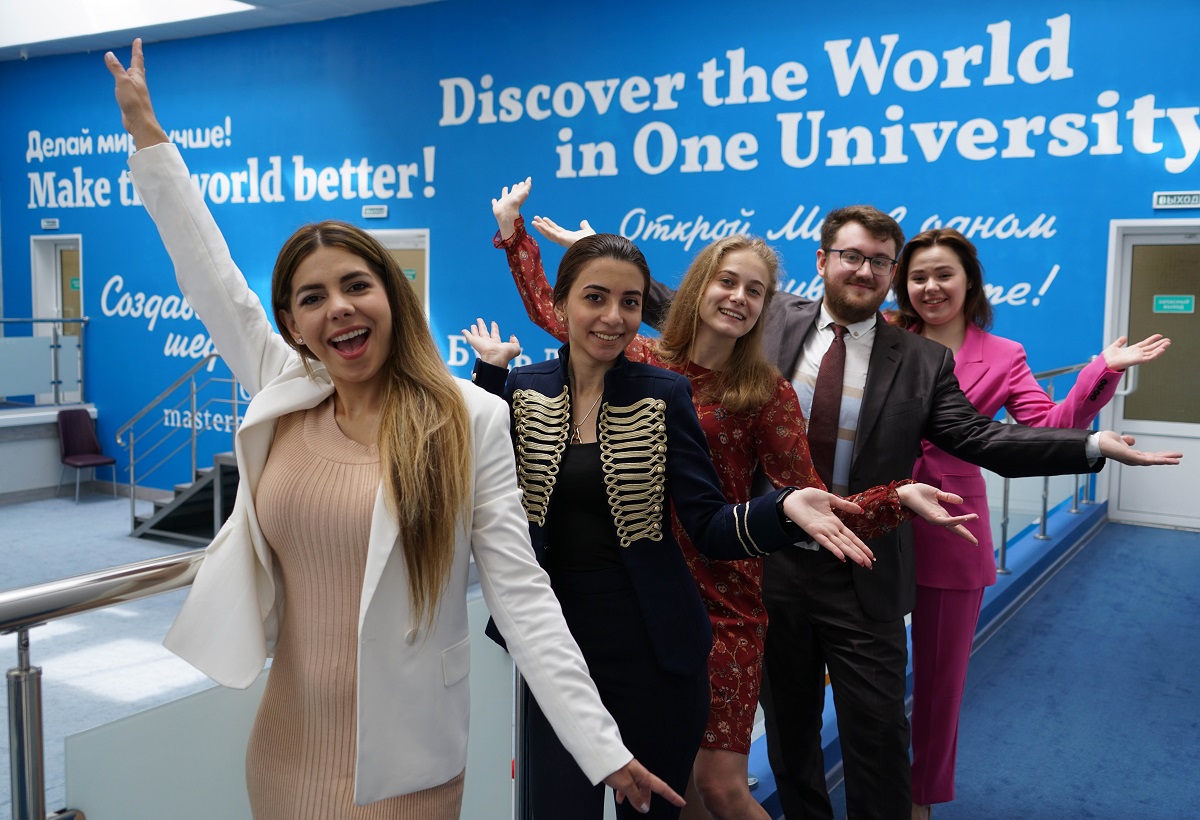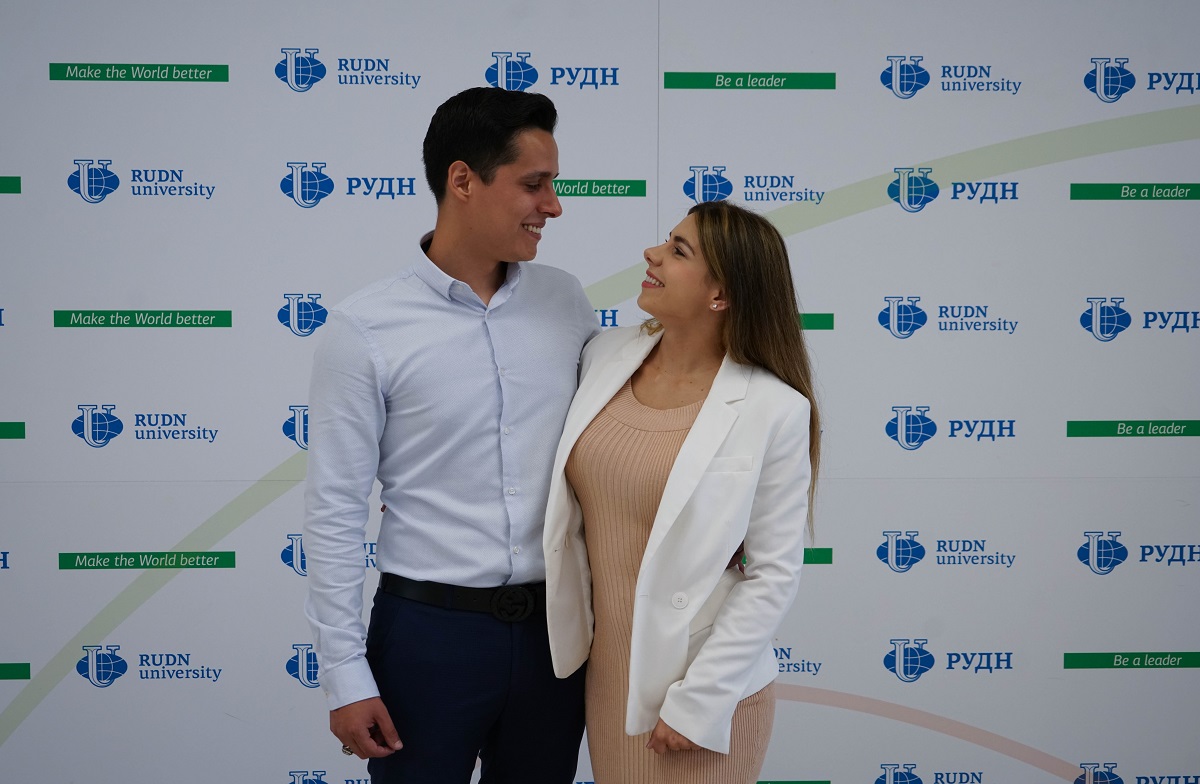 Alumni
10 Mar
Student, Graduate, Prime minister: César Verduga Vélez, RUDN graduate from Ecuador
We are introducing interesting heroes of the university. César Verduga Vélez is a RUDN graduate'71 from Ecuador.
Alumni
10 Oct 2022
"I clearly followed the instruction of our teachers — to be a source of knowledge for people," — Ngan Tony Francois Pierre, RUDN University graduate from Cameroon
RUDN University has trained graduated about 200 thousand students, including specialists from all over the world. One of them is Francois, a graduate of the RUDN Faculty of Economics, a major Cameroonian entrepreneur and author of 9 books on economics and business. In 2010, Francois completed his postgraduate studies and defended his Ph.D. at RUDN.
Alumni
25 Aug 2022
"For 2 years now, I have been helping every first-year student from Yemen take their first steps into student life," Al-Rahabi Mohammed Abdulkarim Mohammed, graduate of RUDN University
The trip of Mohammed to Russia is a part of his dream of becoming a diplomat. The young man studied international relations for 4 years, and after that he decided to change the track and broaden his horizons. This year he is graduating from RUDN University master's program "Arts and Humanities". Read the 7 years' story and plans for the future in an interview.