A RUDN University Biologist Described How a Harmless Bacterium Turns into a Phytopathogen
A researcher from RUDN University suggested that Xanthomonas bacteria that are harmful to plants might have developed from a nonpathogenic related species by receiving virulence genes from other species of bacteria.
The bacteria of the genus Xanthomonas are phytopathogens and cause diseases on dozens of crops including wheat, rice, cabbage, tomatoes, fruit trees, and fodder grasses. However, some representatives of the same genus are not pathogens: though they live on leaves and stems, they only consume the plant secreted organic compounds and dust particles. It is yet unknown why some Xanthomonas bacteria are pathogenic, and some are not.
A biologist from RUDN University explored the following theory. The ancestors of these bacteria could have been harmless and borrowed pathogenic genes from other bacterial species. The researcher and his colleagues compared 32 strains of Xanthomonas arboricola, a species that includes many non-pathogenic strains. Bacteria were collected from tomatoes, oilseeds, sunflowers, and barley to be identified and cultivated on a nutrient substrate. Then, bacterial suspension was made to inoculate the leaves of various crop plants.
All studied strains turned out to be harmful to at least one crop. The genome of strain 3004 (the most aggressive one that infected barley, wheat, oilseed and vegetable brassicas, tomato, walnut, and sunflower) was sequenced, and a set of specific genes was studied in other strains. However, none of the strains appeared to contain the so-called 'molecular syringe' genes—a mechanism of the T3SS transportation system that Xanthomonas pathogens use to attack plant cells. Without this mechanism, the bacteria are suggested to be nonpathogenic. However, the experiment proved them to cause diseases and even death of plants. Therefore, this group of Xanthomonas has alternative way of pathogenicity.
The research team suggested that it could have happened due to lateral gene transfer: a process in which a bacterium receives genetic material from other microorganism, not from its direct ancestors. A key pathogenic factor in all studied strains was the VirE protein that belongs to T4SS, a different bacterial secretion system. The gene that codes this protein could have been borrowed from another species. Before that, X. arboricola strains could have been harmless for the plants they lived on.
"A consensus about the evolution of the genus Xanthomonas hasn't been reached yet. Some believe that Xanthomonas bacteria had initially been pathogenic, but then some of them lost virulence genes. However, our results support a different point of view. The genome of X. arboricola that we sequenced looks highly mosaic, i.e. has many genes similar to other species. We believe that the ancestor strain of X. arboricola could have been harmless for plants until it received T4SS and T3SS genes by means of lateral transfer," said Prof. Alexander Ignatov, DSc in Biology, from the Department of Agrobiotechnology at RUDN University.
The results of the study were published in the materials of the international conference PLAMIC2020.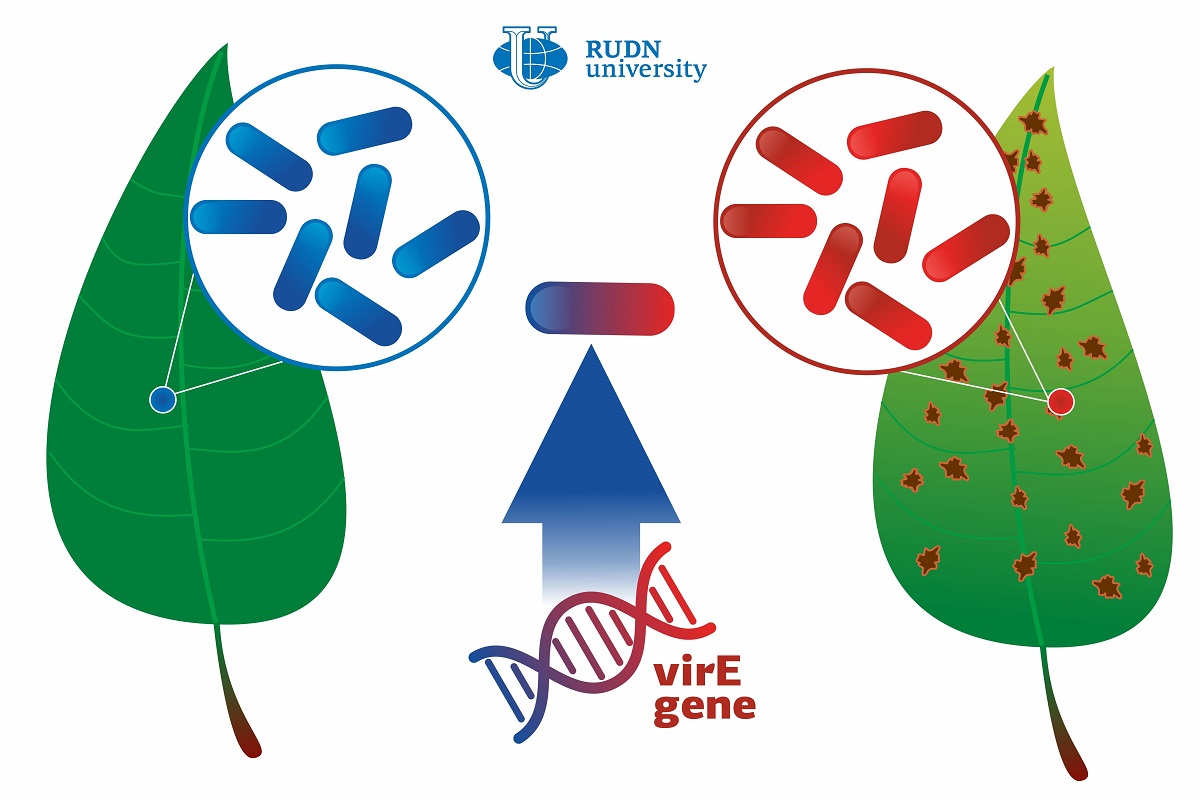 Science
27 Jun
RUDN Mathematicians: 5G will cope with traffic when using WiGig
RUDN mathematicians investigated the possibility of combining 5 GNR technology and WiGig — a high-frequency range that allows you to transfer data at speeds up to 10 Gbps. This will smooth traffic fluctuations in 5Gnetworks and cope with user requests.
Science
23 Jun
Scientists Reveal the Water Column of the Yamal Lakes Can Be a Microbial Filter
Scientists from the Winogradsky Institute of Microbiology RAS, RUDN University, St. Petersburg State University and the Tyumen Scientific Centre SB RAS studied the microbial communities from several lakes of the Yamal Peninsula. It turned out that methanotrophs (bacteria that use methane as a source of energy) consume methane more actively in the deep mature lakes of the peninsula than in small thermokarst lakes. In this regard, methane emissions into the atmosphere from the surface of deep lakes are low, and only small (relatively younger thermokarst lakes with constitutional ground ice) can make a significant contribution to methane emissions in the north of Western Siberia. Thus, bacteria perform an important function for the climate balance — they reduce the emission of methane into the atmosphere.
Science
20 Jun
RUDN University Physicists Determine the Optimal Conditions for Holding High-Energy Plasma Clouds in Pyrotron
RUDN University physicists have described the conditions for the most efficient operation of long mirror-based variant of cyclotron in the autoresonance mode. These data will bring better understanding of plasma processes in magnetic traps.