Tevodros Baza, RUDN Engineering Academy alumnus: "Creativity is not just about creative professions"
Tevodros is from Ethiopia, graduated with honors in Civil Engineering and the Built Environment in English. Read about why he decided to study in Russia, what is the difference between Ethiopians and Russians, what a builder does and how to be an A-student in the interview.

What inspired you to study in Russia?
I heard that Russia is technically developed. Russian classical education is one of the best in the world. I dreamed of studying here, and my dream became true. I am grateful to RUDN.
The slogan "Discover the world in one university" is really about RUDN. Diverse cultures, languages, trends and knowledge. Such a comprehensive university helps not only during studies, but also in life.
What is the difference between Ethiopians and Russians? What surprised you in Moscow?
Each nation is beautiful in its own way. Ethiopia has over 80 ethnic groups with their own languages and cultures. Our people are kind and hospitable.
Russian people are also kind and hospitable and they are always supportive. Russians have their own traditions, beliefs and culture. For them, friendship is one of the most important things in life. A friend may be closer than a relative. Russians are not used to smiling for no reason. In public places, they prefer to stay focused. But among friends, colleagues or loved ones, they instantly relax — laugh and joke non-stop.
I was surprised by wide roads that exist even in the city center in Moscow. I've heard that some of them were built for planes landing during the war. Long cold winters, beautiful autumn and hot summers are amazing. And the transportation system is great, big and deep metro stations that have tremendous engineering knowledge and creativity.
How can foreigners quickly get used to the new environment?
My advice:
Study your reactions to changes.
Get socialized, get to know different people and their way of life. Don't judge and accept everything openly and positively.
When you learn about a new way of life, try it on yourself. Enjoy the experiment before making any of the ways your own one.
Do your childhood ambitions match the choices you made?
I wanted to become a doctor when I was a child. Later I realized that my I am keen on engineering. I've always been interested in constructions and geometry. It amazed me how a functional object can be a piece of art. I was curious how great constructures were built and how stable they were. For example, skyscrapers, dams and bridges. Therefore, I can say that I satisfied my childhood ambitions.
What does the construction profession mean to you?
For me construction is creation of a large infrastructure for the benefit of civilization. By large infrastructure I mean roads, railways, airports, dams, electricity, sewerage, drainage and irrigation systems, water supply ...
This profession attracts me by the fact that goals and ideas can be transcendental and the only limit of the possibilities is you yourself. There is also a potential to make a decent living.
Is there a place for creativity in your technical specialty?
It is a mistake to think that creativity is only for creative professions. A huge number of different designs for buildings, bridges and other structures show that builders need to think outside the box and be creative. Whether it's a turning of a drawing into real life or making a tunnel through thick earth. Moscow metro lines are a good example.
What stereotypes about construction did you have?
Some people have stereotyped ideas about builders and construction industry. If we get rid of these stereotypes, younger generation will want to go into construction even more.
First stereotype — no potential. People do not see any future in the industry that has laid off many workers during the crisis. But since then, the industry has bounced back and needs workers. Construction is about competitive wages. Many companies offer higher salaries and fight with labor shortage.
This industry is also being digitalized — from project planning to its implementation. Construction has bright a future.
Second stereotype — boring, hot, dangerous. Yes, construction work can be extremely difficult and dangerous, but not always. The tasks of a builder are diverse. He may find himself on a roof, on the side of a road, or in an oil field. Nowadays with the advent of technologies on the construction site, the worker has more opportunities to determine which job suits him the most.
Third stereotype — there is no place for women in construction. This is not true. According to research women make up about 10% in the construction industry, and the gender pay gap is much smaller than in other areas. Confirmation bias always generates stereotypes, but the fact remains that competent, qualified women work on many construction sites along with men.

Which building do you thing are the most difficult to construct?
You can also ask which building is best designed, and you will get a lot of answers. Each project is a new task. It depends on the client's requirements, technologies, and other things. It is impossible to compare efforts. Even if I give an answer to this question, you will get another one from another person. It is better to pay attention to the most unusual or high buildings.
Is it difficult to be an A student? Share the secret of success.
Don't believe people who tell you to study hard. I have been an A student since my 1st undergraduate to the second year of the master's degree, but I have never pored over my studies.
Being an A student is usually a cumulative process. Few people manage to keep top grades in high school. You should start early. If you didn't remember the multiplication table in the second grade, then it will be difficult to calculate in the 12th grade. So you need to understand the first topic, and then move on to the next one. Do not miss small homework assignments. They help to understand and prepare for the exam more effectively.
Stay focused when you learn. One hour of focused study is more useful than 10 hours of forcing yourself to study in an attempt to come up with just anything to do for procrastination. The best way to concentrate is to get rid of distractions.
Find out if you are a night owl or an early bird. There's no sense in forcing yourself to study at 5 am if you are more attentive at 5 pm.
Don't overcharge yourself. You become less productive when you get tired. Do not forget to get some rest.
What qualities help you in your studies?
Attention to details, self-discipline and self-control. These are important qualities that are needed not only in school, but also in life.
What is your advice to future students?
"It doesn't matter how hard people plan — the future is unknown, but the plan leads a person in a certain direction. Some plan is better than no plan at all."
My advice is to follow the plan:
Choose the right direction;
Set short-term and long-term goals;
Work daily to achieve your goals;
Be persistent and focused;
Keep a diary and take notes of your knowledge;
Spend time with people who share your views;
Take on small projects and test your skills;
Test yourself and get out of your comfort zone.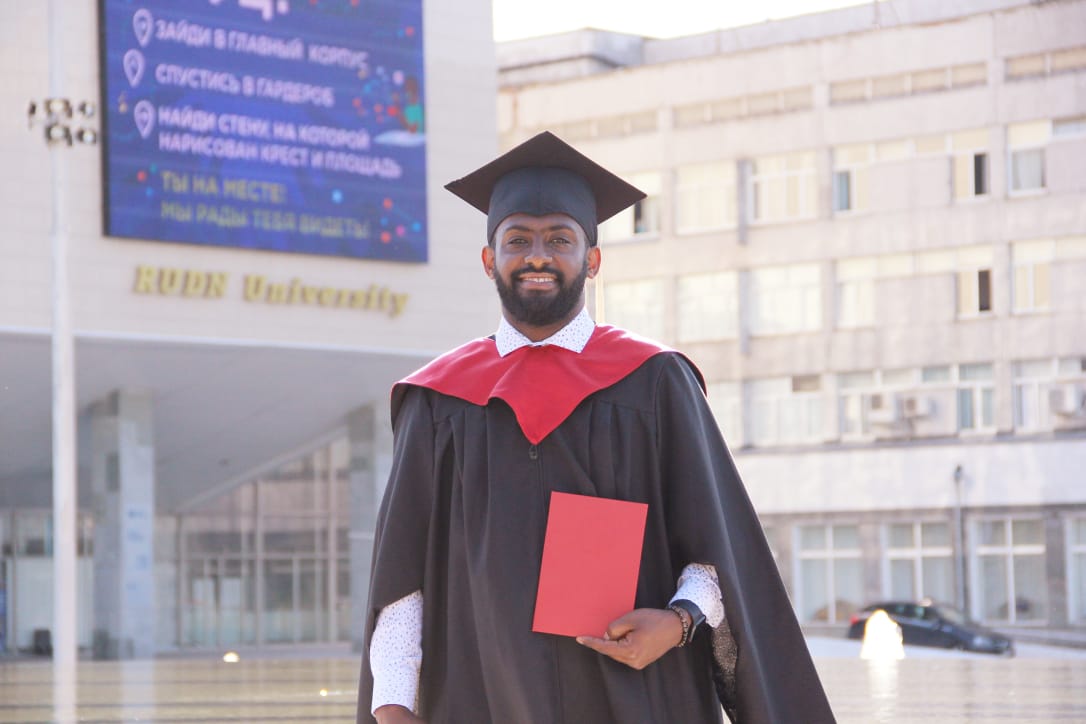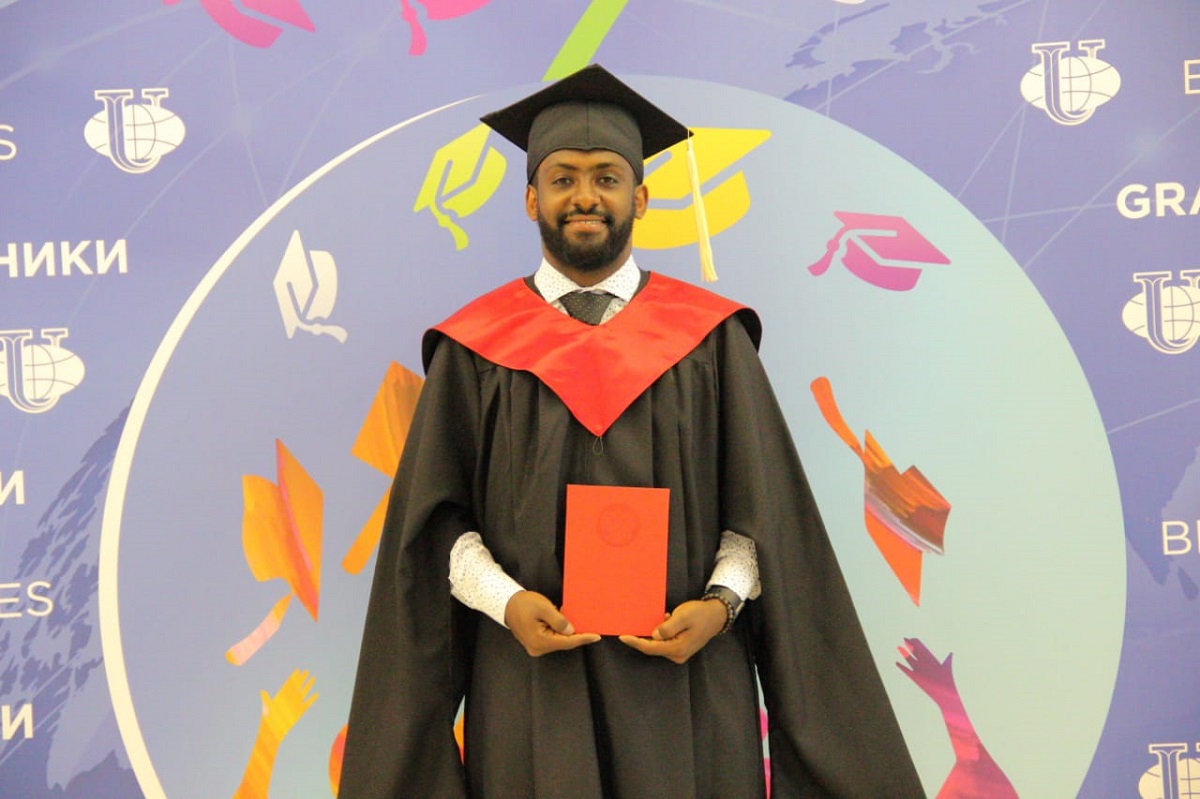 Alumni
18 Aug
"Bargaining with Arabs at the market is pure pleasure", Anna Lashina, the best regional studies graduate, speaks about Arabic poetry, nuclear research and ballroom dancing
Why Arabs talk loudly, how science helped find love, what is the connection between quickstep, patience and the Arabic language – read an interview with Anna Lashina, the best graduate of "Foreign Regional Studies: Middle East".
Alumni
19 Jul
"I came to Russia to study and return home to develop Cameroon," Tatiana Dense Koussi, graduate of RUDN Academy of Engineering
In 2019, Tatiana founded the Youths Make a Difference (YMD) International Youth Organization. It's been over a year since the last interview. She graduated from the university with a degree in Technical Systems Management, returned to Cameroon and signed a memorandum of understanding with the Ministry of Youth Affairs. Read the iterview to find out what has changed.
Alumni
10 Jul
"The Russian language turned out to be more difficult than I expected. Prefixes are a real nightmare": Anton Borodin, the best financier graduate from Finland
How finances and furniture are connected, why Russian prefixes terrify a foreigner and where they cook the most delicious shawarma – read an interview with Anton Borodin, the best graduate of the Finance and Credit program from Finland.