"Wherever I go, I remember Russia and miss the Russian language," - Jessica Bustinsa, RUDN University graduate
Jessica Bustinsa, graduate of the Faculty of Philology of RUDN University in 2010, talks about how she got acquainted with Russian culture, how she spent the years of her student life and what Russian traditions she adopted.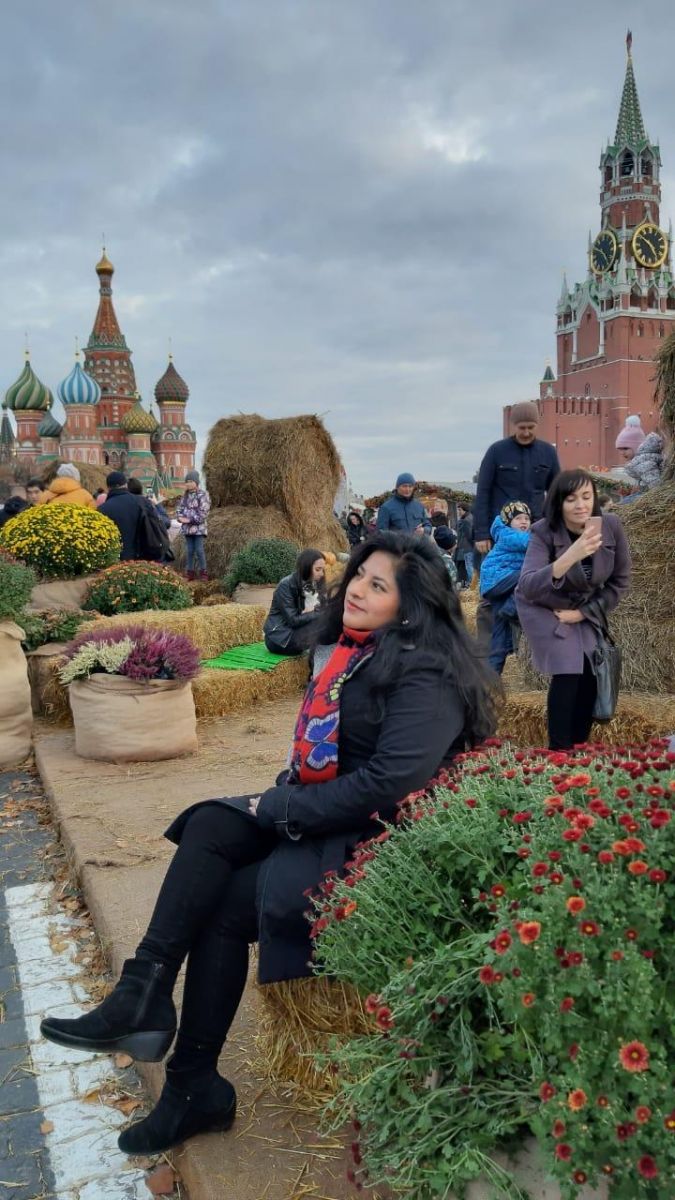 I was born on the shores of the Pacific Ocean in the "city of kings", now - the capital of Peru. My ancestors lived on the shores of Lake Titicaca. They were Indians and spoke Quechua (Inca language) and Aymara.
My godfathers of Japanese descent gave me books with Russian fairy tales. Mom and sister read them to me, then I did it myself. I did not suspect that they were composed in Russia. After many years, walking around Moscow, I went to a bookstore to find material for brushing up the language. Suddenly I saw familiar pictures! As if it was fate - I have been familiar with Russian folklore from an early age, not suspecting then what awaits me in the future.
After finishing school, I found out that I can get higher education in another country. I chose snowy, cold Russia. So I got to RUDN University.
At the preparatory faculty I studied Russian, history, geography, and literature. I found out who Pushkin is. In Peru, they studied Leo Tolstoy, Fyodor Dostoevsky, Maxim Gorky, but not Pushkin. We did not know this poet, as well as many facts about the history of Russia. A trip to Moscow was the discovery of a new world.
Student life has become for me a kaleidoscope of events and emotions - I studied journalism, met people from all over the world, worked in a construction team, participated in amateur performances, and danced in the ensemble of the Peruvian community. I even became president of the community. As a member of the ensemble, I was fortunate enough to perform at the Kremlin Palace of Congresses at a concert dedicated to the 50th anniversary of the RUDN University. Here I met my love and married a wonderful Russian man George.
The university has left a deep mark in my life. I remember all the people I met, the kindness, warmth and perseverance of the teachers, their great desire to prepare us for successful work in journalism, which I now do.
Every year I go to the Victory Day Parade, celebrate Orthodox Christmas and Easter, bake pancakes much thinner than my mother-in-law, go to the forest to gather mushrooms, take a steam bath in the bathhouse and write about my life in Russia on a social network.
Wherever I go, I remember Russia and miss the Russian language.
Alumni
02 Sep
Tevodros Baza, RUDN Engineering Academy alumnus: "Creativity is not just about creative professions"
Tevodros is from Ethiopia, graduated with honors in Civil Engineering and the Built Environment in English. Read about why he decided to study in Russia, what is the difference between Ethiopians and Russians, what a builder does and how to be an A-student in the interview.
Alumni
30 Aug
Chimuka Singuwa — graduate of "International Affairs", Mayor of RUDN University campus and just a cool guy from Zambia
RUDN campus is a city within a city. Every city has a Mayor and RUDN University campus has one too. A graduate of the Faculty of Humanities and Social Sciences, Chimuka Singuwa from Zambia served as the chairman of the campus for 5 years. Read his story in the interview.
Alumni
23 Aug
"Technologies make our life brighter and easier, but they don't make any sense without people," Artem Kormilitsyn, graduate of RUDN Engineering Academy
Artem proposed to RUDN Rector the idea of creating an engineering laboratory for digital production, where every student can design and create anything. The main thing is the flight of engineering thought and imagination. Read about classical fundamental education and the importance of obtaining practical competences and skills in an interview with the best graduate of RUDN 2021.