"Wherever I go, I remember Russia and miss the Russian language," - Jessica Bustinsa, RUDN University graduate
Jessica Bustinsa, graduate of the Faculty of Philology of RUDN University in 2010, talks about how she got acquainted with Russian culture, how she spent the years of her student life and what Russian traditions she adopted.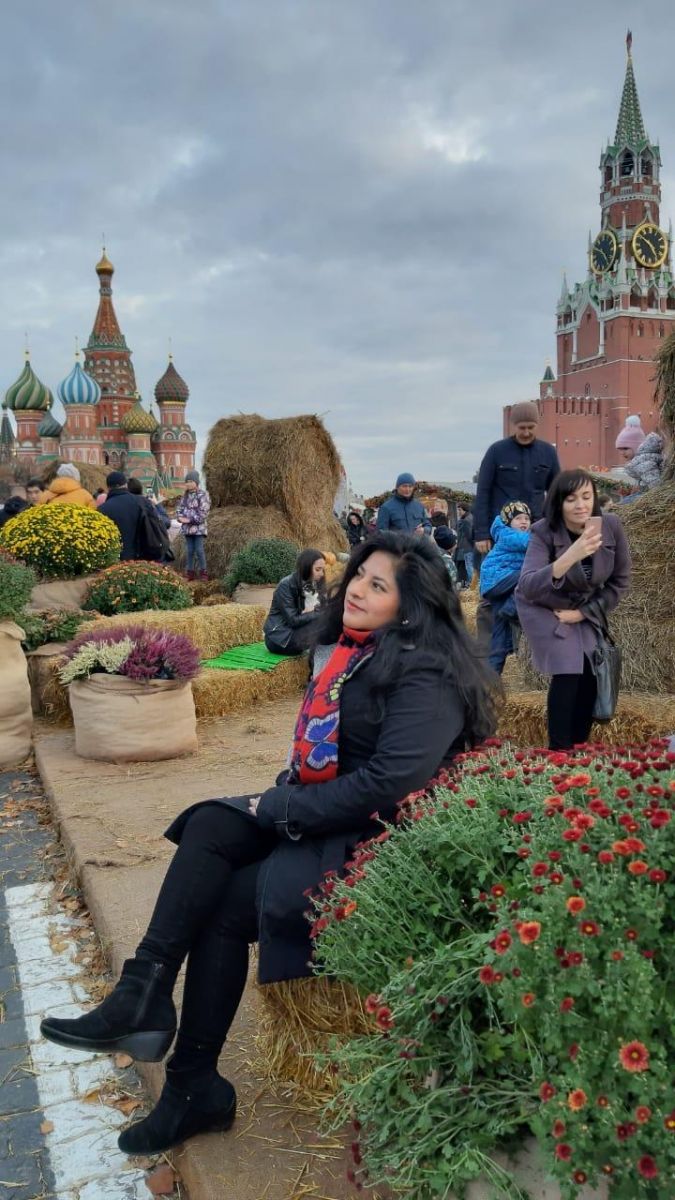 I was born on the shores of the Pacific Ocean in the "city of kings", now - the capital of Peru. My ancestors lived on the shores of Lake Titicaca. They were Indians and spoke Quechua (Inca language) and Aymara.
My godfathers of Japanese descent gave me books with Russian fairy tales. Mom and sister read them to me, then I did it myself. I did not suspect that they were composed in Russia. After many years, walking around Moscow, I went to a bookstore to find material for brushing up the language. Suddenly I saw familiar pictures! As if it was fate - I have been familiar with Russian folklore from an early age, not suspecting then what awaits me in the future.
After finishing school, I found out that I can get higher education in another country. I chose snowy, cold Russia. So I got to RUDN University.
At the preparatory faculty I studied Russian, history, geography, and literature. I found out who Pushkin is. In Peru, they studied Leo Tolstoy, Fyodor Dostoevsky, Maxim Gorky, but not Pushkin. We did not know this poet, as well as many facts about the history of Russia. A trip to Moscow was the discovery of a new world.
Student life has become for me a kaleidoscope of events and emotions - I studied journalism, met people from all over the world, worked in a construction team, participated in amateur performances, and danced in the ensemble of the Peruvian community. I even became president of the community. As a member of the ensemble, I was fortunate enough to perform at the Kremlin Palace of Congresses at a concert dedicated to the 50th anniversary of the RUDN University. Here I met my love and married a wonderful Russian man George.
The university has left a deep mark in my life. I remember all the people I met, the kindness, warmth and perseverance of the teachers, their great desire to prepare us for successful work in journalism, which I now do.
Every year I go to the Victory Day Parade, celebrate Orthodox Christmas and Easter, bake pancakes much thinner than my mother-in-law, go to the forest to gather mushrooms, take a steam bath in the bathhouse and write about my life in Russia on a social network.
Wherever I go, I remember Russia and miss the Russian language.
Alumni
10 Mar
Student, Graduate, Prime minister: César Verduga Vélez, RUDN graduate from Ecuador
We are introducing interesting heroes of the university. César Verduga Vélez is a RUDN graduate'71 from Ecuador.
Alumni
10 Oct 2022
"I clearly followed the instruction of our teachers — to be a source of knowledge for people," — Ngan Tony Francois Pierre, RUDN University graduate from Cameroon
RUDN University has trained graduated about 200 thousand students, including specialists from all over the world. One of them is Francois, a graduate of the RUDN Faculty of Economics, a major Cameroonian entrepreneur and author of 9 books on economics and business. In 2010, Francois completed his postgraduate studies and defended his Ph.D. at RUDN.
Alumni
25 Aug 2022
"For 2 years now, I have been helping every first-year student from Yemen take their first steps into student life," Al-Rahabi Mohammed Abdulkarim Mohammed, graduate of RUDN University
The trip of Mohammed to Russia is a part of his dream of becoming a diplomat. The young man studied international relations for 4 years, and after that he decided to change the track and broaden his horizons. This year he is graduating from RUDN University master's program "Arts and Humanities". Read the 7 years' story and plans for the future in an interview.