Boiko Kotsev, Ambassador Extraordinary and Plenipotentiary of Bulgaria to Russia visits RUDN University
Boiko Kotsev, Ambassador Extraordinary and Plenipotentiary of Bulgaria to Russia visits RUDN University
"The strongest sides of Bulgarian education are exact sciences – mathematics, physics, engineering" — Boiko Kotsev
Boiko Kotsev, Ambassador Extraordinary and Plenipotentiary of Bulgaria to Russia visited RUDN University and met the University administration, noting RUDN advantages in Bulgaria and competitiveness of its graduates.
At the meeting the parties also discussed prospective directions of cooperation between RUDN and leading Bulgarian universities. According to Nur Kirabayev, RUDN Vice-Rector for research, RUDN actively practices two cooperation formats. The first one is secondary school Olympiads, the winners being automatically enrolled to RUDN state-subsidized programs. The second is support to profile classes in Bulgaria. According to Boiko Kotsev, the strongest sides of Bulgarian education are exact sciences – mathematics, physics and engineering.
Mr.Kotsev highly appreciated the hospitality of Peoples' friendship university of Russia and expressed hope for further fruitful cooperation.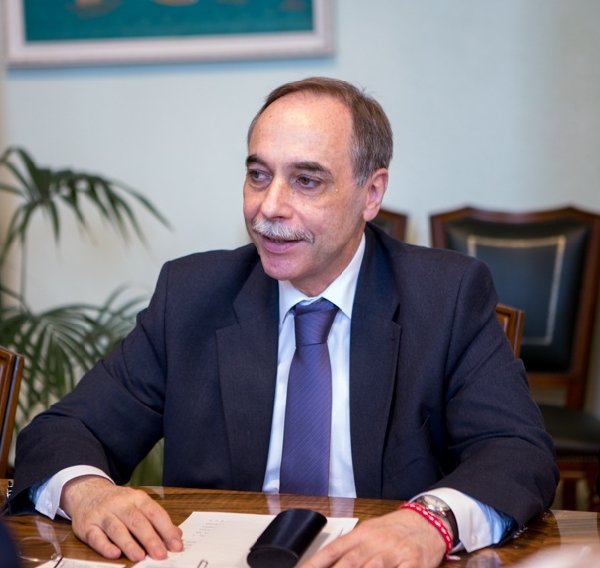 About RUDN
25 Dec 2020
RUDN University is in the Top 50 of the QS University Rankings: Emerging Europe & Central Asia 2021
RUDN University is on the 43rd place in the QS University Rankings: Emerging Europe & Central Asia 2021. Peoples' Friendship University of Russia has shown the best results in the following categories: international students , student/faculty ratio, institution research collaboration and recruiter review.
About RUDN
09 Dec 2020
RUDN University is the only Russian university in the top 50 of UI GreenMetric world ranking
December 7, the results of UI GreenMetric 2020, the world ranking of the environmental sustainability of universities are presented. RUDN University is the only Russian university that entered the top 50 ranking, taking 42nd position among 912 universities in the world, and once again confirming the position of the "greenest" university in Russia. RUDN University is also recognized as the most active national coordinator of the UI Greenmetric World University Rankings network. Only one university in the world receives this award every year.
About RUDN
02 Nov 2020
RUDN chat in WhatsApp
RUDN started an official chat for you to ask about enrolment in RUDN, studies, accommodation, as well as order a certificate or find contact information.