Engineers of cyber prostheses, IT doctors, robotic surgeons operators, genetic consultants… Experts are convinced that the future belongs to revolutionary biomedical technologies and for this new staf
Engineers of cyber prostheses, IT doctors, robotic surgeons operators, genetic consultants… Experts are convinced that the future belongs to revolutionary biomedical technologies and for this new staf
17 May, RUDN hosted a strategic session «High-impact technologies in bio medicine» in the frame of 5-100 project workshop. 
17 May, RUDN hosted a strategic session «High-impact technologies in bio medicine» in the frame of 5-100 project workshop. More than 200 academics, practitioners and researchers gathered to discuss research and implementation of medical inventions.
Nanotheranostics, metabolomics, translational and personified medicine, distant surgery, medicinal drugs without side effects – these were the subjects discussed at the session. The key issue was making a chain of new medicinal products manufacturing from theoretic elaborations to testing and production.
Lyudmila Ogorodova, Vice Deputy minister of education and science noted that the efficiency of medical research is determined by the final product and joining interdepartmental efforts will help improve life quality.
5-100 project universities presented breakthrough elaborations in bio medicine – early diagnostics methods, using biodegradable silicon nanoparticles when treating lung and breast cancer, titanium and porous ceramic prostheses etc. Some elaborations can not only increase the efficiency of health care but make surgery and treatment 70% cheaper. Valery Stolyar, Head of RUDN Department of medical informatics shared experience of on-line surgery in remote regions, which is sometimes much more efficient than sending helicopters and paramedics.
Representatives of industrial companies, large pharmaceutical corporations and state structures are ready to support universities and invest in medical research.
L.Ogorodova suggested holding a series of thematic workshops as discussion and promotion sites for the most prospective medical research.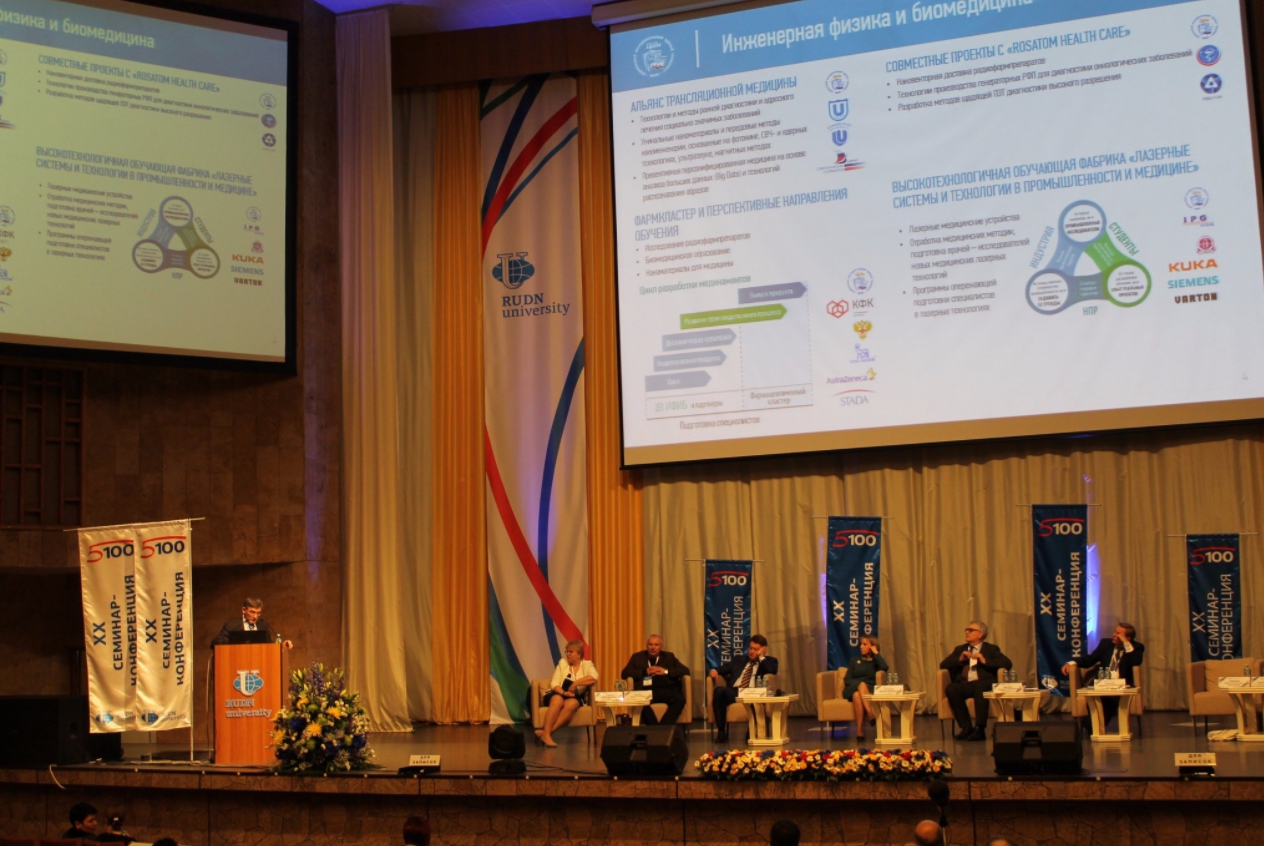 About RUDN
02 Nov
RUDN chat in WhatsApp
RUDN started an official chat for you to ask about enrolment in RUDN, studies, accommodation, as well as order a certificate or find contact information.
About RUDN
30 Oct
RUDN strengthens its position among the best universities in the world
RUDN University is represented in 9 directions of the international ranking of the best universities in the world THE World University Rankings by Subject 2021, this year, for the first time, reflecting the successes of RUDN University in the areas of "Education", "Art and Humanities" and "Life Sciences". According to "Education" indicator RUDN is in the top 200.
About RUDN
30 Jul
One of the country's leading oncology surgeons appointed Vice-Rector of RUDN
Andrey Kostin, Russian oncologist, Doctor of Medical Sciences, Professor, corresponding member of the Russian Academy of Sciences, became the first Vice-Rector, Vice-Rector for Research at RUDN University.