Farmer from Africa, banker from Dominican Republic and prison psychologist from South Korea. RUDN University entrants on their plans for the future
Farmer from Africa, banker from Dominican Republic and prison psychologist from South Korea. RUDN University entrants on their plans for the future
RUDN University is welcoming new entrants from all over the world. They all come with dreams and aims they have shared with us.
RUDN University is welcoming new entrants from all over the world. They all come with dreams and aims they have shared with us.
Rosalia from Dominican Republic came to enter the faculty of Economics to further work in the banking system at home.
- In secondary school back home we have exams similar to the Russian national exam so I brought grades and here I have tests in Russian, maths, economics and history. My friends are already students here so I have come alone- a bit scary but finally everything is great.
Itumeleing from Africa got qualifications of agrarian manager back home and has come to RUDN to continue at the Agrarian Institute:
— In my country there is a new trend – indigenous people started doing business while most farmers are white. After graduation I am planning not just to grow fruit and vegetables but process them and make juices and wines for example.
Kwan came from a small town in South Korea to do Master's at the faculty of Philology majoring in psychology. Kwan is a custodial supervisor in a jail.
— My country sent me here for re-training so that I can work as a jail psychologist. I think I could work in Russian jails as well – I have good Russian, I used to study it in a Korean university.
Good luck to RUDN University entrants!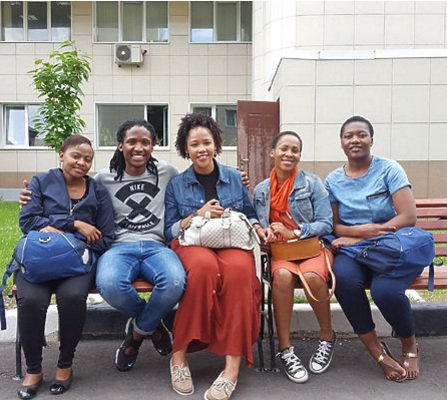 About RUDN
23 Apr
RUDN University in the Times Higher Education Impact Ranking 2021
THE University Impact Rankings analyzes the impact of higher education on the development of society and the achievement of the UN Sustainable Development Goals.
About RUDN
12 Mar
RUDN University is in the top 200 universities in the Times Higher Education ranking Emerging Economies 2021
Peoples' Friendship University of Russia is among the top 200 universities according to the Times Higher Education Emerging Economies University Rankings 2021 (THE Emerging Economies 2021).
Only 606 leading world universities were honored to be on the list.
About RUDN
05 Mar
RUDN University's new successes in the field of modern languages, law, oil and gas business, and computer science ... The university strengthens its position in 11 QS rankings
The QS ranking agency has presented the QS WUR by Subject 2021 rankings — lists of the best universities in the world in specific subjects. RUDN has shown rapid growth in the areas of "Modern Languages", "Linguistics", "Mathematics", "Economics and Econometrics" and "Chemistry", and for the first time entered the list of the best in the world in the subjects "Oil and Gas Business", "Law", " Business and Management ", and "Computer Science".